Discover the Finest Ways to Export from ePUB (eBook) File to PDF
When it comes to the oldest file format and the most popular file format, no one can compete with PDF or Portable Document Format. It is a widely trusted and used file format. PDF has several advantages over other similar platforms. It is why it is still very popular.
Now, a competitor has come to outperform PDF and it is ePUB. Several users of ePUB have discovered it a better source to store data. If you still don't know anything more about ePUB, it means you are missing to get the benefits of ePUB. For e-books, users are gradually switching from PDF to ePUB. To read e-books on most platforms such as the Amazon Kindle and the Barnes & Noble Nook, conversion from PDF to ePUB is necessary.
But still, PDF is one of the best options over ePUB. It is the oldest file format and has tons of advantages.
Reasons to Export from ePUB file to Adobe PDF
PDF is basically an electronic paper. It is static and is fixed. Users cannot make changes on a PDF file. Just like you can't customize a printed physical book, a PDF file cannot be customized. Hence, your data is safe in PDF. Therefore, publishers like to publish their online books on PDF. Also, it is lightweight, easy to store, easy to share, and easy to distribute. Sharing thesis, stories, and data online using PDF is so popular these days.
After more than a decade of the launch of PDF, the ePUB file format was introduced by the International Digital Publishing Forum. Sooner, it became a standard format for digital publication. The popularity index of ePUB is not increasing gradually, but PDF enjoys more popularity.
Editing and Creating Files are comparatively easy on ePUB. It is because an ePUB is a Zip file holding style sheets, JPG and XHTML. However, it requires a little knowledge about coding to create an ePUB file. For this, you need to make some editing on the HTML codes. For PDF, it requires uploading of Adobe Acrobat which is free. Download the program and convert DOC to PDF and other file formats to PDF. Creating a PDF file is easy and quick as compared to ePUB.
One of the primary features that differentiate ePUB from PDF is its ability to reflow its content. It means the text of an ePUB file will adjust as per the size of the screen. It doesn't require users to pinch and zoom like you do for a PDF file. It means it offers comfortable reading to its users. A PDF file is lightweight. The size of the content can zoom in so that you can adjust as per your convenience.
A PDF file is plain paper. It opens on Windows, Mac, and Linux. Moreover, all smart devices like smartphones, tablets, and eBooks support PDF. ePUB has been designed keeping in mind readers. XML and XHTML make ePUB files accessible to several platforms. Users can read ePUB files on their smart devices and any eReader.
Conversion from PDF to ePUB
When it comes to exporting from PDF to ePUB, users usually have two different options. One is manual and the other is a third-party conversion solution. Manual conversion methods are not reliable. Users have the risk of data loss. At the same time, there is a risk of data hacking. Therefore, the best solution lies in using an automated conversion program.
Luckily, several options are available to go with. One such reliable program is Softaken ePUB to PDF Converter. It makes the daunting task easy and swift. With the use of the correct tool, you can make the conversion process super-fast, easy and convenient.
Here are the Key Features of ePUB Documents to PDF Document Converter that Prompts Users to Get Its License.
ePUB Converter supports a single window. Users follow all the steps of conversion in a single window. It makes the application so lightweight and easy to use.
The interface of the program is interactive. For conversion, there is no lengthy process. All it requires is to follow three steps.
The utility supports the conversion of single as well as multiple ePUB files to PDF. Hence, the conversion becomes faster and hassle-free. If you have multiple ePUB files to export, there is no worry.  The program allows users to select as many ePUB files as they desire to export at the same time or one go. It is a striking feature of the application.
The tool offers impeccable control on conversion because it allows users to export only selective ePUB files. There is a browse button to click on and select ePUB files from locally saved folders or sub-folders. Hence, results are always in favor of users.
The tool saves the exported data to PDF and the user's specified location in the system. That location can be an existing folder or a new folder.
The program comes with an added advantage to use it for an unlimited duration. It means the tool is always available to you to use as much as you desire.
The application is well evaluated for its accuracy. Users can show their trust in it.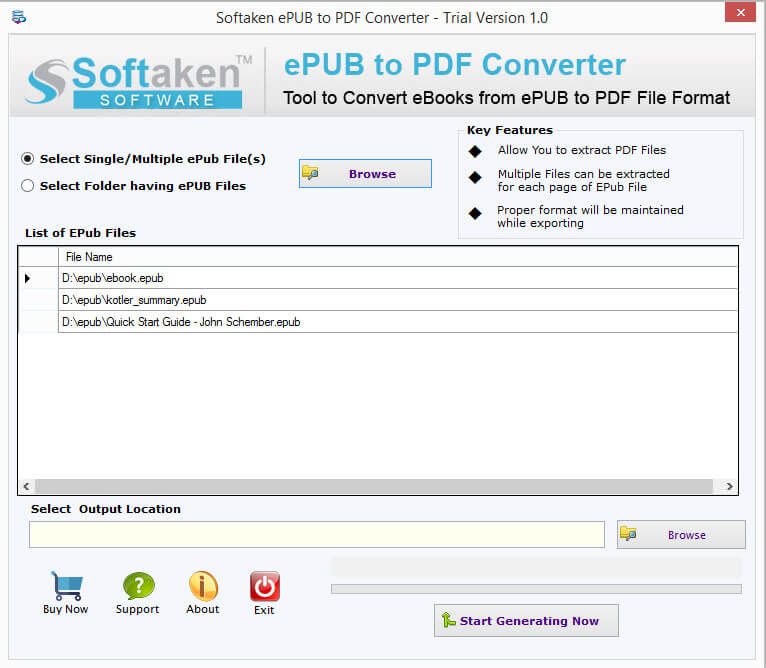 Conclusion – If you are desperately looking forward to exporting from ePUB File to PDF, the best solution is to use a third-party conversion program. It is the finest way to export data without the worry of data hacking and data loss. The application is straightforward. It makes the conversion process fast and easy. Hurry, get ready to install the free version of the app to assess its capacity.