This press release announces introduction of updated version 2.0 of Softaken MBOX Duplicate Remover Software. The new version comes with Match filter option to remove MBOX file duplicates. Also, you can now remove MBX file duplicates using this software. The updated version is designed to provide better experience to users. This well-versed solution allows instant removal of MBOX duplicates without any hassles.
Launching date: 22 June 2022
Softaken is launching the updated version of Software from today's date. With more advanced features, users can quickly remove duplicates from MBOX files.
Need for the software
To fix MBOX file duplicates, the need for this program arises. Thus, to fulfil users' need, Softaken launched this software. But as per user needs, Softaken has updated this program with Match Filter feature and facility to remove duplicates from MBX files which are created in Eudora application.
Features instilled in this software
Using this software, one can eliminate duplicate MBOX files within fraction of seconds. Even single as well as multiple MBOX files loading is possible at a time to fix all duplicates. This utility can auto load mailboxes from Thunderbird directory to fix duplicates.
You will get two options for removing duplicates from MBOX files – with each file/folder or across all MBOX/MBX files. Without affecting attachments or losing formatting & other details, the software fixes duplicate MBOX files.
This program detects healthy MBOX & MBX file duplicates and remove them effortlessly without need for supportive email client installation.
With updated edition, users can apply match filter to fix duplicates of MBOX files. Users can pick 'all' or desired fields like 'subject', 'body', 'attachments', 'date & time', 'to', and 'from' to fix duplicate mailbox items. This feature has helped a lot to users by removing duplicates using filters.
This advanced program is very simple to use hence without getting technical skills, you can use it. It smoothly fixes duplicates from MBOX files & provide you quick & expected results. Compatible to run on the latest Windows OS such as 11, 10, 8.1, 8, etc.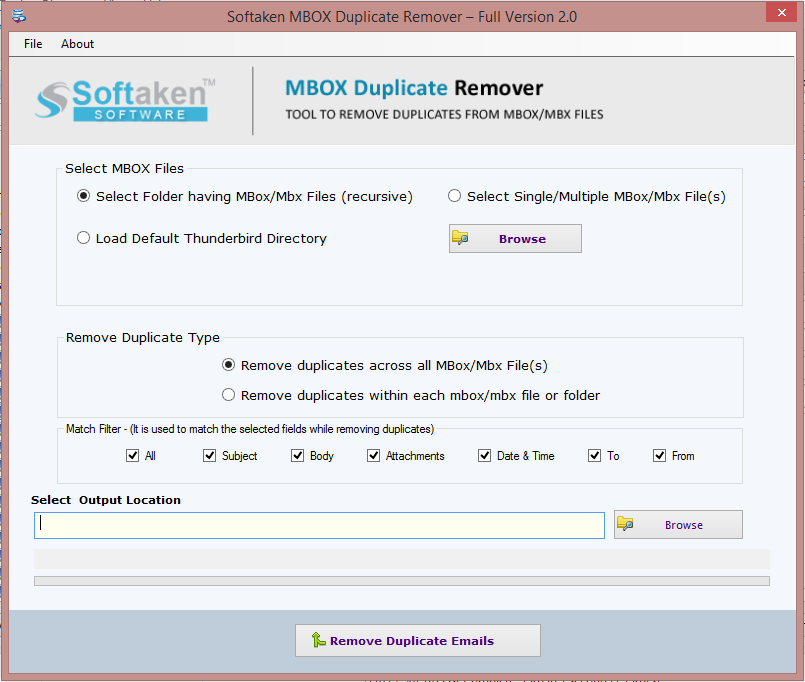 Words from CEO
"Our software with its updated features will provide amazing experience to users. It is programmed as per users' demands and the updates are done to render best facility to users while removing MBOX/MBX file duplicates."
About the Company
Softaken is a leading IT company that offers advanced and commendable solutions to users. It provides risk-free solutions to users to deal with data migration, backup, data recovery, freeware tools, etc.
To get updated version of this program, go to the below mentioned link: