When the term "Network Solution" is used, many of us become confuse. What is a network solution? What are the email service providers offering network solutions? Therefore, it is essential to know the broad meaning of network solution and top email service providers offering network solution.
What is a network solution?
A network solution can be any product, service, or technology that helps users to manage their computer networks. Security tools, email management tools, and network management systems come under a network solution.
A network solution can be a specific set of hardware and software to meet the needs of a specific network. It compasses a range of technologies.
Top email management network Solution Service Providers are:
Zoho Mail
Yahoo
Google Workspace
ProtonMail
MS 365
FastMail
AOL
When we talk about conversion from a Network Solution to Outlook for Windows, we may want conversion from Zoho Mail to PST, Google Workspace to PST, Gmail to PST, and so on.
Manual Conversion Solution Network Solution to Outlook
In the manual method, you require using Microsoft Outlook's in-built feature to transfer data from a Network Solution to Outlook application. Below are the steps to follow.
Access MS Outlook application on your system
Now, navigate the File menu and then hit the Add Account tab.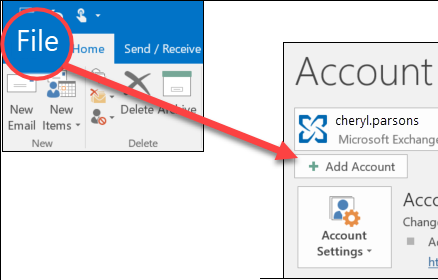 In the new window, provide the target email address.
Now, hit the "Let me set up my account manually" option and press the Connect tab.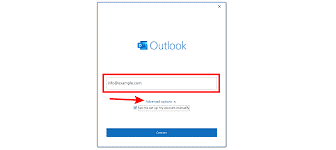 In the choose account type, select IMAP and proceed further.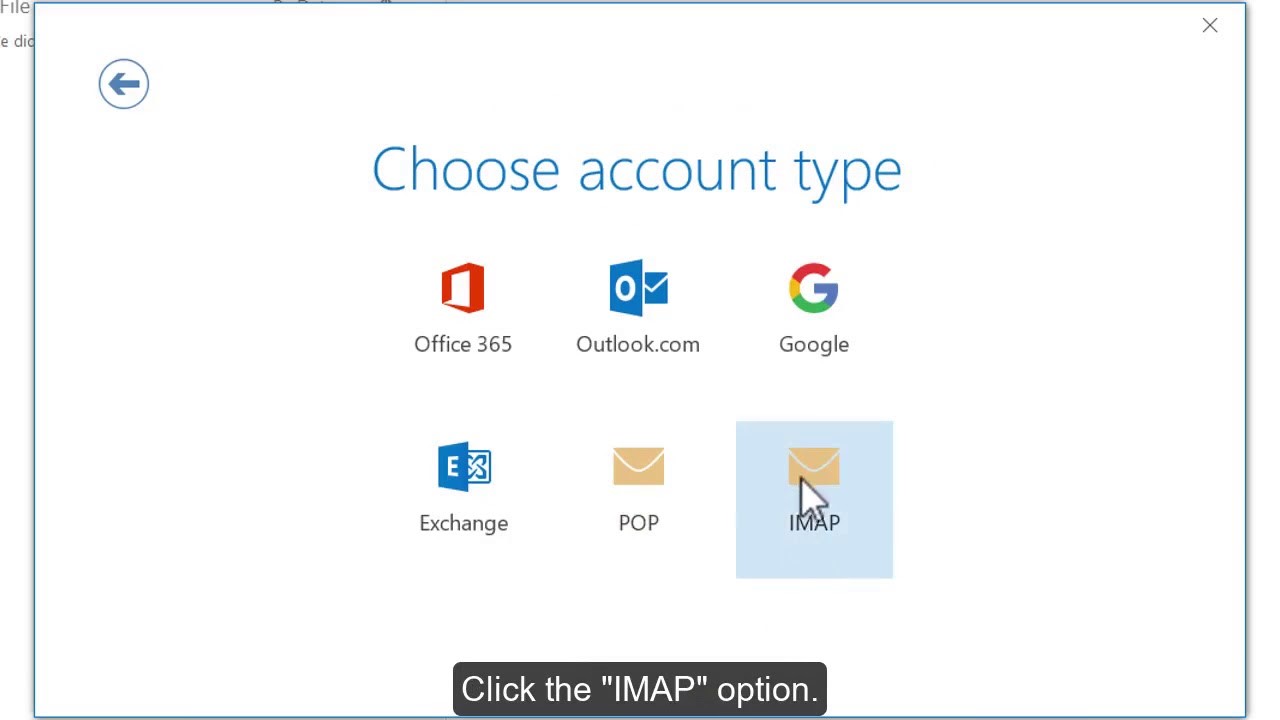 To integrate the particular IMAP account with Outlook, enter the following details;
Incoming mail- mail.yourdomain.com
Port- 993
Encryption method- SSL
(If you select SSL, choose the IMAP port as 993 or else select 143 as the IMAP port number without SSL)
Outgoing mail- mail.yourdomain.com
Port- 587
Encryption method- SSL
Don't forget to check the box near the Require logon using Secure Password Authentication(SPA) message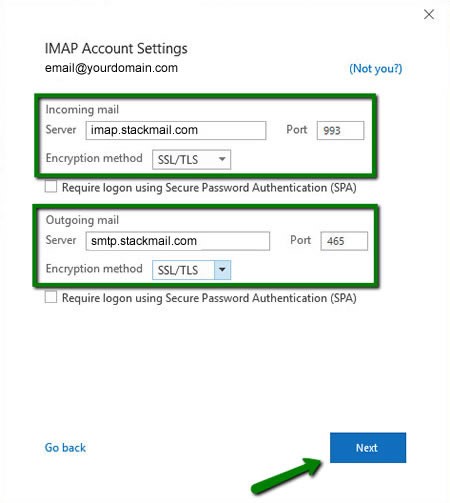 Enter the Next tab, provide the correct password and press the Connect button.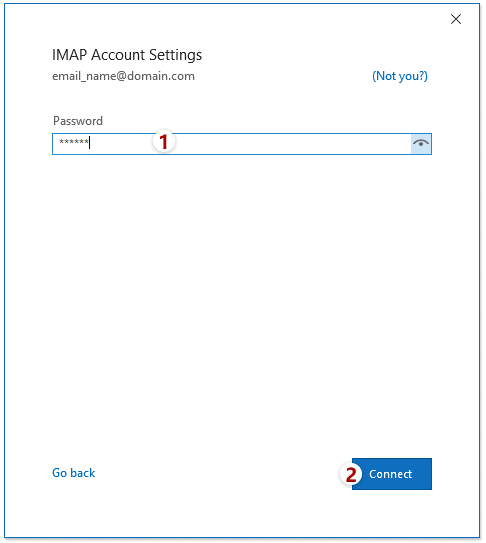 Outlook will automatically configure with the given email address.
As Outlook configures with the particular account, Done message will appear. Press the Done button.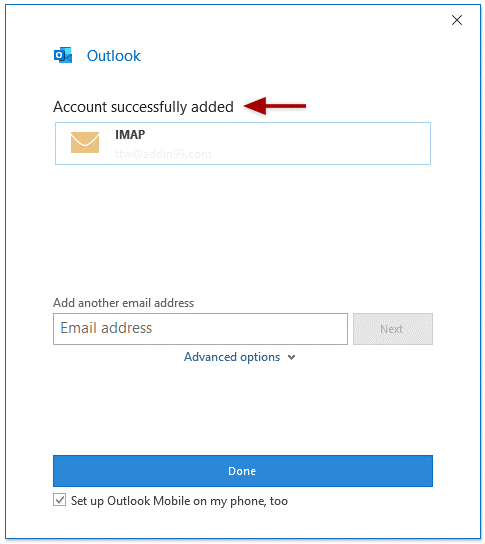 The above process is easy to follow. If you are a novice, we suggest you to leave the task on the hand of someone who is technically expert. Steps of configuration require technical skills.
Automated Solutions to Export from Network Solutions to Outlook for Windows
When using a third-party program to convert files, you have a variety of options. Most likely, you desire to use a program that offers accurate conversion. What could be a better backup tool than Softaken?
In other words, you can test out the Softaken IMAP Backup Tool to Move IMAP to Outlook. More than 100 users have given the app ratings over 4.6. It is one of Softaken's best-selling items. The software has amazing features that make IMAP to PST Conversion simple, quick, and precise. There is also a free trial version that can be downloaded to test the app's functionality.
Significant Features of the IMAP Backup Program
A single window application. The steps are assembled and practiced in a single window. As a result, the application is lightweight.
There are no particular technical abilities required, even if you are a beginner to run the program. It is an easy-to-use application that you can download and run on your computer.
As you enter your credentials, the app automatically establishes a connection with your targeted IMAP account. It provides custom conversion as a result.
Data from a specific IMAP account can be exported to Outlook. You can select to export Gmail, Yahoo, AOL, or any other tool that supports the IMAP protocol to Outlook for Windows, for instance.
The app saves attachments to PDF or HTML file format.
It allows you export IMAP account to PST or MSG file formats of MS Outlook. After conversion, the exported data is accessible to Outlook 2003, 2007, 2010, 2013, and all its latest versions.
The steps are easy to follow. Users don't get confuse because the app has itself provides conversion steps.
The app is independent. You can export IMAP to PST without Outlook.
The licensed version is free to use for unlimited duration. You can use the app as long as you desire.
  Also Read:- Export Becky Internet Mail to Outlook PST
Steps to Run Softaken IMAP Mail Backup Tool
Download and run the application
Provide the Host, Port, username and password of your IMAP account and hit the Authenticate Me tab
Select either entire folder of a specific folder by clicking at the arrow of the Select Folder
Press the radio button of Generate PST File Format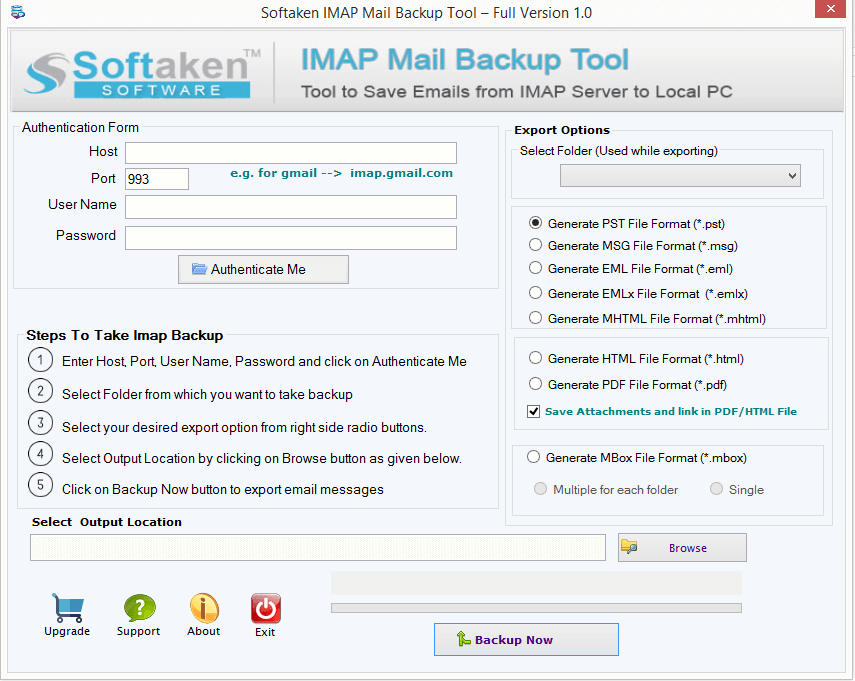 Check the Save Attachments and Link in PDF/HTML file
Press the Browse tab to provide destination for your PST file
Press the "Backup Now" tab
Conclusion
In general, conversion is simple, quick, and precise when using an automated solution. Before purchasing a licence, download a free demo version of the program to test its accuracy.