Summary: Are you looking for ways to export from Becky Internet to Outlook PST? Read on the article to know ways to export from one platform to another without losing quality.
"Becky! Internet Mail" is one of the most popular email clients developed by RimArts, a Japanese software company. The interface of the app is user-friendly. It allows users to manage several email accounts including POP3, IMAP, and SSL/TLS encrypted accounts.
Becky! Internet Mail is popular because of its customizable templates, advanced spam filtration, advanced address book management, and support for multiple languages.
Though Becky! Internet Mail is famous, it is not as advanced as MS Outlook for Windows. The Microsoft product offers several advanced features. It has add-on features to make data management more sophisticated and fast.
Methods to Export Becky! Internet Mail to PST
The conversion process involves two steps. One step is manual and the other is a third-party program. Entire manual conversion can be time-consuming, tiring, and resulted in data loss.
Therefore, the first process for Becky! Internet Mail emails to PST conversion comprises extraction of Becky! Internet Mail data in MBOX file format. In the second step, you can use a professional app to transfer MBOX to PST.
Downloading Becky! Internet Emails to Desktop or Becky! Internet Emails to MBOX Conversion
First step is to prepare Becky! Internet Mail's data for conversion into PST. For this, we first use a built-in export option to save data of the tool in MBOX file format.
Below are the steps to follow-
Launch the program, Becky Internet Mail, on your system.
Go to the File menu and choose Export here. It will open the Import/Export Format window.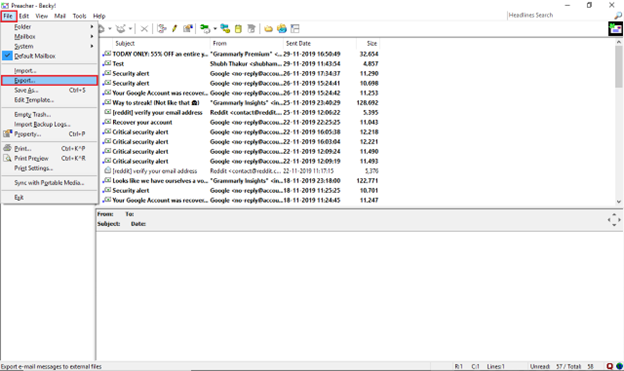 Now, in Import/Export Format tab, select the radio button besides the UNIX mbox option and hit Ok.

Manually, select the destination where you want to save the newly created MBOX data.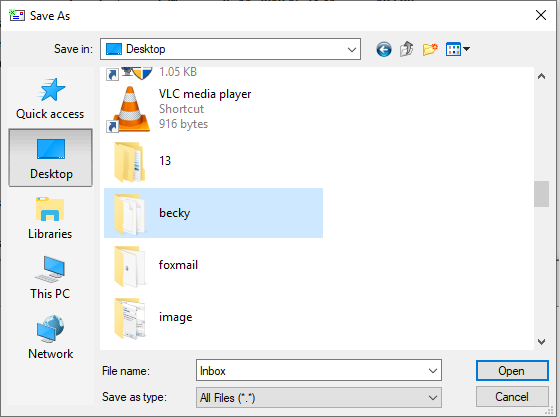 The Becky! Internet emails data is now accessible to MBOX file format.

Next, you can convert Becky! Internet emails to PST using an automated application.
Automated Becky! Internet Mail to Outlook PST Conversion to Retain Structure & File Quality of MBOX Files
Among a verity programs to choose from for MBOX to PST conversion, you can consider the Softaken MBOX to PST Exporter. It is a reliable application, available for Mac and Windows users. Softaken is a leading online store to get the license of professional third-party applications for Outlook and other applications. The online store provides high-quality conversion tool. They are lightweight and completely free from bugs.
Significant Features of Application
It is a straightforward program that exports data without losing quality of data.
The tool exports emails with their attachments. All email properties like CC, BCC, To, From, Subject, Date, and the email body are exported without losing structure and format. It is like copy and paste of data.
The conversion tool allows users to convert of single and multiple MBOX files together. You can choose one, two, three, and as many MBOX files as you desire to export to PST file format.
The program has interactive interface to complete the migration process in four easy steps. Anyone can run and operate the tool. It doesn't require technical proficiency. It is a self-descriptive program.
The conversion program creates a single PST file for all MBOX files you are exporting in bulk or creates separate PST file for each MBOX file.
It offers file naming convenient where you can decide the file name like Subject plus unique ID.
Custom conversion is one of the most primary attractions of the app. It supports filtration of data by date range. Provide the From and To details to select and export data.
The licensed version of the app is available for unlimited duration. You can use the app until you want.
The utility is lightweight and bug-free to get the best conversion results.
It is an independent program. It means it is self-sufficient to export data. Conversion doesn't require installation of Outlook or other applications.
Steps to Operate MBOX to PST Converter
Download the program
Select the Folder Mode or File Mode and hit the Browse icon to upload files
Take a quick look at all the uploaded files in its preview pane
 Press the Export icon from the menu ribbon and select the appropriate export option- Create Single PST for All MBOX Files or Create Separate PST for Each Account
Check the Save Attachments in Separate Folder option and in the name convention box, select the way you want to save exported file
Hit the Browse button to select the output location to a local folder and press the Export Now tab
(Note: You can select the Date Range if you wish. It is optional)
Final Words
With the aid of a specialized utility, conversion from Becky Internet to PST can be facilitated conveniently and fast. Long process is required for manual MBOX to PST conversion. It may eat up valuable time. The complete conversion is not guaranteed here. When doing it manually, you first convert MBOX to EML, then EML to Outlook, and finally Outlook to PST. You might require technical advice for this. You can choose a manual conversion solution if you have the time and knowledge to do so. Overall, one of the finest alternatives to manual versions is a professional application.