Microsoft provides the facility of Exchange server in the organizational environment. With the server facility, working on both Mac and Outlook becomes hassle-free.
To work on Outlook for Mac is somewhat is almost similar to work on Outlook for Windows but the files used by both them are different. Outlook for Windows stores mailbox data in PST file (Personal Storage Table) whereas Outlook for Mac stores in OLM file.
Difference between OLM and PST:
Microsoft Outlook for Windows is supportive of file formats such as PST and OST. But have you wondered why in two file formats? Let's find out!  The data get stored in PST file in the situation where MS Outlook is configured with POP 3 whereas in OST file when the work is done in the offline mode with MS Exchange. Also, Outlook for Mac stores the entire mailbox data in.olm file format.
Difference between Outlook for Mac and Outlook for Windows:
Before making a conversion from OLM to PST, it is very important to make a comparison between Outlook for Windows and Outlook for Mac. Here are some crucial differences:
Microsoft Windows is widely used all over the world. Millions of people use it around to fulfill their emailing needs. In addition to this, a report estimated that over one billion Windows PCs are running successfully currently. As far as Outlook for Mac is concerned, one hundred million Mac users enjoying its facilities every day.
Following are the features missing in Outlook for Mac as compared to Windows Outlook:
Related to Mail:
Cannot create tables.
Can't recall the message.
Lack of preview attachment feature
Unable to set the folder retention policy.
Can't add posts.
Fails to find related messages.
Can't save files in HTML/TXT.
Least possibility for Folder (order) customization
Non-inclusion of send messages defaults.
Can't send mail as a distribution list.
Related to Tasks:
Fail to create To-do items list
Can't assign tasks to users.
Related to Protocols:
Protocols such as SMTP and EAS are excluded.
Impossible to make a connection over HTTP.
Related to Calendar:
Unavailability of SharePoint lists as well as calendars
It is next to impossible to share the available info like contacts or calendars with any external user.
Related to Contacts:
Difficult to manage Exchange distribution list.
It is difficult to synchronize contact groups with MS Exchange.
Related to Exchange:
Can't get access to the mailbox size and quota info.
Cannot find any sort of mail and policy tips.
Others:
There is no option like automated synchronization of Drafts or Deleted Items folders for Google Mail.
Exclusion of OneNote integration, Gestures, and Quicksteps.
A user cannot find the sync slider for an account.
It is tough to access Office 365 Groups.
Lack of options such as Send/Receive.
Lack of Optimize bandwidth option
Causes behind OLM to PST Convert:
Due to a very common but important reason, users feel the need to move OLM in PST. Outlook for Windows is unsupportive of OLM files which further makes it difficult in accessing OLM into Outlook for Windows platform. Now, to access OLM files in Outlook for Windows, make a conversion of OLM files into PST. Once the conversion gets over, import PST in Outlook for Windows. Thus, before you switch the Outlook for Mac environment to Outlook for Windows platform then it becomes significant to convert OLM files into PST.
Situations where OLM to PST is a dire Need:
Platform Change: The change of system from Mac to Windows creates an urgent need for converting OLM files into PST.
Use of Windows at Home and Mac in Office: If a user uses Windows installed PC at home and Outlook for Mac in the workplace then also conversion becomes a quick requirement.
Manual Process for OLM to PST Conversion:
If you want a manual process for converting OLM files into PST then you need to go through four main steps. Check below:
IMAP Account Creation: The first expected step is to create an IMAP account and to do this, follow the steps given below:
Start the process by opening Gmail. You can open any other webmail as well. After opening the webmail, go to 'Settings'
Now, in 'Settings' choose 'Forwarding and POP/IMAP' Tab
After this, the time is to check IMAP status, make sure it is enabled. Do not forget to save the changes.
Configuration of Outlook for Mac with IMAP: After creating IMAP account, move onto the second step i.e. configure the Outlook for Mac with IMAP account and the steps are as follows:
To do this, open Outlook for Mac. Now, navigate to the 'Tool' tab >> choose 'Accounts'
In the next step, select 'Email'. And then enter your email address, password, and other crucial details.
Now, enter the IMAP server. Also, choose SSL connection. While selecting SSL connection with SSL, ensure that the port number should be 465. Now, click the' Add Account'.
Exportation of Emails from Outlook for Mac to IMAP Account
Now comes the turn to export the emails from Outlook for Mac and to do this, follow the steps given below:
Open Outlook for Mac
Choose the items you wish to move.
Once you have selected the folder to move, right-click on it and then click copy to folder
You will find the name of your IMAP folder. Select 'Copy'
Update your IMAP folder using Send/Receive button. This will lead to move all the OLM emails in IMAP
Configuration of Outlook for Windows with IMAP Account: This is the last step in regard to OLM to PST export:
Here, you will open Control Panel >> Mail >> Email Accounts >> New
After performing this step, choose 'Manually configure server settings', click Next.
Now, select IMAP/POP settings and quickly select 'Next'
It is the time to enter all the account credentials of your IMAP account and Incoming and Outgoing server details and then click on 'More Settings'.
In the consecutive step, click to the 'Advanced' tab and quickly enter the port number i.e. 993 in your IMAP server. Also select SSL connection. Click OK after entering the Port number and SSL connection.
Click Next >> Finish.
You must have noticed that the manual process of converting OLM into PST may cause severe trouble if you miss any of the steps mentioned above. The manual procedure is not easy to perform because it needs your careful attention. If you miss any of the steps there are chances of losing crucial data forever. Let's look for some direct method for OLM PST Conversion
Easy Method to carry out OLM to PST Conversion
Softaken provides a beneficial conversion utility named OLM to PST Converter. This tool supports converting OLM files in PST comprehensively.  The application exports OLM files into PST files without a bit of complication.  The tool supports working with all the Windows and Outlook versions.
Steps for OLM to PST Migration:
Install Softaken OLM to PST Converter
After installing the software, click the Browse button. Now, add the OLM files.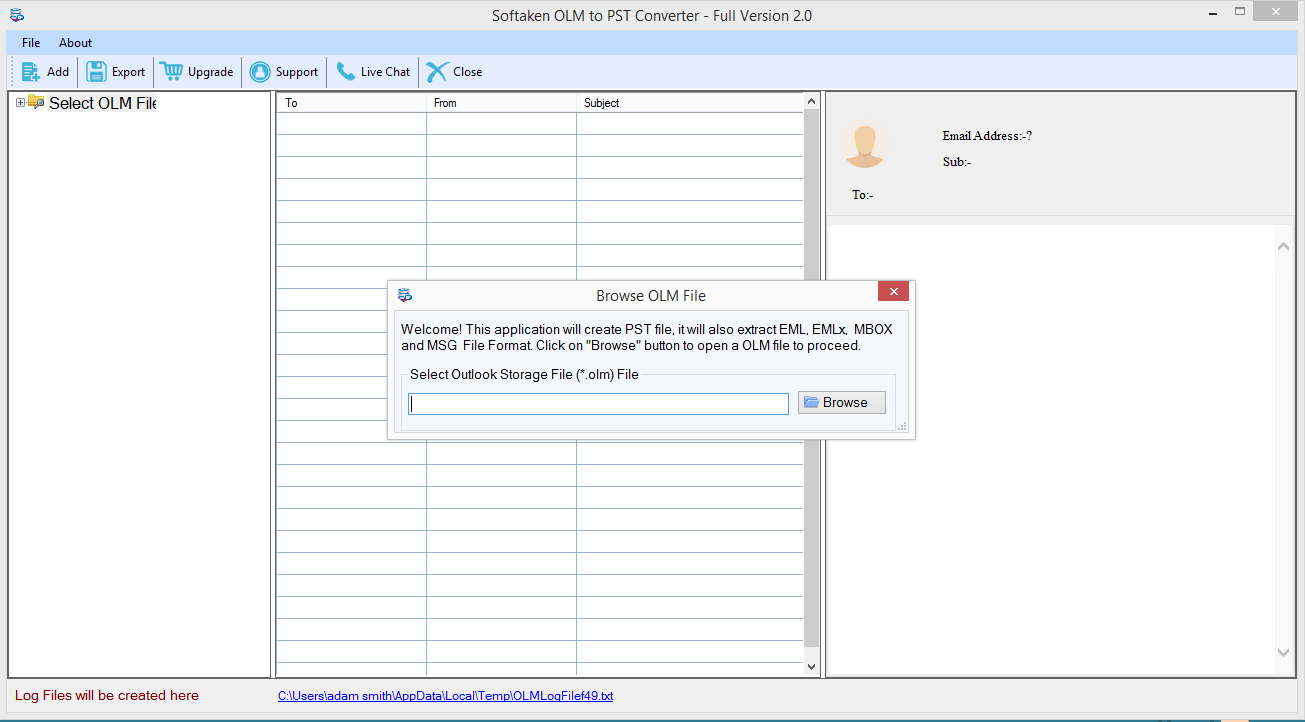 You will get a preview of the mailbox folder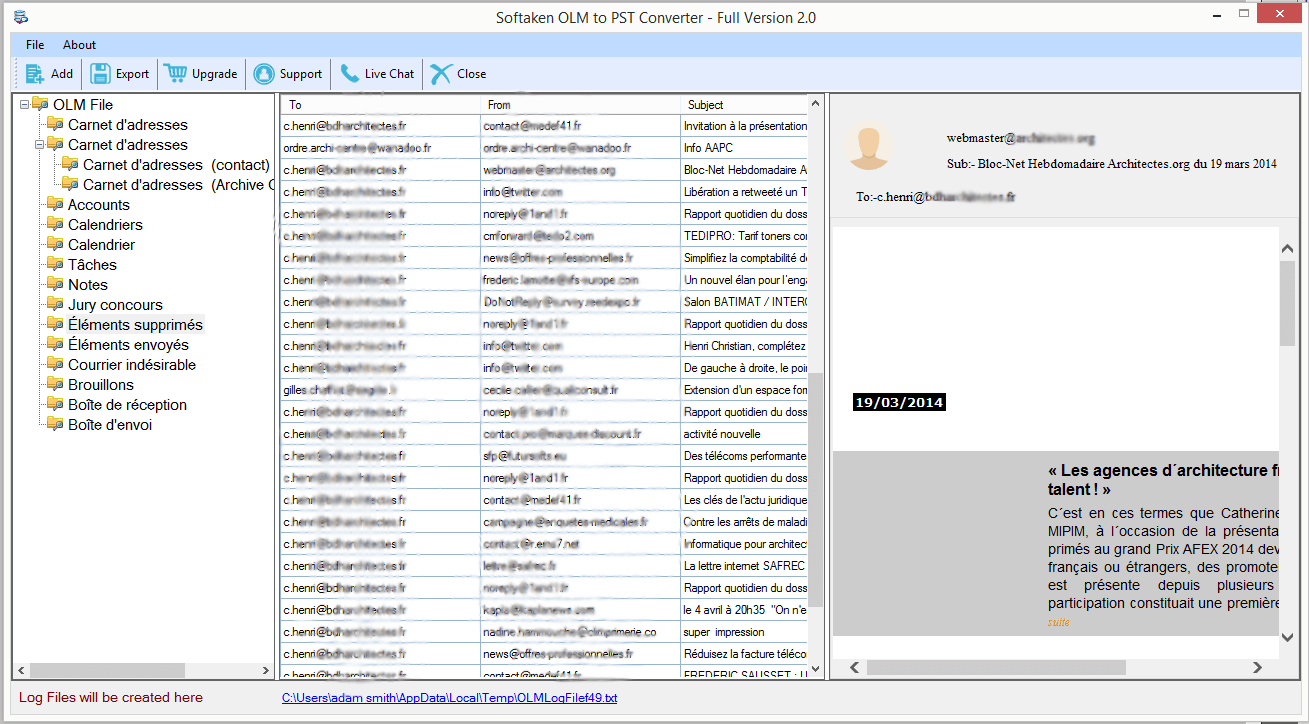 After preview, you will find the Export options in a small window. The options to convert in EML, PST, EMLX, MBOX will appear on screen. As you need to export OLM in PST, so you go for export OLM.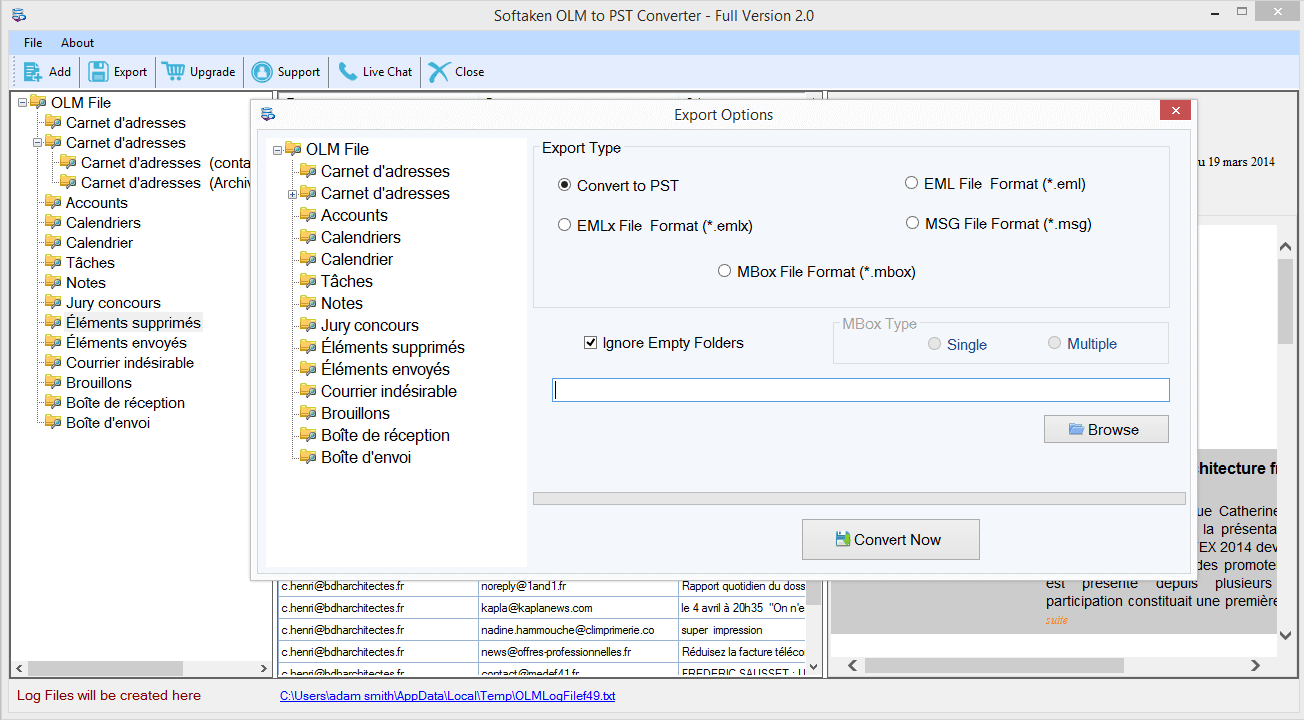 The screen of the software will also show you the 'Ignore Empty Folders' button so that you can reject the blank folders from OLM file.
After this, use the Browse button to choose the desired location for saving the file.
Lastly, press 'Convert Now' to begin the conversion procedure.
Final:
MS Outlook is an email application for Windows whereas and Outlook for Mac is specifically meant for the Mac platform. Though both Outlook for Windows and Outlook for Mac provides Exchange connectivity, still users want to move from Mac to Windows on several occasions. This creates an ultimate need for converting OLM files into PST files. And such a conversion can be performed using OLM Converter.