By the help of this informative blog, we will explore reasons and solutions for starting Outlook in safe mode.
Outlook Safe mode is nothing different or strange. It simply means opening Outlook program with some restrictions or limited add-ins. This ensures that while your Outlook is opened, you can access only your necessary files. Now, first we will discuss when there arises a need to open Microsoft Outlook in safe mode.
Why users start MS Outlook in safe mode?
Outlook sometimes generate problem for users and in this situation, users can try opening MS Outlook application in safe mode. This will help users to figure out their problem which they were facing. Safe mode also disables Outlook add-ins.
When Outlook crashes or encounters a problem then users have to attempt opening MS Outlook program in safe mode. Most of the times, it is quite obvious to open your Outlook program in safe mode for resolving your issues.
By this, users can repair their issues. Generally, it occurs when a new plugin is installed & that is not compatible with Outlook edition.
Check Five Common Outlook Errors & How to Fix
Techniques for Opening MS Outlook in Safe mode
Based on the version of Outlook, the process of launching Outlook in safe mode differs. Also, for different Windows OS, it may slightly change. Here, we are disclosing three techniques for you:
Technique 1. Using Run Command
In Windows 7 and Vista, directly go to Start menu and type cmd and then enter. This will start command prompt. Simply, enter Outlook.exe/safe. By doing this, Outlook will automatically launch in safe mode.
For Windows 8 and 10, when you start typing, search box will display automatically. So, you have to enter Outlook.exe/safe in Start screen and hit Enter.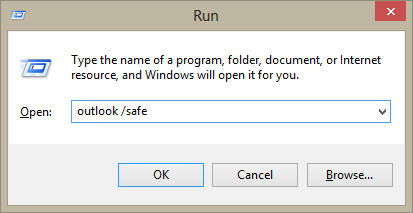 Technique 2. Holding CTRL Key
By holding CTRL key and go to Outlook, one can launch this program in safe mode. In the opened window, click Yes. If you failed to find Outlook.exe then directly visit this location:
C:/Program/Files/Microsoft Office/Office.
By launching Microsoft Outlook program in safe mode, one can access it without any add-ins or plugins as these may create problem in Outlook.
Technique 3. Create shortcut to start Outlook
Manually, create a shortcut to launch Outlook application in safe mode. For this, search location of Outlook.exe that you can get at the below-mentioned location.
Go to desktop and simply, right-click the empty space.
Select New and create a shortcut of Outlook.
Enter this path where your Outlook.exe is located by using the Browse location.
Type Space or safe and this show C:/Program Files(x86)/Microsoft Office/Office 14/Outlook.exe/safe.
Click Next & then provide name for this shortcut.
Hit Finish button to end this process.
With any of the disclosed techniques, users can start MS Outlook email client in safe mode. However, in case users are facing problems due to PST file corruption then this corruption issue can give birth to other issues. Therefore, users must fix it immediately. For this, you should go for a reliable third-party solution named Softaken PST Repair Tool. This is the foremost solution that one can opt for repairing corrupt PST files.
This program will offer you a new PST file containing all data of corrupt PST file. By full scan, users can save all data into new PST or other files. After this, opening this corrupt PST mailbox items in MS Outlook becomes simple for users. This software is designed to deal with any highly corrupt PST file of any size.
Final Thoughts
If you have issues in MS Outlook, you can simply resolve them by opening or starting MS Outlook application in safe mode. To do the same in different Outlook & Windows OS, check out three ways in this post. By following them, we hope your problems will resolve. But if the issue is corruption of Outlook PST file, then you must choose professional solution which is the simplest and accurate solution for fixing corruption of PST file. To get all details of the features & working process of this software, use free examination copy before you activate the license.