Who doesn't know about Lotus Notes? The more-than-a-decade-old application doesn't require an introduction to IT organizations with 50-100 of the workforce. Although Lotus Notes has evolved over time, users still complain of some issues that have not been repaired yet. Users of Lotus Notes 6.5 and 8.5 often deal with HTML errors. If you have the same issue with your Lotus Notes, the blog will guide you to adequate measures to fix the issue.
Users call the error rendering style error or HTML email rendering error. The issue occurs with Notes 6.5 and 8.5 because they become buggy and non-standard while rendering HTML emails. These Lotus Notes versions may not display HTML emails as you expect. In other words, Lotus Notes alters HTML emails into a rich-text format.
Some other issues develop during HTML email rendering.
Let's find them-
colspan: It is an element of the table cell that gives a signal to Lotus Notes about how many columns have opened but, the app is not able to get the signal. Hence, users require using several tables as a workaround.
Center Alignment: Users of Lotus Notes experiences an alignment issue, such as <TABLE ALIGN =" CENTER"> is compatible with the version 6.6.3 but this same line fails to work with Lotus Notes 6.5.4. Moreover, the <CENTER> tags around the table are ineffective with the version 6.5.4.
Causes of HCL Notes HTML Email Issues
If you have the issue and it comes back again, it is essential to know its reasons.
It may be because Lotus Notes is not getting the HTML properties properly.
IBM Notes might be using its standards in HTML rendering that is not matching with other email readers
Each Lotus Notes version has its unique standards and rendering.
Ways to Settle Lotus Notes HTML Problems
Let's understand different ways to fix the issue. If these methods seem not helpful, the best way is to export Lotus Notes to MS Outlook or other platforms.
Try to keep the layout simple so that emails are readable.
Remember, the app keeps the border not less than 5 pixels. If you wish to keep pixel 1, it is necessary to save the line as an image to use it.
The best practice is to use image size to get control of space issues
Check the address twice to avoid spelling errors because it is usually case-sensitive in many cases
Don't use Colspan in your HTML tables. The older versions of the app use only basic table layouts.
Confirm the width accuracy of the td cells
Users the container table because it holds internal layout tables
Not necessary to keep the email at the center
Left alignment is suitable for Lotus Notes emails
Don't use a style declaration in the head tag of emails
Even after these measures, Lotus Notes' older versions have the HTML email layout issue. You can transfer Lotus Notes to MS Outlook to eliminate the issue with other issues facing HCL Notes. MS Outlook is a reliable email client by Microsoft. The app has been upgraded several times to provide the best user experience.
Conversion of HCL Notes
Without wasting your time, we want to draw your attention to a conversion program because HCL has no in-built feature to export NSF files to other email file formats. If you look for a manual solution for conversion, it would be a wastage of time.
Softaken Lotus Notes to HTML Converter is one of the best applications to use by enterprises and small units. The application can export Lotus Notes to multiple email clients. It is a matter of a few clicks to get effortless conversion by the application. It doesn't require you to be technically savvy to configure and run it. The app needs basic computer skills to operate.
Let's know about the primary features of the application
Update for features to improve users' experience
Enable users to convert Lotus Notes to PST, MSG, EML, EMLX, MBOX, PDF, and HTML file formats
Ensure that Lotus Notes is pre-installed
Export entire folders of a Lotus Notes file or selective folders of a Lotus Notes file
Display a preview of the selected Lotus Notes file in its preview pane
Provide error-free conversion each time you use
The free trial version helps decide the primary functions of the app
Support conversion of single or multiple NSF files to give speed to conversion
Save exported data to a new name by providing options to save files
Support the file name convenience to create a unique file name for converted data such as subject + unique ID
Save output to a local folder without modifying the original structure
Unlimited license validity to export as many Lotus Notes files as you desire
Steps for Conversion Using Lotus Notes Converter
 Download and launch the app on your system
Filter and select NSF files as many as you want
Get a preview of the selected files in a brief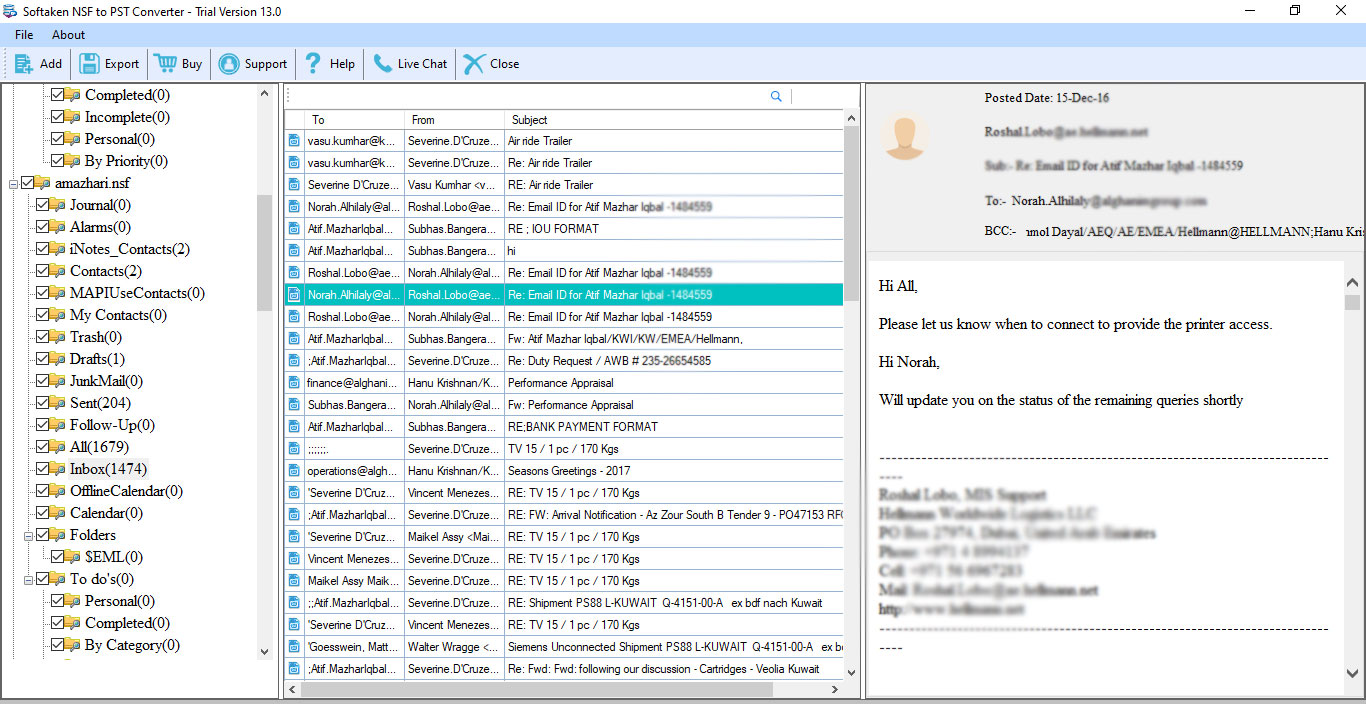 Choose the file format you want to save, like PST, MSG, MBOX, MSG, EML, and PDF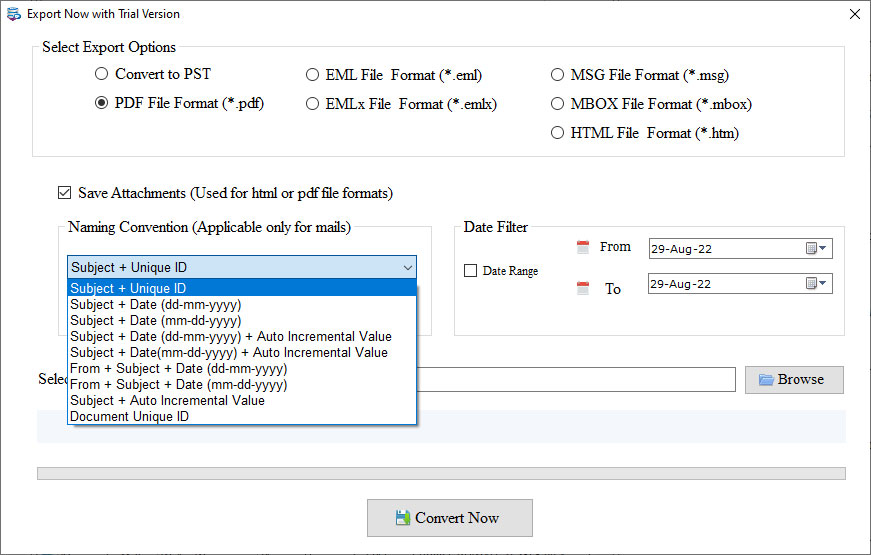 Select the unique name format to save the file
Select the date range if you want (optional)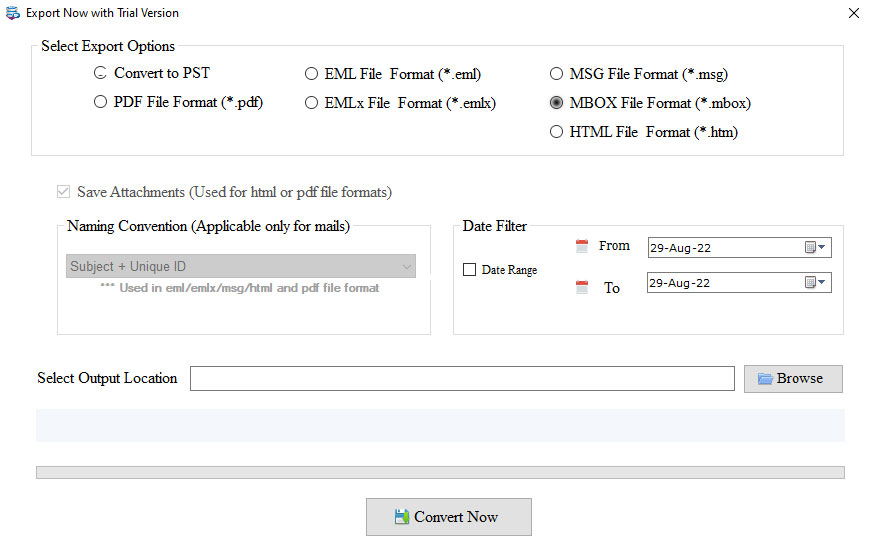 Select the output location and press the "convert now" button for conversion
The Concluding Words
Lotus Notes HTML email error occurs because of several reasons. There are no appropriate solutions to fix the issue. A third-party app can be a suitable option to consider if you want to switch from Lotus Notes.