Summary: In recent days, Rackspace email outage issue has been faced by users as its hosted Exchange platform has been attacked by ransomware. Due to this attack, there is an effect on the services of Rackspace Exchange users.
In this post, we will explain the Rackspace hosted Exchange issue and the possible ways to resolve this.
Rackspace has suffered a hosted Exchange environment outage due to some security incident. In the starting, lots of users face login & connectivity issues. Later on, the company officials declared that there is a security incident.
On Dec 2022, company officials announced there was a ransomware attack. Thus, users are facing Rackspace Hosted Exchange email down problem which affected the business of lots of users.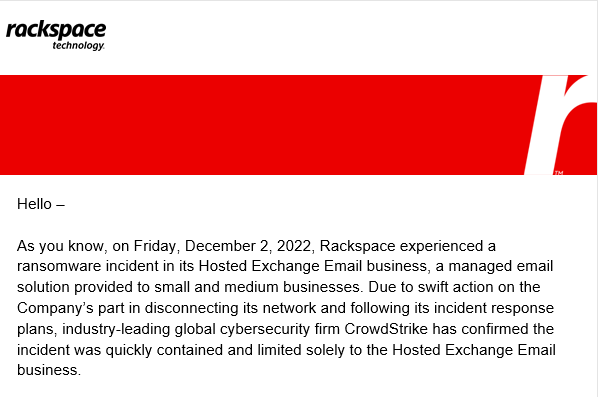 Current Update about Rackspace Mail Outage
For those users who are encountering outage issues with Rackspace are recommended to go for Microsoft 365 platform by Rackspace. Also, Rackspace is providing free Office 365 E1 license for its customers until further notice.
By contacting to their customer support, you can migrate to the cloud environment. However, many users face trouble in contacting their support team due to overloaded ticketing system.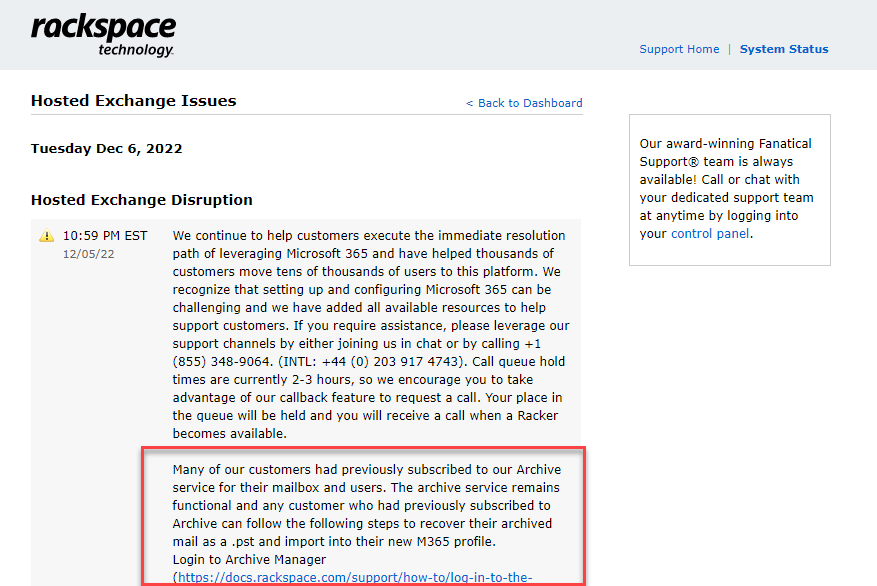 So, the next alternative is to use an automated method that will export the data of Rackspace to a free email client.
Available ways to migrate Rackspace Hosted Exchange data
To deal with Rackspace hosted Exchange email down problem, Rackspace officials suggested to opt for Microsoft 365. However, due to some issues in contacting support staff, users don't know the next move. So, in this part of the article, we will help you to understand 3 options that can assist you in moving Rackspace data to another email platform.
Option 1. Migrate to Office 365 platform
As suggested by Rackspace, the best way is to migrate Rackspace to Microsoft 365 platform. Now, it is providing a free Office 365 E1 license for its customers. So, you can pick a reliable program to migrate your data without facing any data loss.
As Hosted Exchange creates an OST file to store data of every user, so by using Softaken OST to Office 365 Migration Tool, users can easily migrate all emails, attachments, contacts, notes, calendars, and other items stored in OST file.
You can try out its demo version which is free for testing to all users before paying.
Option 2. Generate PST file from Rackspace Archive (paid subscription)
Using Rackspace Archive Service which is still available after Rackspace email outage for users is a paid service. This helps users to export their data into a PST file and later import it to Microsoft 365 platform.
Once you get the PST file, you can import it easily with Softaken PST to Office 365 Importer Tool. Using this effortless solution, one can easily import single or bulk PST files directly to Office 365 account.
Option 3. Migrate data to Another Email platform
If users don't want to migrate their data to Microsoft 365, they can simply use Softaken OST Converter Tool. This utility will help users to convert the hosted Exchange mailbox (OST) into various known formats. Users can either choose the PST option to export Rackspace emails into PST format or to other formats provided by the software.
This program offers many export options like MBOX, EML, PDF, EMLX, MSG, HTML, etc. Users can pick any export option and migrate the data without any data loss issues. Moreover, all kinds of OST files such as orphaned, corrupt, inaccessible, and encrypted are supported by this utility. Without the presence of MS Outlook in the system, you can utilize this software.
Conclusion
Due to the Rackspace email outage problem, users faced a lot of trouble and failed to access their data. Although Rackspace is working on this issue but it still has not been fully resolved. Thus, in this article, we have provided you with some solutions that you can opt for smooth email communication.