There are cases when users are dealing with an error while deleting Outlook file from Outlook. When they are trying for deletion of Outlook file, this error pop-up on the screen 'You can't delete this Outlook file.' Let us know this error in detail.
Offline Storage Table or the OST file saves data on mail server like Exchange. It saves a replica of mailbox data. But many times, OST file is found damaged or corrupt due to power failure, malware attack, sudden shutdown of system, etc.
In all these cases, when you try to delete this OST file using Outlook, you can find this error message on your screen. Once you copy the configuration information of this file to new default data file then you can delete this file.
You can also encounter this error when your Outlook file is in use by other program and you are deleting this OST file.
Through this informative article, we will help you to deeply understand this error and the ways for fixing this error. Also, it highlights a solution to export data of corrupt, damaged, and inaccessible OST file in case other solutions failed to resolve this error.
Know About the error 'Cannot delete Outlook file'
This error message is a clear indication that the file you are trying to delete will not delete until you copy its configuration details to new default data file. After doing this, you are capable of getting rid of this error by deleting this file. With various manual workarounds, you can fix this issue.
Important Note: Before you try any free solution, remember to save a copy of your current Outlook file data. No doubt the file is damaged but still it has some important emails or other items which have not synchronized with the mailbox on the server. In such situation, deleting Outlook file can cause severe data loss. However, by utilizing professional tools, one can retrieve all data items and save them into a new PST file.
Steps with Free Workarounds to fix the error
Let us explore the free solution steps to prevent or fix the error.
Step 1. Exit all applications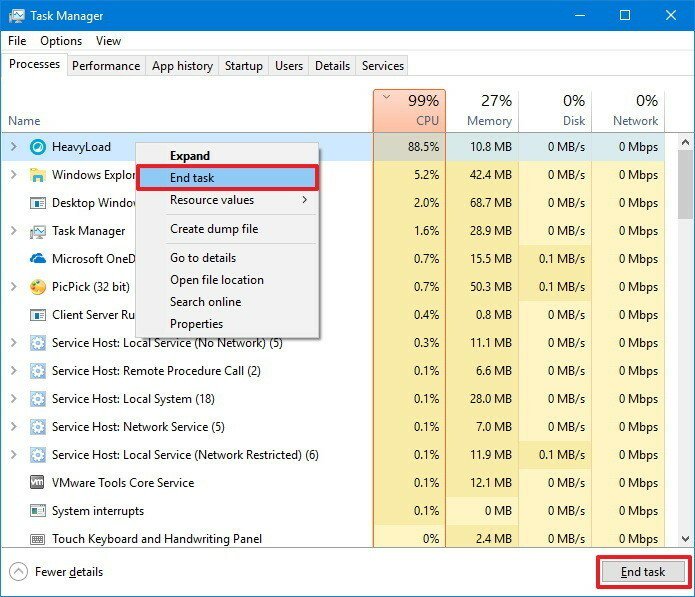 The first task you have to perform is to exit from all applications. It is must to do before deleting Outlook data file. By simply using task manager, you can close all running applications & their process –
Press CTRL + ALT + DEL key and select Task manager to open Task manager for closing all running tasks and applications.
Now, right-click the applications and choose 'end task.' After this, you can go ahead to try deleting the file.
Step 2. Removal of Outlook profile
You can give a try to remove Outlook profile from your system, if you are unable to delete your Outlook file. For this, steps are discussed here –
Open Control Panel and view by large icons
Now, go with Mail option.
Move to Show profiles
Choose the profile linked with Outlook file to delete the file. Hit Remove button.
Confirm and click on Yes button.
This removes your Outlook profile and Outlook file (OST) linked with Outlook profile.
After this, click on Add to add Outlook account or open Outlook to sign in Exchange account. This will create a new Outlook data file in default location.
Step 3. Delete Outlook file from default location manually
If you don't get success in deleting or removing Outlook file with Outlook & Control Panel, go to the default location of Outlook file to delete it with these steps:
Close Outlook and further applications like anti-virus program. Then, go to the given location using File Explorer –
C:\UsersProfileName\AppData \Local \Microsoft\Outlook
Right-click on OST file for deleting it and press Delete option.
Note: If OST file is not shown, go to View tab and choose Hidden items to view the file.
By this, you can successfully delete Outlook file without any issues.
Step 4. Delete Outlook file using the Registry editor
Another smart way for deleting Outlook Mail accounts is using Registry editor. Use this method when above explained solutions won't fix your issue.
Type Regedit in Run box opened by using Windows + R key.
Click OK to move ahead.
Go to the given location –
HKEY_CURRENT_USER\SOFTWARE\Microsoft\WindowsNT\CurrentVersion\Windows
Right-click on Windows Messaging Subsystem and hit Delete.
This will successfully delete your email accounts and their Outlook file data. Now, restart the system.
Professional Solution to Fix Error 'Cannot delete Outlook file'
In case, Windows Messaging Subsystem doesn't appear in the Registry editor, this method failed to work. Then, OST to PST Converter Software is suggested to use.
This software will assist you in retrieving all mailbox items from damaged OST file and export them smoothly into Outlook PST file format. It is capable of retrieving all deleted data items like emails, contacts, calendars, notes, etc. Then, you can use this PST file with all your mailbox items into new or existing Outlook profile on your system.
This program comfortably deals with the error which we are discussing in this post. Also, it will help users to improve performance of Outlook. This automated tool fully coordinates with every version of Outlook. Additionally, you can measure this software performance by using free demo version.
Steps to Fix Error
Open this program for recovering OST mailbox data.
Put on one or multiple OST files.
Analyze OST file data and hit the Export button.
Pick PST or other file saving format.
Set place on your system to save the file and press Convert Now button.
Time for conclusion
This guide gives you various fruitful solutions to resolve the error 'you cannot delete Outlook file' while you attempt to delete OST file. These methods are helpful for users to deal with corrupt or damaged Outlook OST data file without any errors. However, if manual solutions will not provide you success to fix this error, you can simply pick this problem with the software elaborated in this post. It helps users in recovering lost mailbox items and resolves various Outlook errors.