This informative article will reveal a productive solution to fulfill needs to change file extensions. From time to time, users find themselves in situations where they need to change one file extension to another file extension. If it is just counted files, nothing is tougher. But having hundreds of files spread within various sub-folders, you need a smart solution. If this is your hour of need, you must read this post to look out for the solution.
There are multiple software that claims to change file extensions. However, the problem is they need files in same folders. But when you have files located in different folders, you need an effective program.
Free method to change or rename file extensions in all folders
To rename file extensions in all folders, it is a simple process. For this, you don't even need of any third-party application.
Method 1. Using Command Prompt
Go to Start menu and then look for Command Prompt to open it.
If your files are in C drive, skip this step. Otherwise, go to the drive with given command. Also, replace <DriveLetter> with actual drive letter.
Use given command to go to the folder where your files are located. Replace with actual folder path. Given command will rename target file type in folder and subfolders.
Cd "D:\Path\To\Folder
Once you go inside target folder, use this command while replacing old extension (ext1) with current file extension (ext2).
For /R%x in (.ext1) do ren "%x" * .ext2.
For example, if you want to change JPG to BMP, the command will be:
For /R %x in (.jpg) do ren ''%x" *. bmp
Once you run this command, it will go through all subfolders in target folder and change the file extension.
Method 2. Using File Explorer
Using File Explorer, one can easily change extension of multiple files.
Click on the file and select it. Then, click once more. Windows self choose filename so that you can type the name by which you want to replace the old name.
Click and drag the extension, type new file extension.
Then, click on Enter.
Professional Program to change old file extension to new extension of folders & subfolders
With manual solutions, users may face many issues and sometimes these methods won't give satisfactory results. Apart from this, data integrity is at risk while replacing file extensions with manual methods.
With 1st method, you need proper technical knowledge otherwise you won't be able to understand & complete the process. In 2nd method, file extensions of folders and subfolders can't be changed. Also, this method is not always productive.
In addition to these two solutions, many online ways are available for changing one file extension into another file extension. But their main disadvantage is they are not safe. They may contain viruses which may corrupt your file and you may lose your important database. Hence, here arises need for a simple and secure solution.
Due to all these shortcomings, users look for an effective and safe solution. This need is fulfilled by Softaken Freeware File Extension Changer Software. This is a freeware offline program that comfortably changes extensions of multiple files together in few clicks. Files with multiple extensions can be added at a time. Including folders and subfolders, file extensions can be harmlessly changed with this automated program. Simply add any file extension like HTML, JPG, PNG, TX, DOC, etc. to change into required file extension.
Only few simple steps to change multiple file extensions together: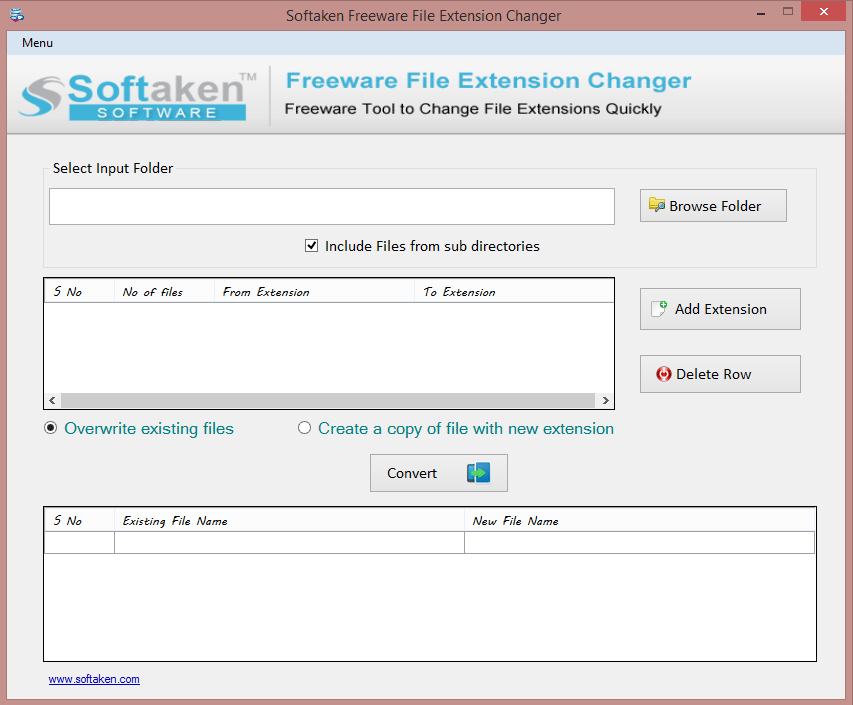 Install and open this freeware tool to change extensions from old to new one.
After opening the program, hit Browse folder button and add desired files to change extensions.
Mark option 'Include files from sub directories.' This is fully optional.
Add file extension in which you want to change old file extension.
After this, choose overwrite existing files or create copy with new extension.
Hit Convert button and this successfully changes old file extension into new file extension.
Why this freeware software is preferred over other solutions?
Here are some reasons that supports why it is highly preferred program over other solutions.
This free wizard will consider multiple files as input at a time to change file extensions.
Users have the facility to delete unwanted files before changing extensions.
This freeware program allows creating a copy with new extension or overwrite existing files
Users can preview both file extensions after processing by this tool.
Different file extensions can be loaded together to change.
It quickly change file extensions without creating changes in file content.
You can comfortably change any file extension into desired extension with this application.
Conclusion
Once you have a look at this post, you will find multiple ways for changing file extensions. The discussed manual ways are not so effective and productive in all situations. Moreover, sometimes users have to bear heavy data loss with manual ways. Hence, experts come with an automated free program which is fully tested for delivering you safe and instant results. The most amazing part of this program is it can easily deal with different file extensions at once to change them into desired ones.