Sometimes, iPhone and iPad users get this error "Cannot Get Mail" and this is a common error when iOS device is unable to retrieve new emails. Resolving this issue quickly is very important for users as it prevents email from working as expected. Through this blog, we will know how to fix "cannot get mail" error.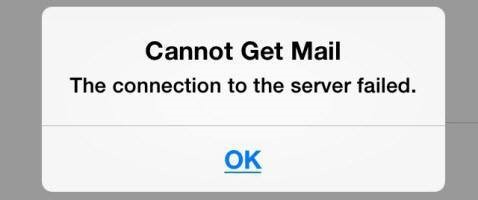 Methods to fix iOS device error "Cannot Get Mail"
Check Internet connection
The basic step is to check your internet connection. Using Wi-Fi or cellular data, make sure the connection is continuous and fast.
Remove and re-enter Email account
Sometimes incoming and outgoing server information of user account is not accepted by email server so user needs to remove the mail account and add it again. Here are the steps to remove email account –
Go to Settings option in iOS device and select 'Mail, contacts, calendars' option
In new window, click on Delete account option
Then go back to Mail, contacts, calendars option and click on Add account option
Now, choose the email provider like Yahoo Mail or Exchange and sign in to your email account.
After the login email account process, refresh the mail messages and check for the error is resolved or not.
Restart iOS device
Sometimes restarting your iOS device will help you to remove this error. For this, hold and press Home and Power button until you see Apple logo.
Restart Network Settings
Another way to resolve "Cannot Get Mail" error is to restart network settings by using the given steps –
Open your iOS device and go to Settings option
Click on General tab and select Reset option
Now, click on Reset Network settings' option
After completing the process, restart your device and check the error.
Change Microsoft Exchange Security Settings
If the user is the administrator on MS Exchange Server then they can adjust the settings or ask the administrator to do this. Follow the steps to change Microsoft Exchange Security settings –
Open Active Directory Users and computer
Select View tab and click on Advanced features option
Right-click on Mail accounts and choose Properties option
Click on Security option in new window and hit Advanced option
Select Include inheritable permissions checkbox and click on Apply button
Move emails to different folder
Sometimes, by moving emails to a temporary folder from Inbox. You can try opening emails with this method. Steps to move Inbox emails to temporary folder –
Select Inbox emails that you want to move
Use Move option to move emails to new folder
Go to the folder and access emails
Change your mail account password
By changing your mail account password, you can fix "Cannot Get Mail" error.  If your Mail app is not opening, you can change the password by visiting the website of your mail account using Chrome, Opera, Safari, etc.
Concluding Lines
Whenever you face "Cannot Get Mail" error on iPhone, now it becomes easy for you to resolve this error with this article where we have explained 7 ways to fix this error. You can check out these methods and resolve your issues.