Summary: The blog contains some of the best practices to migrate emails from cPanel to Google workspace. We request you to read the blog to find an appropriate solution for yourself.
cPanel Email is not something new you have heard. People who work with advanced web hosting services, they are familiar with cPanel Email. If you want to export your cPanel to G Suite for security reason or any reason, you can do this with the help of a manual solution or an automated conversion program. Here are the steps to follow.
Manually Export cPanel Email to G Suite/Google workspace
Here is a famous manual solution that you can practice to extract cPanel Email data to transfer to G Suite or a Google account.
Carefully follow the below step-
First access your account on cPanel Webmail after providing your credentials.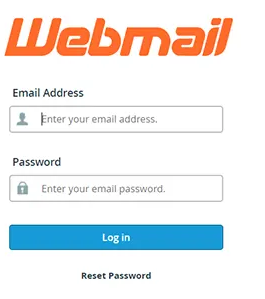 If you get a lot of options for webmail apps, choose Horde.
A new interface will open.
Right click on the Inbox menu and select Export from the dropdown.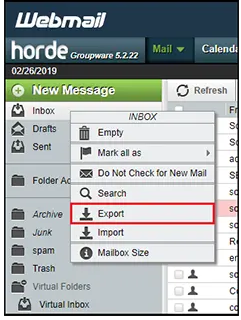 A small window will pop up with options to choose your format. Select Download into a MBOX file and press Ok.

It is how the data will download in MBOX file format. However, your mission to transfer cPanel emails to Gmail has not been done yet because Gmail doesn't support MBOX. In this context, you can take the help of a utility that convert MBOX to PST and then transfers PST to Gmail using IMAP. Do you think it is going to be a lengthy solution? Therefore, we recommend users use a suitable third-party application that offers direct conversion of cPanel to G Suite.
Automated Conversion of cPanel Email to G Suite
Among several applications to choose from, you can consider Softaken IMAP to IMAP Conversion program for cPanel to G Suite Migration. It is an independent utility to export selective IMAP account data. Users have full control of results because the app exports only specified data.
You can access your cPanel (Control Panel) data easily on G Suite by using the app. The interface of the application is interactive. Users hardly get confused to operate the program as individual users.
Significant Features of the Application
It allows the conversion of IMAP account data to an IMAP account without any interruption.
It exports complete IMAP account data to another without losing data quality. During conversion the app exports all meta properties with attachments.
It is a highly compatible application because it supports a wide range of IMAP applications like G Suite, AOL, Yahoo, Office 365, Hotmail, Outlook, iCloud, and others.
The application first requires you to provide source host information like the Host, port, username, password, and security options. As you enter the information, press the Authenticate Me tab. The tool automatically connects with your cPanel Email account. After that, provide the details of the transferred mail.
On the left side, the utility displays all folders of the cPanel account and on the right side, it asks you to select an existing folder or create a new folder to transfer data.
It lets you filter data according to the date range. As the steps are over, press the Start Transferring button to start the process. Overall, it offers hassle-free conversion.
Also Read this Post to Know- Backup of G Suite to Outlook PST
Steps to Run the Softaken IMAP to IMAP Converter
Download the Softaken Application on your system.
Provide the source mail information by clicking on Others and press the Authenticate Me tab.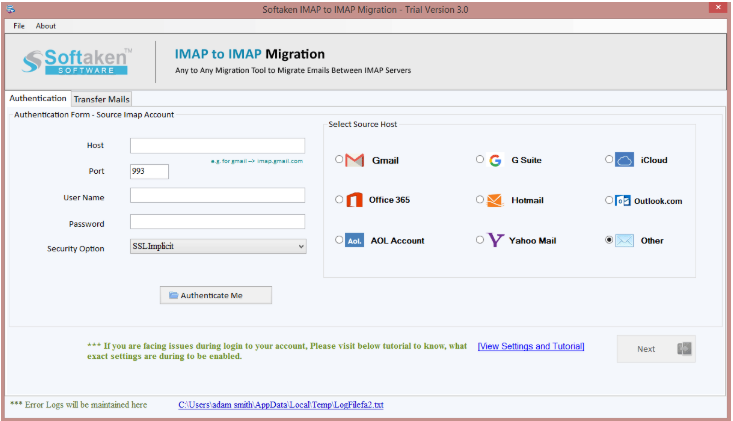 Click Next or Transfer Mails option on the top and choose G Suite to enter its host, port, and other details.
Filter the folders of your cPanel account that you want to export and select the target folder to save the exported data in G Suite.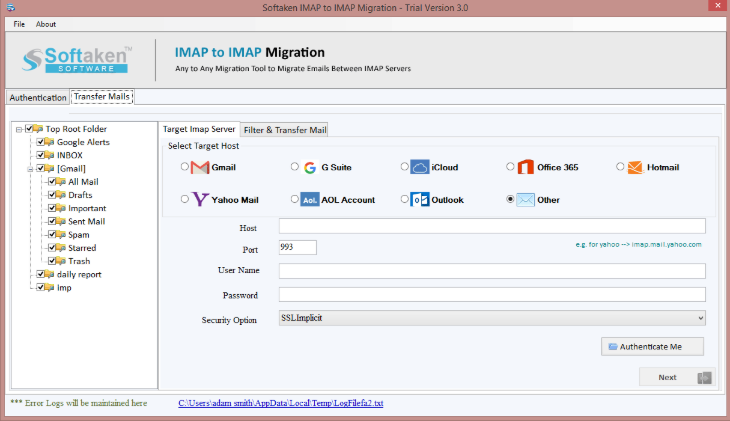 Create a new folder if you want.
Apply filter by entering specific subject, to, from or date range to get custom results.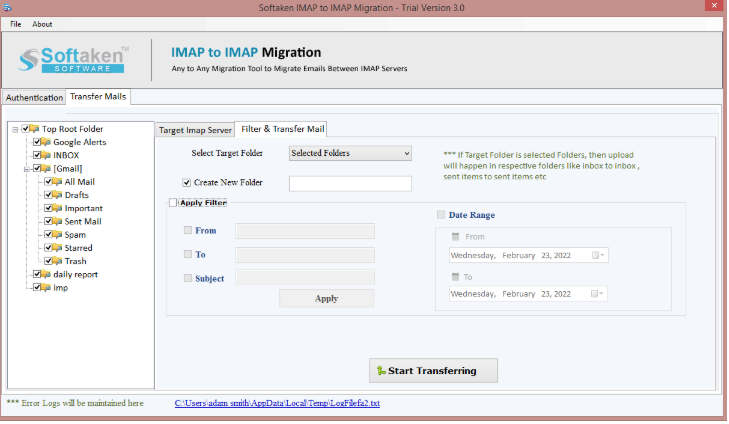 Finally, press Start Transferring button to complete the process.
Ensure that your server is fast and uninterrupted while the tool is performing the transferring emails from cPanel Hosting account into G Suite. If the server connection is unstable, the tool will pause the conversion process. As the connection comes back, you can resume the process.
Conclusion
Overall, no manual solutions are suitable for conversion from cPanel Email to G Suite. You can consider a third-party application for conversion. The professional utility has received five-star ratings from its users. It is a reliable program to download and run on your system and transfer emails from cPanel Hosting account into Google Workspace.