Are you looking for an easy, fast and secure option to move from Office 365 to Zoho Mail? If yes, you have come to the right blog. Conversion from Office 365 to Zoho Mail is a wise idea for small businesses because of several reasons that we discuss here with the best solution for conversion. Several businesses are using Zoho Mail for smart and easy email management.
The server-based email client is improving over time to meet the requirements of businesses. Therefore, many businesses have started using this email client over MS 365 and other applications.
Office 365 is one of the most popular cloud platforms for the management of emails. It offers safe communication, sharing, and management of day-to-day data. Despite having various positive features, some reasons provoke users to move from Office 365 to Zoho Mail. We break down these reasons in the article.
Why users Move from Office 365 to Zoho Mail?
• Pricing is one of the biggest factors. Since Office 365 is comparatively more costly than Zoho Mail, small businesses like to move to Zoho Mail to manage costs in their initial phase.
• It is difficult to handle MS Office 365 as it needs administrator-level knowledge to set up your account, assign a role, archive data, and perform other operations. Zoho Mail is easy to operate as compared to Office 365.
• Zoho Mail comes with 40+ integrated features like emails, finance management etc. Hence, it fits the needs of small businesses well.
• Zoho Mail is also available with incredible features, like premium email services where users can create a professional signature, secure emails with two steps authentication, etc.
Conversion of Office 365 to Zoho Mail
Conversion from Office 365 to Zoho Mail is possible in two different ways. One is a manual solution, and the other is a third-party conversion program. Manual conversion may be time-consuming and doesn't give assurance of data safety. Hence, we don't suggest you go with any manual conversion solutions. Our focus is to provide reliable, easy, and fast solutions.
Softaken IMAP to IMAP Migration is one of the best applications for office 365 to Zoho Mail conversion. Since Office 365 and Zoho Mail can configure on any standard IMAP, the application helps connect these two IMAP platforms quickly and easily. You would be less likely to face any issues.
The free version of the app is available to download and analyze its capacity.
Features of Office 365 to Zoho Mail Migration Tool
Here is a primary key feature of the application.
 The application enables users to quickly convert emails from IMAP to IMAP without losing data accuracy.
It enables conversion from one IMAP server to another with attachments.
Conversion doesn't modify the original structure of emails and attachments. It keeps the file structure unchanged.
The tool supports advanced filtration features to achieve the custom conversion goal. Filter your data by selecting folders, creating a new folder, applying filtration (From, To, and Subject), and selecting the date range. Hence, results can synchronize as per your requirements.
It allows users to export data from the target host and account. It requires the host, port, username, password, and security option.
Also Know – How to Migrate Office 365 to Outlook PST
Softaken IMAP to IMAP Conversion Program
Download the application on your system and configure it to launch.
Provide the Source IMAP account details for authentication, like host, port, username, password, and security option. Press the Authenticate Me tab.
Press the Next tab and provide the source of transfer emails (host, port, username, password, and security option). Press the Authenticate Me button.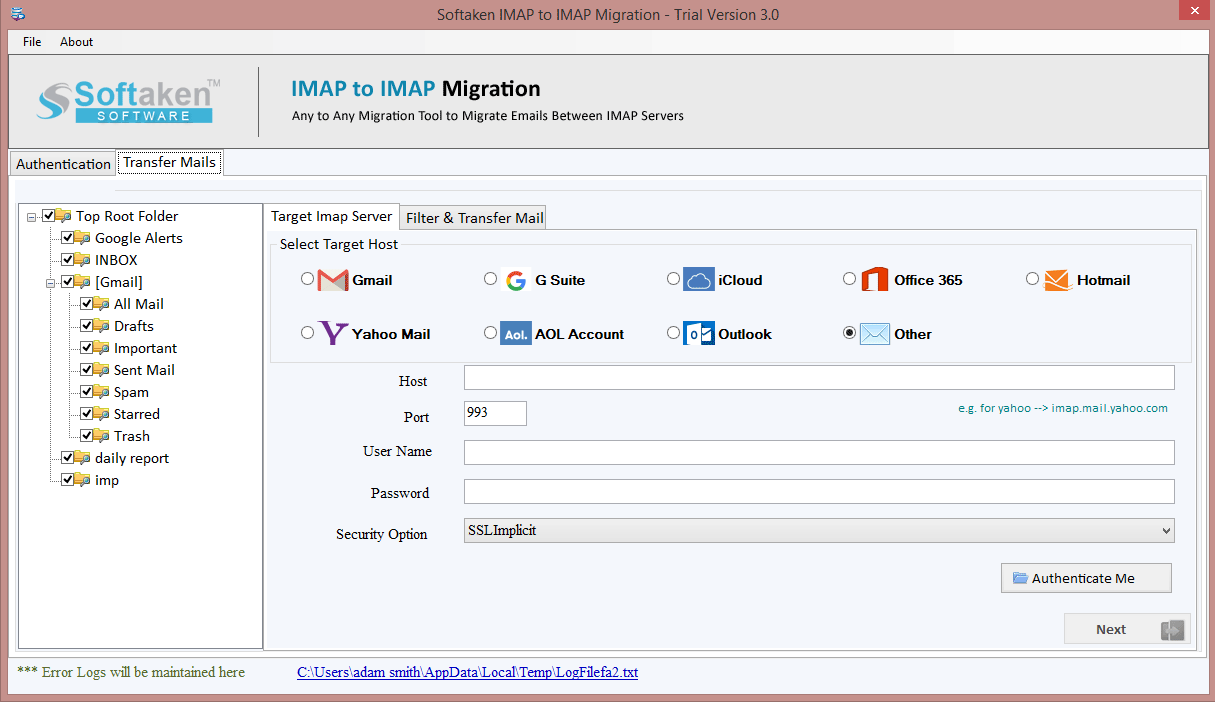 Within a few seconds, the tool connects with the two IMAP accounts (one is your Office 365 account, and the other is your Zoho Mail account).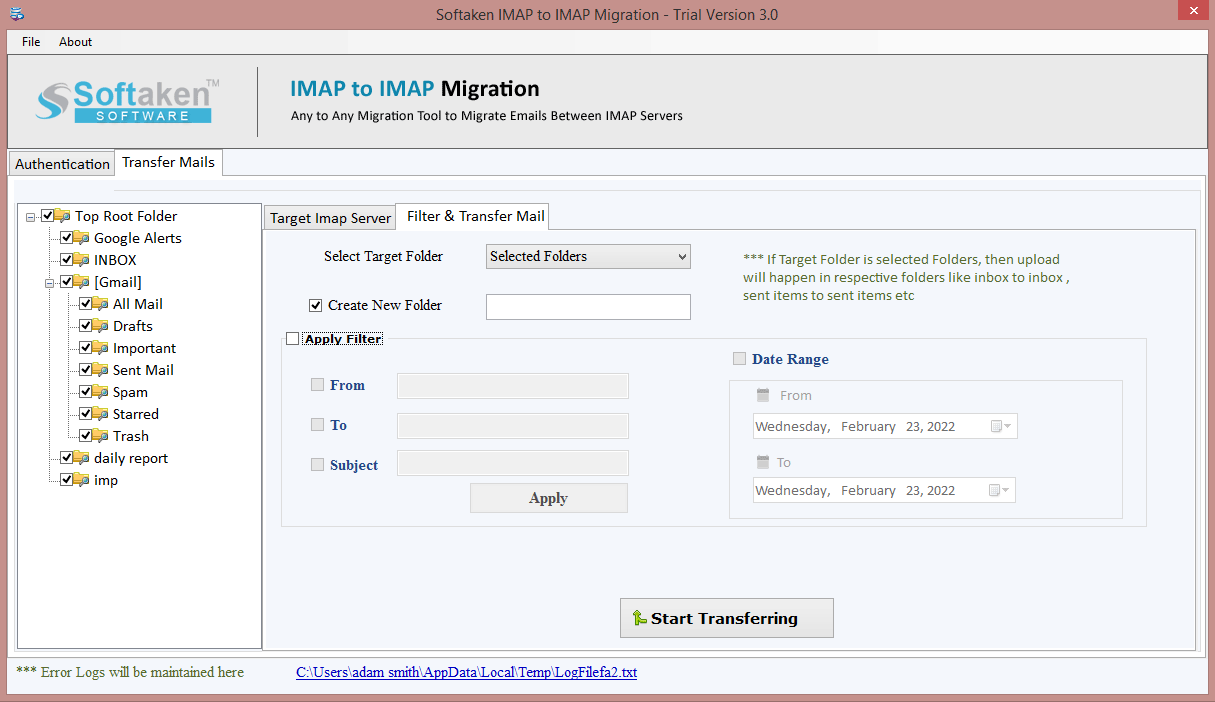 Deselect the folder you want to export or use the right pane to filter databases.
Once you select the data, press the "Start Transferring" button to complete the conversion process.
Conclusion
Data conversion is a matter of responsibility. You cannot take the chance of losing quality in any context. Therefore, think twice before using any free manual conversion solution. You end up losing your essential emails. So, just try the automated Office 365 to Zoho Mail Conversion tool.
Answers to Your Queries

Q-1 Does the tool allow free conversion of Office 365 to Zoho Mail?

A- Yes, the application allows users to convert Office 365 to Zoho Mail, but the free conversion has some limitations.

Q-2 Are there any manual solutions to export Office 365 to Zoho Mail?

A- Yes, you may find manual conversion methods, but they are complex and have the chance of data loss.

Q-3 Does your application support Windows OS?

A- Yes, it is a Windows application. It operate with all the latest or earlier versions of Windows OS.