Softaken launched vCard Duplicate Remover Version 1.0 for easy removal of vCard file duplicates. This is fully advanced and simplified solution for all users to deal with VCF file duplicates. On 26th April 2022, Softaken has launched this software which offers you the best experience with its intellectual features.
Due to versatile nature of VCF file, majority of users save contacts in it. But due to duplicate VCF files, users have to face so many issues. But after using our software, users can easily get rid of all VCF data file duplicates. This software is designed to run on all versions of Windows OS and comes with multiple features. Let us first explore the features of this utility.
Key features of VCF Duplicate Remover Software:
Allow multiple VCF files adding simultaneously to fix duplicates
Provide filter facility to remove desired contact fields
No extra tool requirement for removing duplicates from VCF files
Facility to save in single vCard in one file or multiple vCards in one file
Pick any destination to save resultant vCard file
Fully Windows supportive program, run on Windows 10, 8, 7, etc.
Comfortably remove duplicates from vCard files from different applications & platforms
No barriers are levied on size & number of VCF files to add
Freeware option to evaluate functionality prior investing in the program
Completely secure contact properties while eliminating duplicates
Why did you choose this VCF Duplicate Remover?
By making use of this application, all vCard duplicates are comfortably removed in few minutes. No additional efforts are required for working with this application. Because of its smart & friendly interface, even beginners find this utility too easy.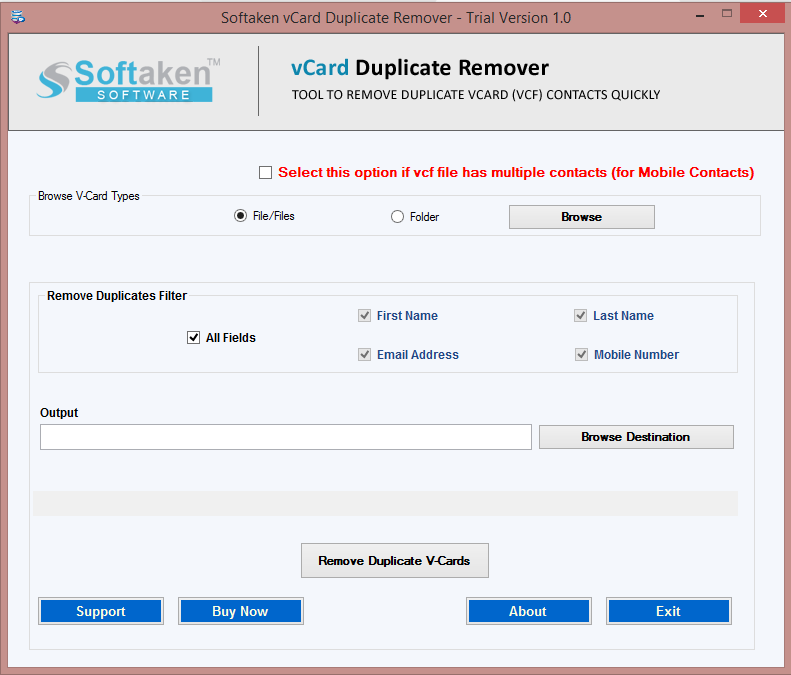 Irrespective of vCard file platform, users can add vCard files exported from Skype, Whatsapp, Outlook, Apple Mail, iPhone, Android, etc. The best thing about this program is its free evaluation facility. Another best part that makes this program unique is it is free from file number & size issues.
With its independent working, most users prefer it for fixing VCF file duplicates. Also, experts highly recommend this utility because of its amiable interface and data security assurance. Without troubling you anymore, it allows eliminating duplicate contact fields from VCF files. You can easily make use of filters for removing duplicates of vCard files.
On the occasion of this launch, CEO and Cofounder of Softaken said, 'This new product has been designed by analyzing requirement of users and we tried to put all advanced features in it that users always look for. With its basic interface and high performance, it will surely win heart of all users.'
This program is available in personal, business, and enterprise license. Users can pick desired license as per their needs. It is completely affordable for all users.
For complete details, visit – vCard Duplicate Remover