Overview: In this article, we discuss a manual and a third-party conversion solution to download/upload PST files to Mailfence . Here we discuss reasons why users like to move from Outlook to Mailfence and ways to export from Outlook to Mailfence.
Mailfence is one of the most famous email service providers. It offers end-to-end encryption and a high-level of data privacy. Though the tool is new, it has gained popularity as a useful application. Like you, many users of Outlook has switch to Mailfence to get the best email support. Before, we look for how to export from Outook to Mailfence, we first try to discover reasons for it.
Reasons to Export Outlook to Mailfence Account
Various reasons can encourage Outlook users to transfer from Outlook to Mailfence. We have outlines some of the most common reasons for it.
Switching Email Clients: As an organization or individual, if you want to leave Outlook, you can plan to export Outlook data to Mailfence. It lets you export your emails, contacts, and other databases of Outlook to Mailfence.
Security: Various users have chosen Outlook over other applications because of high-quality security that the Microsoft tool offers. Mailfence is also a secure platform. It provides end-to-end encryption, two-factor authentication, and other security features. It can protect data from hackers too.
Accessibility: Mailfence is a web-based email client. It is a handy tool to access from any devices. In other words, Mailfence has a responsive design that makes it compatible to access on mobile devices. Make sure your internet connection is smooth and uninterrupted.
Collaboration: Mailfence offers collaboration features such as shared calendars, contacts, and tasks. Like Outlook, Mailfence allows users to collaborate with team for a specific file. It is easy for a team to work on a project at the same time on Mailfence.
Importing from PST to Mailfence
In this write-up, we provide two ways to export PST files into Mailfence. One solution requires Outlook while another can export data without Outlook. If you have orphaned PST files, you can choose the second (professional solution) to export data.
Method 1: Move PST Files into Mailfence using Outlook
Access MS Outlook and navigate the File menu
From the menu, click on the Add Account button.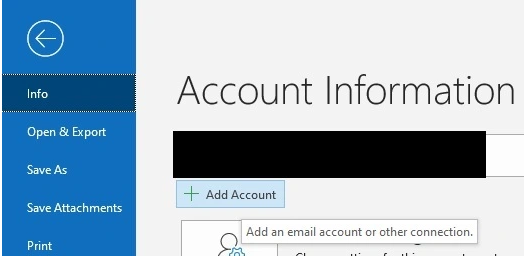 Provide your Mailfence account email address and hit the "Connect" tab.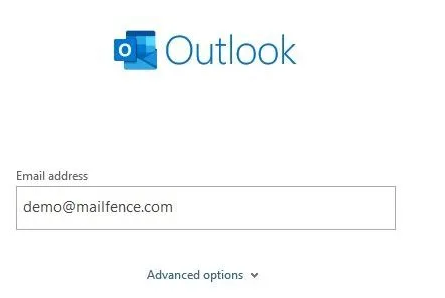 Now, choose the IMAP option from the multiple options.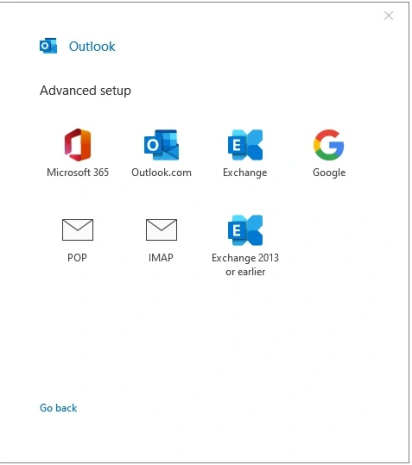 Provide the IMAP/SMTP details and press Next.
Important Note: Ensure that the SMTP and IMAP services are activated. If you face any error, create a new password and use the space of the normal password.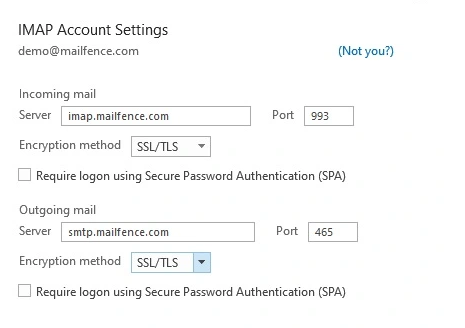 Read More:- Migrate Office 365 to PST files
Provide the password of your Mailfence account.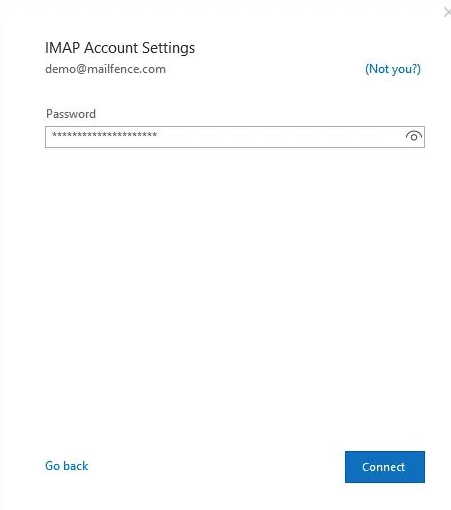 In the end, hit Done to complete conversion of PST to your Mailfence account.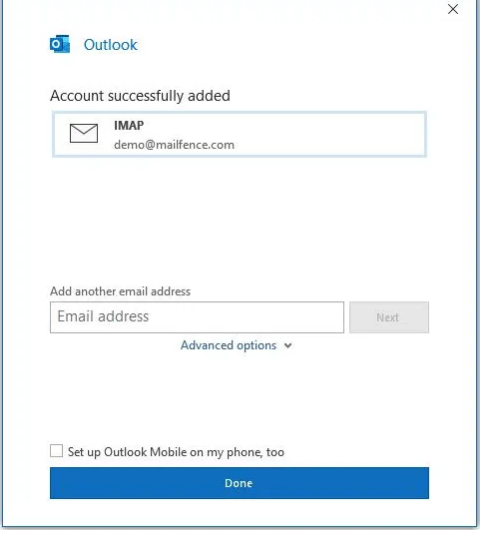 You can see Outlook is now connected with Mailfence. Create a new folder in the email service provider and drag all required emails from your Outlook to drop them to the new folder of your Mailfence account.
You can repeat the process to export as many emails from a PST file as you desire. However, the process is useful when you have a few PST emails to export to Mailfence. For bulk conversion, a third-party is a suitable solution.
Method 2: Softaken Mail Importer- All In One Solution
 A third-party application is the best alternative to any manual solution. You can choose a professional program. If you have ever searched for Outlook third-party tools, you may aware of Softaken tools. Softaken is one of the oldest Outlook third-party tool providers. It is a certified online store to get a desirable Outlook third application.
Softaken Mail Importer to import local to online, it is all-in-one program to export from desktop-based email clients to cloud-based IMAP or SMTP platform.
Features of Softaken Mail Imorpter
The application allows users to select and export PST files to Mailfence in three easy steps.
It doesn't require Outlook installation or any third-party tools for conversion.
During conversion, the tool connects with your Mailfence account automatically to export PST files.
The conversion program allows bulk conversion where users have flexibility to choose single or multiple PST files to export them at once.
It saves the exported data to a new folder or an existing folder of your Mailfence account. For creating a new folder, you don't need to leave the application. It helps to create a new folder instantly.
It is an advanced program for personal and professional users. The tool is lightweight and completely free from bugs.
The licensed users can use the app as long as they want.
Steps to Export from PST to Mailfence Using Softaken Mail Exporter
Download the program on your system
Launch it and select PST file format and press Next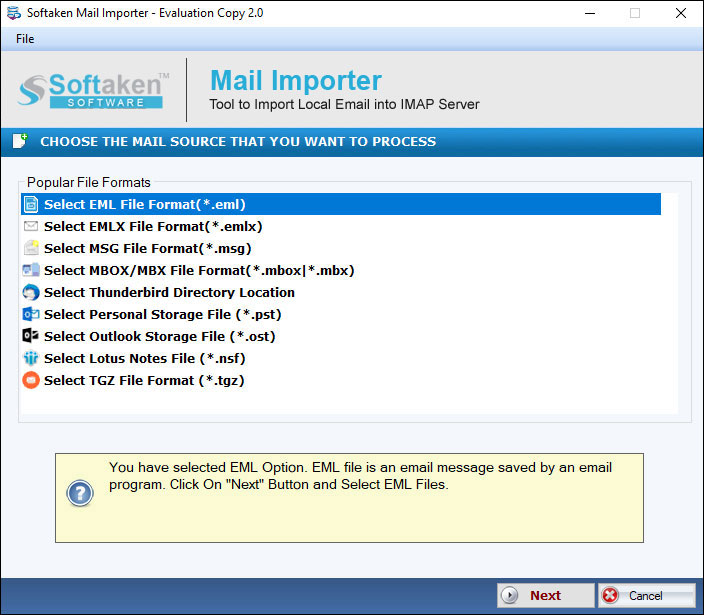 Select PST files from local folders and press Next
Select Upload to Remove Servers and Press Next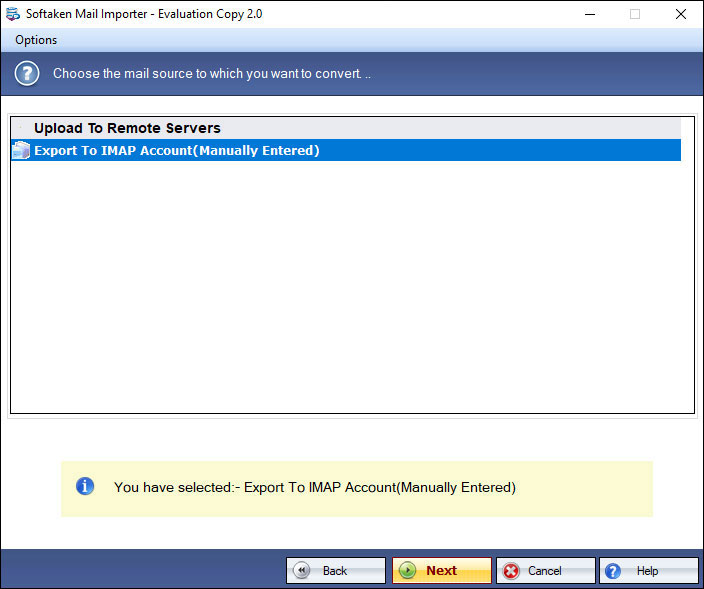 Provide the username and password
Press the Authenticate User tab to complete the process
Select an existing folder or create a new folder to save the exported data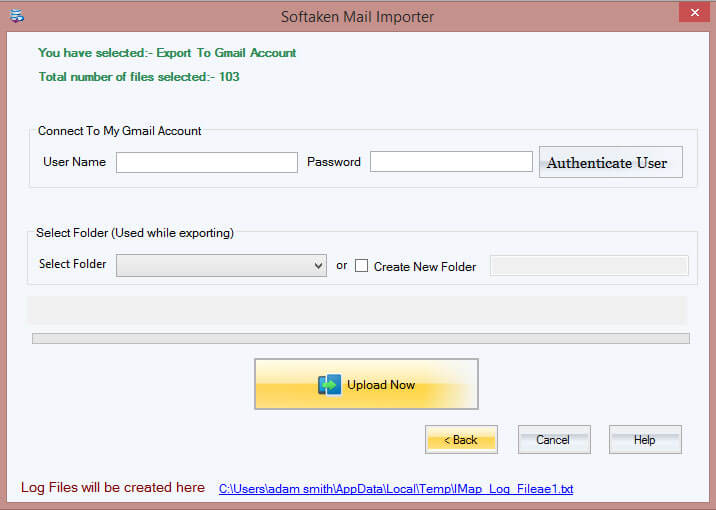 Press the Upload Now tab to complete the process
(Note: If you have selected Export to IMAP account, it is must to provide the host and port with credentials.)
Conclusion
Manual conversion saves money but not time. A third-party tool saves time and effort. When you have requirements of conversion of multiple PST files to an IMAP tool, a third-party utility can be an ideal option.