Gone were the days when people liked to use disks to store their important files. They practiced this because of the data loss fear if the system got corrupted. Nowadays, users have found an ultimate solution to store unlimited data without worrying about safety and data loss. Yes, you are thinking right. It is none other than the cloud. Office 365 is one of the most reliable cloud platforms ruling the email niche nowadays.
MBOX file format stores data of desktop-based email clients. You can transfer MBOX files to Office 365 swiftly with a professional tool. The other way for conversion is manual solutions that we don't recommend to people with basic technical skills. Here, in this post, you will learn manual and professional ways to extract MBOX databases to Office 365.
Is it Worth Switching to Office 365?
As we have already discussed that Cloud is the future of the world. Nowadays, small to large organizations like to keep their data safe in the cloud. They have observed that the cloud provides robust security, flexibility, and advanced features. Office 365 is one of the best cloud platforms to use. Below are some reasons that encourage users to switch to Office 365.
Uninterrupted Accessibility
When we use a desktop-based email client, we need our laptop. After switching to the cloud platform, you get the flexibility to stay connected with your contacts and emails via handheld devices like Android, iPhones, and tablets. What is the best thing about this?
No Downtime
As a cloud user, you don't face the issue of downtime. You get the flexibility to use the app as long as you want. The cloud platform updates automatically. Thus, users face no work interruption.
Microsoft's Support
When it comes to an international name in the IT world, Microsoft is a reputed IT company. Office 365 is a Microsoft product for which Microsoft dedicatedly provides support. There is a team of troubleshoots for Office 365 to provide round-the-clock remote technical solutions.
No Maintenance
A desktop-based platform needs update to get the best results. For this update, users get email notifications. They proceed with the task manually. In the case of Office 365, you don't need to update the tool. The auto-updated feature allows users to get the best experience. You don't need to spend extra on its maintenance and upgrades.
Improved Productivity
Office 365 is one of the most robust applications to use for personal and official purposes. It meets the needs of organizations so well. Some of the striking features of the app are instant messaging, collaboration to work on a project, MS Office works, SharePoint, etc.
Pay As Per Your Requirements
Microsoft Office 365 is a subscription-based program. It is available for all types of users at different prices. For example, the tool offers an affordable subscription for students. It provides users with the flexibility to pay for what they are using.
Data Safety
There are situations when your system meets with corruption. At that time, you have the fear of losing the data you have saved in your system. For cloud users, data loss after system corruption is not an issue. They know that their data is safe in the cloud.
Overall, users working on MS Office 365 have found satisfaction and assurance of data safety. They have gained a seamless experience. These are some reasons for the success of Office 365 over desktop-based email clients.
Two Ways to Transfer MBOX to Office 365
Here we will discuss two ways to transfer MBOX files to Office 365. After analyzing these solutions, you can decide which one is well suitable for you.
1. Manual solution: It requires open Office 365 profile in MBOX-supported email client you have currently.
2. Automated solution: Here you will use a professional tool to transfer data swiftly, quickly, and accurately.
Manual solution to import MBOX file to Office 365
Manual solutions need technical skills and so much focus so that you don't miss a single step. Follow the given steps for conversion carefully.
Phase 1: Creating Office 365 profile in Thunderbird
 If you use the Thunderbird application on your system, open it to create a profile. Move the cursor to the Thunderbird Menu, and from the dropdown menu, select the Account Settings option.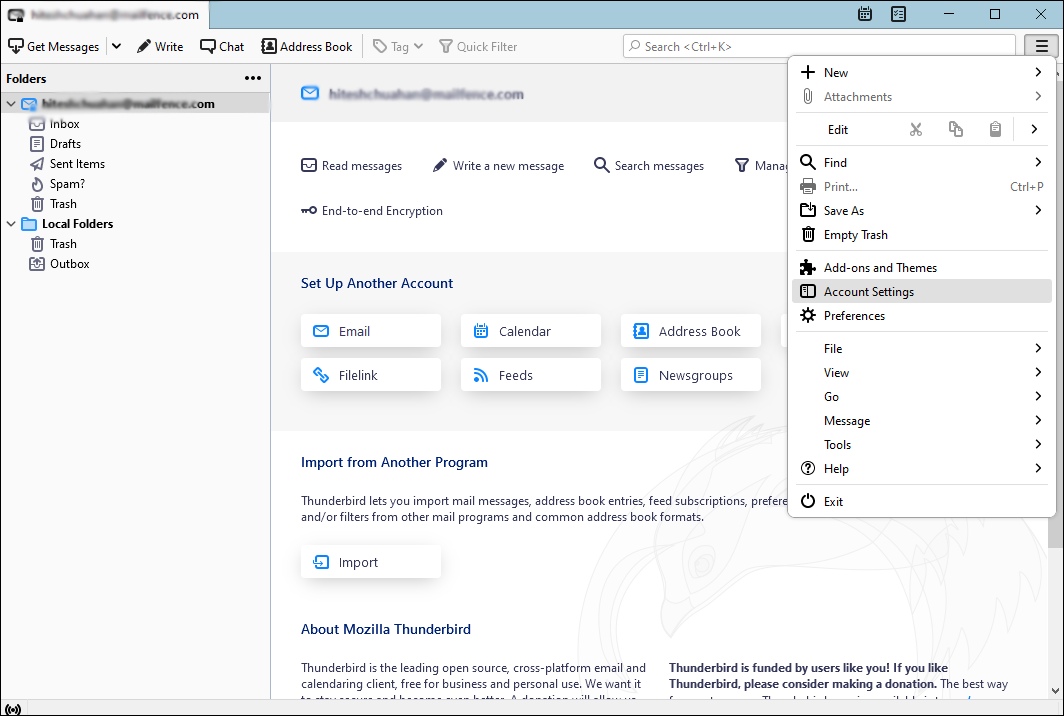 After that, hit the Account Actions tab and press the Add Mail Account button.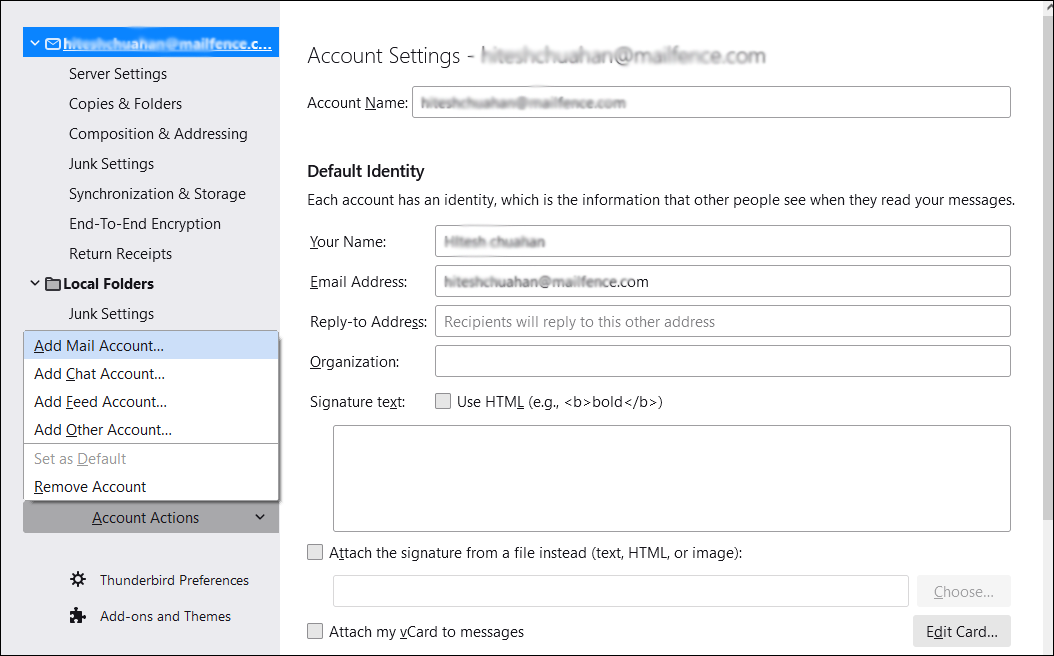 Now, carefully provide the credentials of your Office 365 account such as name, email address, and the password. Press the Continue option right after this step to open Office 365 into Thunderbird.
After that, choose the configuration settings and press the done tab.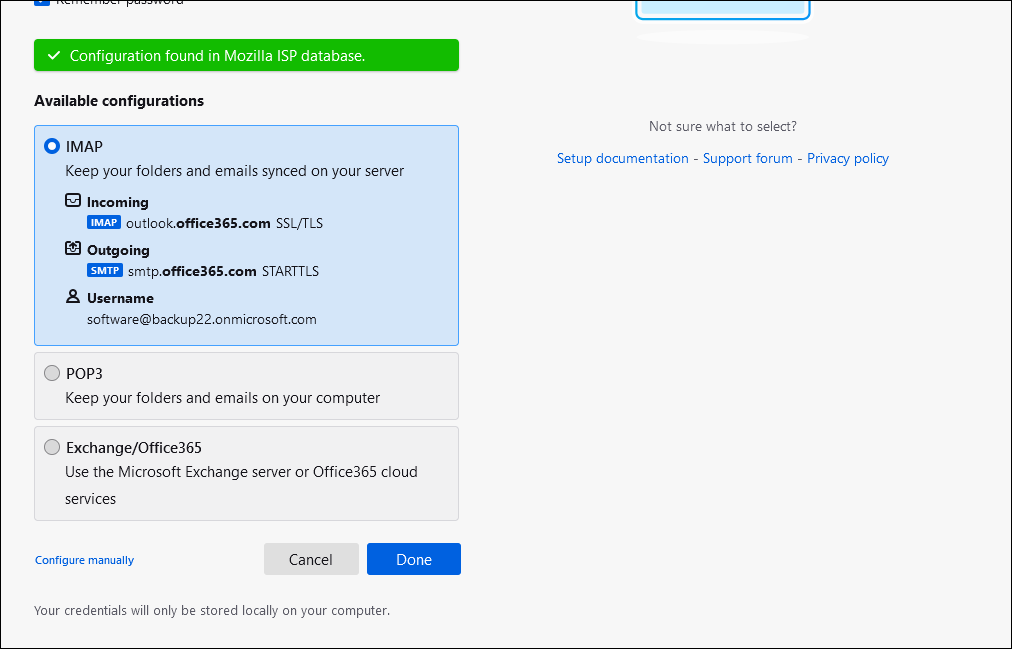 Read Tips:- Migrate Thunderbird emails to Outlook 365
Phase 2: Now Convert MBOX to Office 365 Profile
In this step, create a new folder where you want to import MBOX files and add the ImportExport plugin to Thunderbird.
Now, right click on the left pane and choose the New Folder option from the dropdown.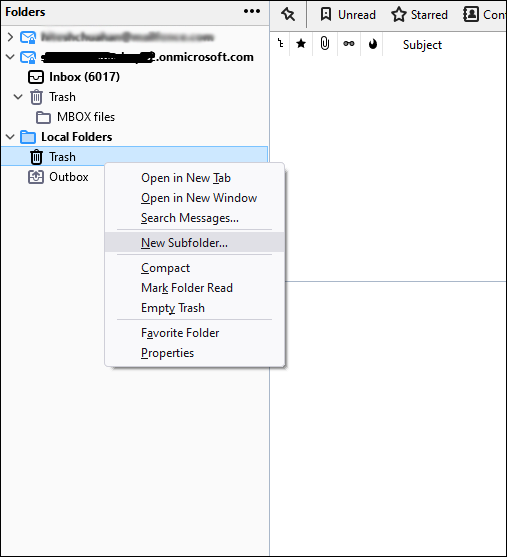 Give a name to the subfolder and press the Ok button.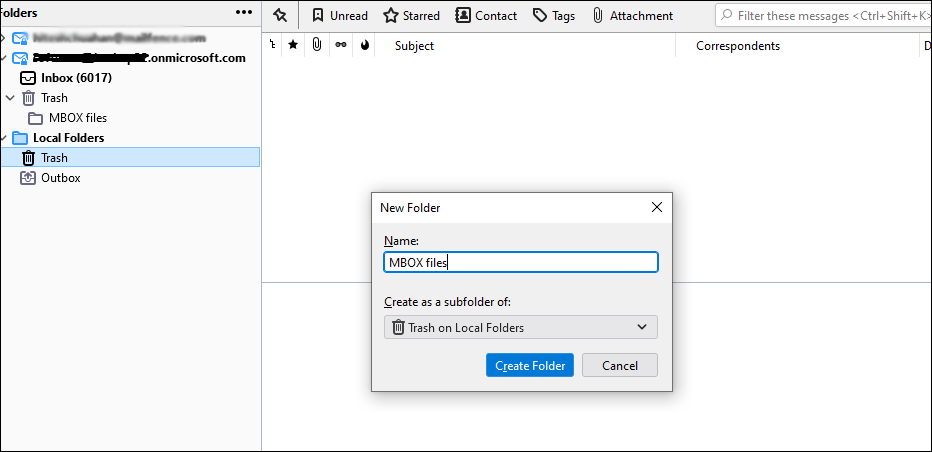 After that, take the cursor to the Menu option and select the Add-on & Themes option from the dropdown.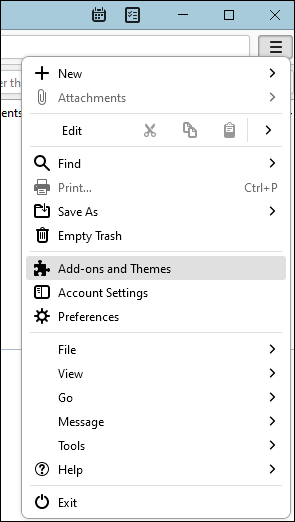 Now search for ImportExportToolNG and add it to the Thunderbird.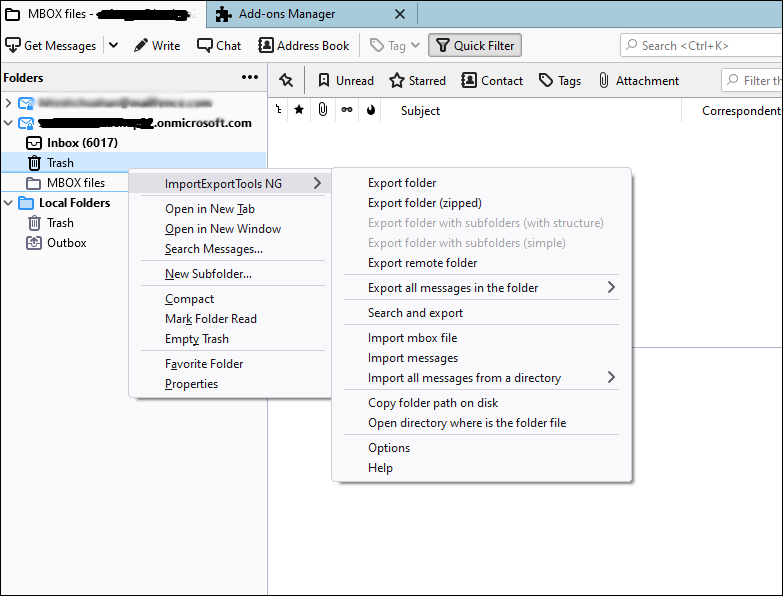 Take the cursor to the left pane to select the ImportExportToolNG option and then Import MBOX files by right-clicking on the option
Choose the Import directly one or more MBOX file option and press the Ok tab
Select the targeted MBOX files and press the Ok button to complete the process.
Drawbacks of the Manual Method
Remember, no manual method is safe to practice because none of them assures data security during conversion. A single mistake during the process may lead to data loss. If you still want to use a manual solution, keep a copy of the mailbox file in your system.
It doesn't support the filtration of MBOX files. It means you will not get desirable results.
It doesn't support batch conversion of selective MBOX files to Office 365. Hence, the process consumes time.
The manual solution doesn't provide a preview feature. Hence, chances are that you can accidentally transfer unwanted files.
If you like to transfer more than one MBOX file to Office 365, it requires configuration several times.
Many of you who are dealing with bulk conversion may not prefer the manual solution. For them, the best way to migrate is a professional utility.
A Professional Way to Import MBOX to Office 365 Mailbox:
Data conversion with Softaken MBOX to Office 365 Converter is far better than any manual solution because it is a well-tested application for conversion accuracy and speed. It is a highly recommended application to get hassle-free conversion results. Some of the best
Features of the application are as follows-
You get the flexibility to export multiple MBOX files to convert to Office 365 in a single batch. Hence, it gives quick migration.
The Browse feature of the app allows users to filter specific MBOX files from their desktop or Thunderbird for migration.
It displays the preview of the selected file, so that you don't convert an unwanted MBOX file.
The process of conversion ends in four easy steps. It doesn't need Thunderbird installation for conversion.
The app automatically connects with the specified account of your Office 365 as you enter the credentials.
How does the tool work?
With Softaken, importing MBOX to Office 365 is like a cakewalk. Steps are easy to follow by anyone without the need for deeper technical skills. The app can export single or multiple MBOX files.
Note: Install the free version of the application on your Windows system to assess its capacity, before getting its licensed version.
Steps to Import MBOX to Office 365 Mailbox are:
 Download and configure Softaken MBOX to Office 365 Migration tool
Open it and browse by "Folder" or "File" to select desired MBOX files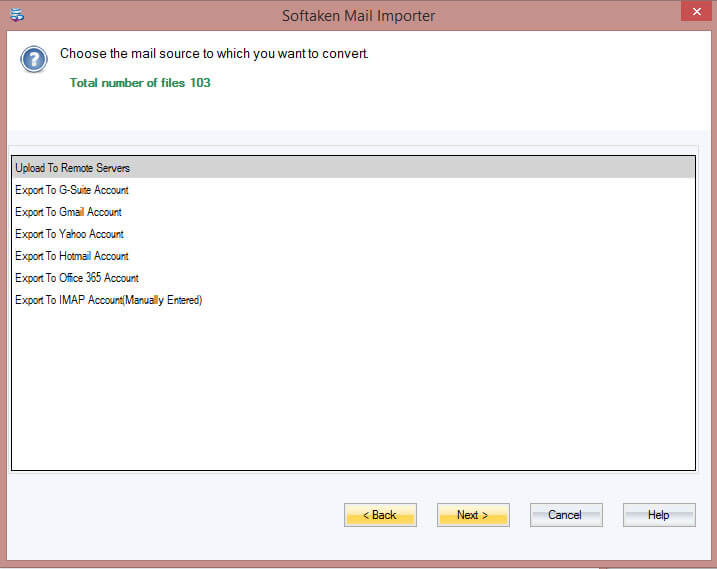 Choose the export type "Export in Office 365"
Provide your Microsoft Office 365 credentials.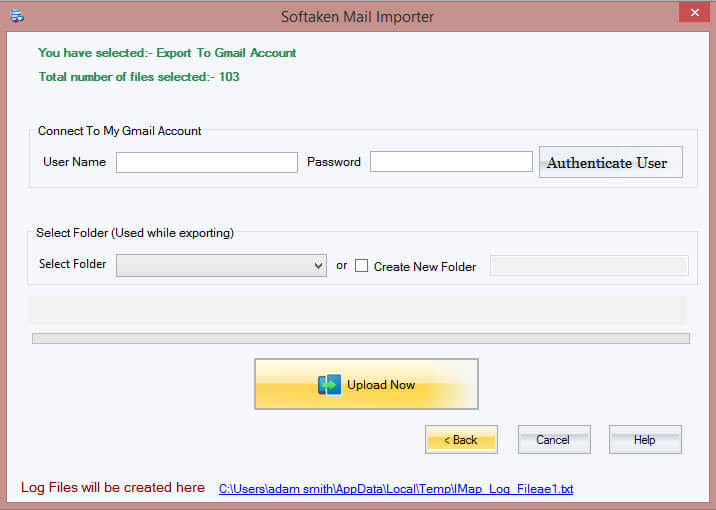 Press the Conversion button to let the tool process its tasks
Conclusion:
Softaken MBOX to Office 365 Converter is one of the best applications to download and run on your Windows system. It exports bulk MBOX files to Outlook 365 without losing a single email and its properties. Manual conversion methods may be tough to follow, and they don't give assurance of complete conversion.