Lotus Notes is an enterprise-based email client by HCL. It is also famous as HCL Notes. The HCL Technologies product is almost three decades old. It supports AIX, IBM i, Linux, macOS, and Windows operating systems. The email client is advanced for day-to-day emailing, data organization, event management, etc. Because of security, HCL Notes prevent users from transferring its data to other email clients, but you can extract its databases to your system. In other words, you can save your Lotus Notes important contacts in Excel format. The article provides a guide to do this manually or automatically.
Reasons for Extracting Data from Lotus Notes to Excel
When it comes to comparison, Lotus Notes and Excel are different in terms of functionality. Lotus Notes is an email client, whereas Excel is for data analysis and documentation. It is not for communication and data organization. Here are some reasons why users like to use Excel.
Quick Analysis of Data in Excel
One of the primary advantages of Excel over Lotus Notes is that it makes data analysis easy. It can see data on charts and tables. In other words, Excel shows your data in a compelling and organized manner that Lotus Notes cannot provide.
Make Data Sharing Easy
Lotus Notes may be one of the best email clients, but it could be more friendly for sharing databases. On the other hand, Excel doesn't restrict users from sharing data. It is a user-friendly application to share your data with clients or colleagues who don't have access to Lotus Notes.
Not Device Restricted
Once your important contacts of Lotus Notes are in Excel, it is easy to manage and has excellent compatibility. You can open the Excel file on any device, like your laptop, desktop, and mobile phone. The file is accessible to Windows, Mac, Linux, Android and iOS devices. You can view and edit Excel files easily.
Manual Extraction of Lotus Notes to Excel
Users have two options for extracting Lotus Notes to Excel. One is a manual solution, and the other is an automated conversion. It is easy to convert Lotus Notes to Excel. It doesn't need technical occupancy. The conversion process requires a few steps. It starts with extracting Lotus Notes to CSV and then CSV to Excel.
Manually Extract HCL Notes Database to CSV Excel
Below are the steps to follow-
Access Lotus Notes and open your account.
Take the cursor to the File menu and choose "Export" from the dropdown.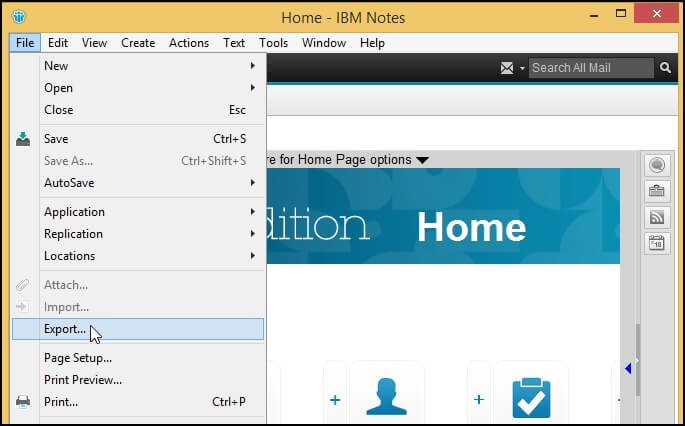 From the "Save as type", hit on the arrow & pick "Comma Separated Values (CSV)."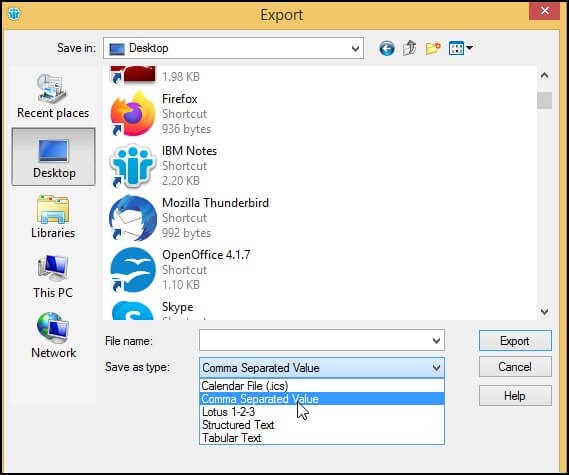 It will open the CSV Export box and has three sections. Select "All Documents" and press OK. It will export data in CSV file, and then click "Export."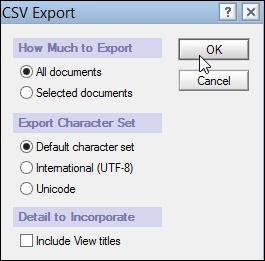 That's it! You are now ready to view Lotus Notes files to CSV file format.
Downsides of the Solution
You may be thinking of how easy it is to export contacts from Lotus Notes to CSV. But the reality is far different from what you have seen. The manual extraction method has some disadvantages. Let's break down the disadvantages of the manual solution.
It is suitable only when you have a limited number of contacts to export. The solution is not advisable to use by enterprises.
The process consumes much time. You have to secure some time from your busy work schedule for conversion. If you have the time, you can go ahead.
There is a persistent risk of data loss when you export data manually because no manual solutions assure high-quality conversion results.
Automated Conversion of Lotus Notes data to CSV Excel
Automated conversion is always the best option when you don't want to waste time and is much more careful of the quality. You are careful of your Lotus Notes contacts and don't want to lose them at any cost. An Lotus Notes Converter  is the automated  conversion tool is a right choice.
Here is a specification of the application to understand how useful it is for you.
The application has an interactive interface. Hence, it is easy to use by anyone, regardless of technical proficiency.
It supports all available versions of Lotus Notes, a highly compatible application.
It exports Lotus Notes address books to CSV, Thunderbird, Apple Mail, Outlook Express, etc.
The tool enables users to export names.nsf to CSV in a few easy clicks.
The conversion accuracy is 100%. Each contact address is secured and intact.
Users can able to see Lotus Notes contacts in their local systems.
Final Notes
Faster and more secure conversion is the goal of every user. No manual solutions give an assurance of high-quality conversion. Therefore, we recommend users use a third-party conversion program. What are you thinking of?