User Query:

'I am facing the IMAP Email Server not responding issue. Therefore, I cannot access my IMAP mailbox. Do you have any easy, quick, and safe approach to fixing the problem? I am searching for an easy & safe solution."
On various forum websites, you can find people discussing the issue. Everyone wants to know a safe and easy solution for it. The article throws light on how to fix the issue without getting panic. Some users become hopeless when the server fails to respond. Their necessary emails become inaccessible. The technical error has some solutions.
4 Ways to Fix 'IMAP Authentication Failed' Issue:
Solution 1- Check Your Windows 10 Server Connection
Before you jump to any conclusion about failed IMAP authentication, we request you check your internet connection. Sometimes, poor internet connection leads to problems. You can fix the problem by resuming your internet connection.
Solution 2 – Service Temporarily Unavailable
IMAP is a server-based email client that requires web connection and a substantial Server to work. Sometimes, it is an issue from the primary server. It prevents you to access your IMAP account. Therefore, the ideal solution is to use a backup program to backup necessary emails to your local folders or a local email client like Thunderbird, Entourage, or Outlook.
Tips & Tricks- IMAP OST file is not accessible in MS Outlook
Solution 3- Generate SSL Certificate in Windows 10
It can be helpful to access your IMAP account without facing issues. SSL stands for Security Socket Layer.
Security password authentication protocol
Provide a password to establish a smooth internet connection between the user and the web server
Introduced by Netscape in1995
Utilizes TCP (Transmission Control Protocol) for an end to end encryption.
Reasons for Failed SSL Configuration
Check the SSL certificate setup twice if it is inappropriate it will not open.
Invalid credentials in the SSL certificate.
You may have several domain names before getting the CA certificate.
SSL configuration in IMAP
You can use the following port and outgoing server codes to configure SSL.
IMAP Port No – 993
Outgoing Server (SMTP) – 465
Solution 4 – Removal of Outlook Profile in Windows 10
There may be an account configuration issue. You can deal with it by removing or re-adding the account. Below are the steps to fix the IMAP Server not responding to the Outlook error.
Visit the Control Panel windows and hit "Mail" from the given multiple options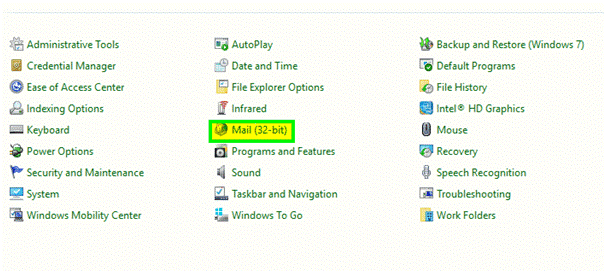 Now, select the desired email account. For which, hit the "Email Account" option. You can remove a specific account from the list.
Also Know- How to Remove duplicates items in Microsoft Outlook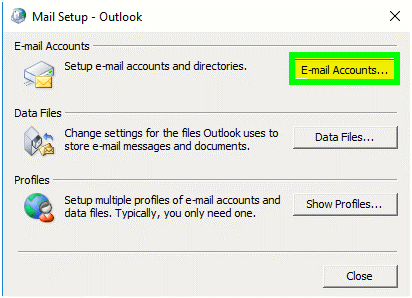 In the account settings, hit the "New…" tab to create an account.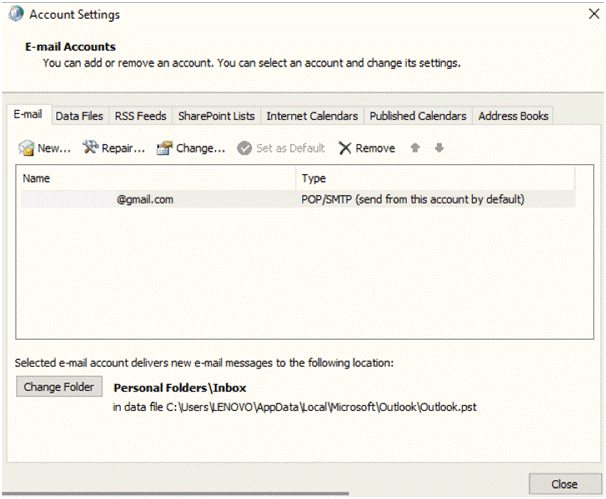 The Add New Email Account dialogue box will open, provide your name, email address, and password.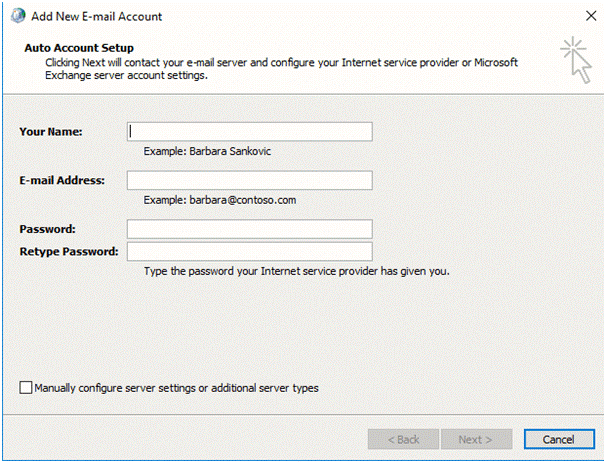 After that, don't forget to select the 'Manually configure server settings' then Next. Select the account and press Next again.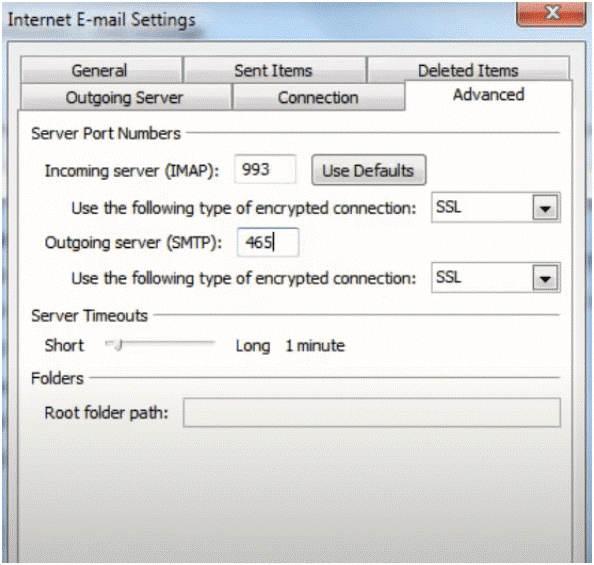 Now, choose POP3 or IMAP to create an account. Provide the credentials.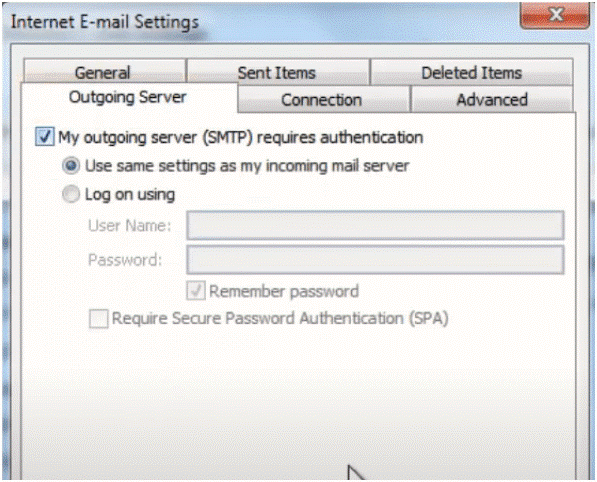 After this, redirect to More Settings and click Advanced button to manually enter the Port number for IMAP and SMTP.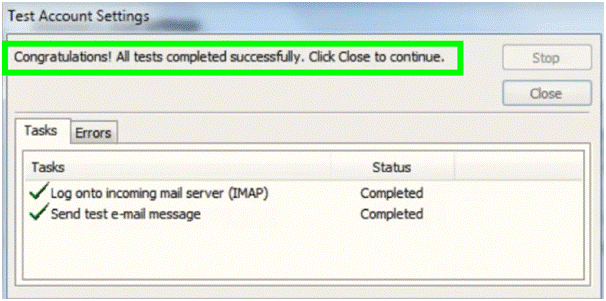 MAP Incoming Server – 143
SMTP Outgoing Server – 465
If you like SSL configuration, then enter the following port numbers.
IMAP Incoming Server – 993
SMTP Outgoing Server – 465
Once you complete the above step, press Outgoing Server and mark the authentication option and press OK.
It is how you can do the task.
We know many of you have found these steps difficult to achieve. Therefore, you may want to create a backup of your IMAP databases. It is why a professional application is helpful for you.
Softaken IMAP Mail Backup Tool
Softaken IMAP Mail Server Backup is a professional application for data conversion. The utility can export IMAP-supporting emails like Yahoo and Gmail to multiple file formats. It's easily export IMAP emails to various file formats such as- PST, MSG, MBOX, EML, EMLX, etc.  Let's take a close look at the primary features of the application.
Key Features of IMAP Mail Backup
It requires hosts, ports, and usernames to connect with the targeted IMAP account and to send data from one account to another.
The application interface is interactive as it doesn't need application assistance for conversion. An independent application is easy to use on your system.
It automatically connects with the user's account. Make sure your server connection is fast.
The application supports conversion of Yahoo, Gmail, Office 365, AOL, Outlook.Com, Roundcube, and several other IMAP email clients.
Steps to Use the App
Download the application on your system.
Provide your source IMAP address
Provide the IMAP address to which you want to transfer data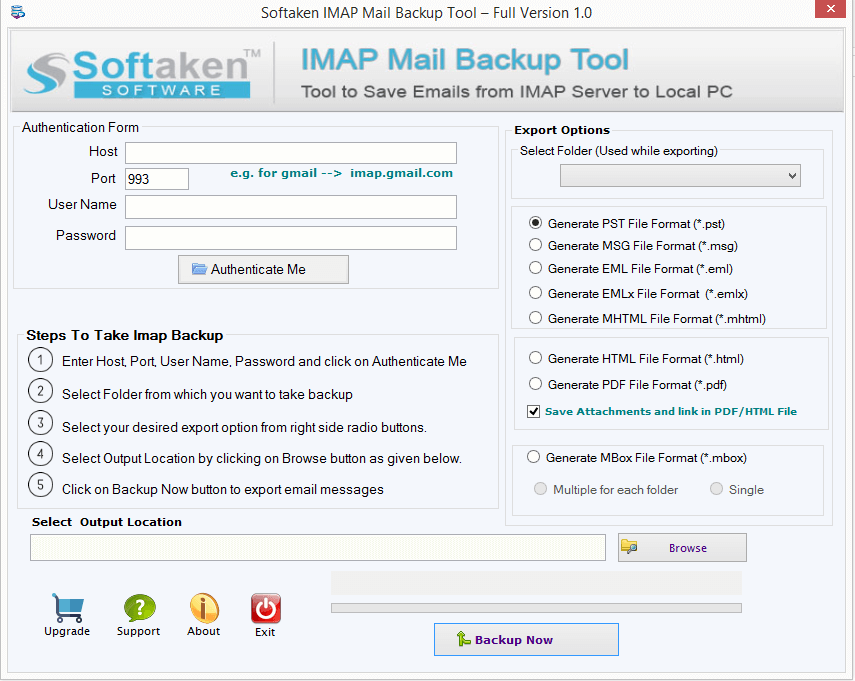 Now, select the folder that you want to export
Export IMAP to IMAP
Final Words
The application is user-friendly. Manual solutions consume time and require technical skills. If you have time and are technically brilliant, you can take the risk else a third-party tool is a safe option.