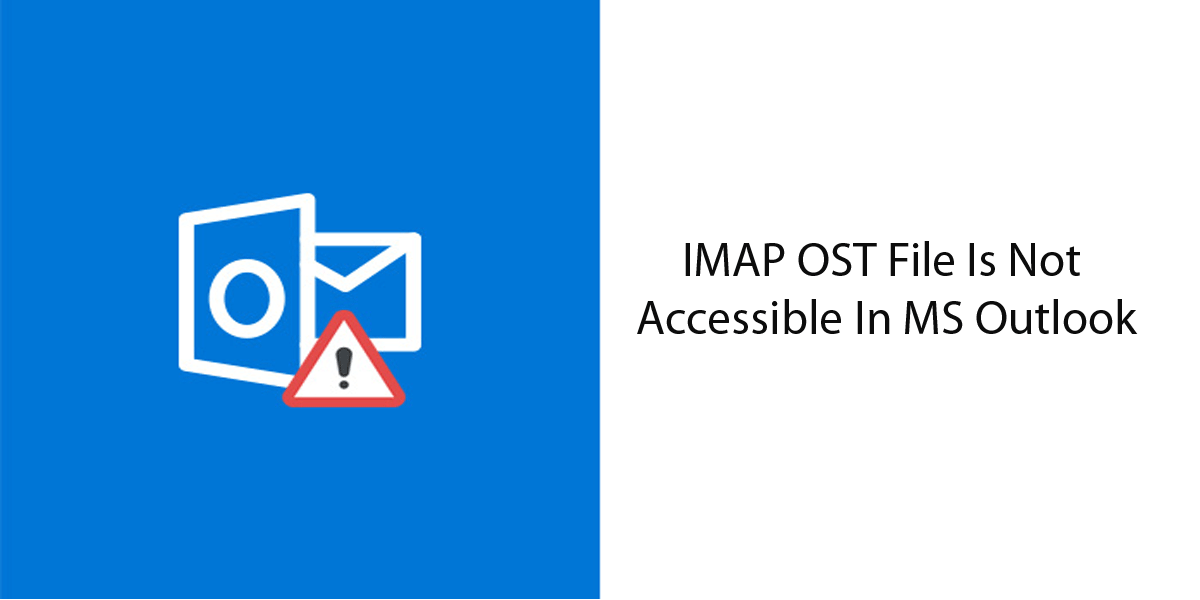 IMAP OST File Is Not Accessible In MS Outlook
We all are aware that Offline OST file enables users to work in offline mode and also synced with Exchange Server when you get internet connectivity. When Exchange connectivity is disabled, users face issue like 'OST file is not accessible.'
Undoubtedly, MS Exchange and Outlook works together to provide effective email communication. However, for every single user, a unique profile is created that is accessible in Outlook profile. Also, for each IMAP profile, an OST file is automatically created which you will find in user's local system that is exact the copy of user's mailbox data on IMAP/Exchange Server.
Often times, users encounter this error message 'IMAP OST file is not accessible in Outlook'. There could be many reasons for this. In order to resolve unable to access IMAP OST file, one first has to understand its cause which made OST file inaccessible and then look for the actions to access OST file back.
Reasons for OST File Not Accessible Issue
Due to synchronization issue between Exchange Server and Outlook, OST file went under inaccessible state.
Virus or malware attack can damage your OST file hence lead to OST file inaccessibility
OST file may corrupt due to power failure, improper Outlook termination, etc.
Presence of bad sectors in hard sectors on hard drive where OST file is saved can make OST data file inaccessible.
Interruption in OST file while installing unnecessary add-ons can be the reason behind OST file inaccessibility.
When OST file is not recognised by Exchange Server then it becomes orphaned and the cause of inaccessibility in Outlook.
Possible ways to Fix IMAP OST Inaccessibility Issue
Solution 1. Quit all Outlook related processes
Right-click on taskbar and choose option Task Manager
Go for Processes tab and look for programs like Communicator, UCMAPI, Lync
Upon finding of these processes, select one at once and go to End Task option
Solution 2. Removing unnecessary add-ons
Launch the program – MS Outlook. Go to File, then Options and Add-ons
Under Outlook options, in Manage header, select COM Add-in and press Go button
After this, remove all unnecessary add-ons.
Solution 3. Turn off Compatibility Mode
For using this method, find Outlook.exe icon
Now. Right-click on the icon and pick Properties option
From Outlook Properties window, choose Compatibility tab to uncheck 'Run this program n compatibility mode'
Solution 4. Disabling Outlook Exchange Cached Mode
Open Control Panel and choose Email accounts and then Email to resolve the issue of inaccessibility of OST file
Now, choose proper email address that shows the warning and hit Change button
Unmark Use Cached Exchange Mode and hit Next
Do these manual ways help you in resolving unable to access IMAP OST file issue? If not, then no need to worry! Go ahead in this blog and get an easiest solution to overcome OST file inaccessibility issue.
All Rounder Solution to Resolve OST file not accessible & other OST file issues
After going for manual methods, if the above-mentioned ways are unable to satisfy your needs. Then, not to worry at all, use third-party solutions to open OST file in Outlook by converting into PST file. By using automated tool, one can transform IMAP OST to PST format and can easily access OST mailbox data in MS Outlook.
Once you follow the aforesaid solution, you will get PST file as output. And, this PST file will accessible in Outlook 2019, 2016, 2013, 2010, etc.
This one program will help you to change inaccessible OST file to multiple known formats like PST, EML, MSG, EMLX, MBOX, Office 365 and other email servers. You will always get accurate results using this program. In a hassle-free manner, your OST file is transformed into healthy PST format & ready to open in MS Outlook.
Conclusion
I hope the mentioned solutions in this post will help you to make IMAP OST file accessible in Outlook. You can go with discussed manual solutions and if you don't find them suitable then try out automated program which turns inaccessible OST file into PST format to open easily with Microsoft Outlook. You can properly evaluate this software with free trial version.