Overview:-
This post will guide you on how to convert Mac OLM file to EML file format with attachments.
We all know that as per the trend and requirements, users' needs change. This time users prefer to export Mac Outlook file to EML file format.
This is because EML file is a standard format used by a variety of email clients based on Windows and Mac systems. Thus, most Mac Outlook users are finding a reliable solution to convert Mac Outlook data file to EML file format. Through this informative blog, we will show you the methods to easily convert Mac OLM emails into EML file format with attachments.
Necessary situations to Convert OLM file items to EML file
In this section, we will examine the need to convert Outlook for Mac file to EML file format. Check out the queries to understand the need for OLM data file conversion to EML file format.
 I was working on Mac machine with Mac Outlook. One day, I encountered some issues with hardware failure. So, I decided to shift to Windows and for this, I have installed Windows-based Outlook but I need to migrate Mac Outlook files on my Windows system. So, can anyone help me to migrate Mac Outlook 2011 file to EML file format?
Due to some business needs, I found a need to migrate from Mac Outlook to Windows Live Mail. Now, the problem for me is how to access Mac Outlook emails in WLM application. Please help me to get a trusted way to convert Mac Outlook OLM emails to Windows Live Mail EML file format.
Benefits of Mac Outlook file to EML conversion
EML file format is a widely accepted and flexible format to store email messages.
EML data file is comfortable with major applications of Windows, Mac and Linux systems such as Windows Live Mail, Thunderbird, Apple Mail, etc.
EML files are small in size hence they are convenient to manage and share with others.
Also Read-   How to Convert EML files to Outlook on mac with attachments?
Issues come across while migrating Mac Outlook data items to EML file
There are multiple third-party solutions available online to do the conversion of OLM data items into EML file format. But the conversion process with all will be different and if you pick the incorrect solution, you will face data loss issues. Some major challenges are explained below.
If users pick the wrong third-party tool, then their OLM file may corrupt. This would be really annoying for users as it will lose their hope to access the data.
Losing data integrity can be another problem that users may face by choosing the wrong method to convert Mac OLM file items to EML file format. This will not generate user-expected results. Also, data loss may be faced by users.
Manual Way to Convert Mac Outlook OLM file to EML file
There is no straightforward method to convert OLM mailbox data to EML file format. The only way to do is by dragging emails from Mac Outlook & dropping them to save into EML files. But in this method, you need to select a single email to drag & drop. Thus, only a few emails are converted from Mac Outlook to EML format with this method. It is not suitable for huge data export.
Note: The manual method will consume several hours as it can only convert a single email at once. Thus, this is not a perfect solution to convert emails from large Outlook for Mac file to EML file format. Also, this method involves the risk of data loss.
Simple and Smart Method to Convert OLM Email data to EML file format
The best, simple and convenient method to export Mac Outlook OLM data into EML format is to pick an automated tool. Try Softaken OLM Converter to Convert OLM emails to EML with attachments .It's to simple way to convert all emails from Mac Outlook data file to EML format with a few clicks of mouse This is the simplest way to convert OLM file to multiple file formats such as EML, PST, MSG, MBOX, EMLX, etc.
Steps with the automated tool are as follows:
Step 1. Download and launch this Outlook for Mac to EML Conversion Tool on your Windows system.
Step 2. Select the desired Mac OLM file by using the provided Browse button.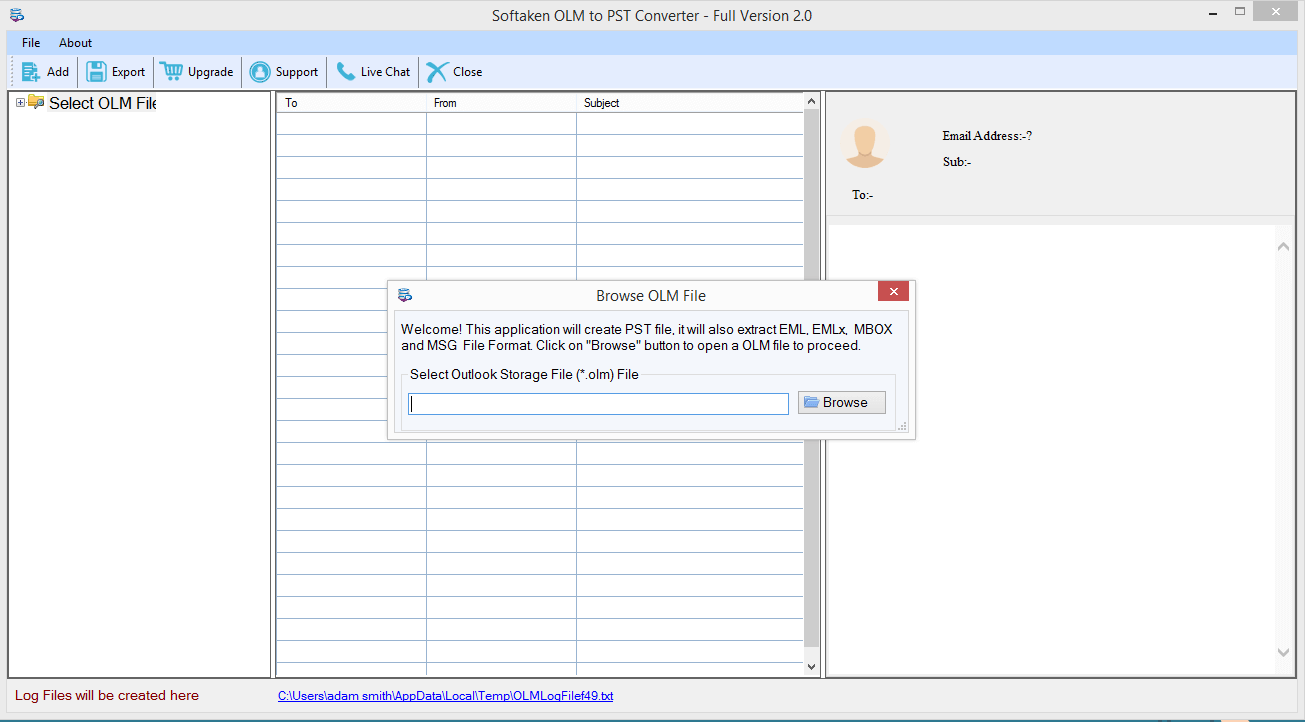 Step 3. Now, check all the data inside the loaded OLM file on your screen. To move ahead, press the 'Export' button available on the bottom left of the screen.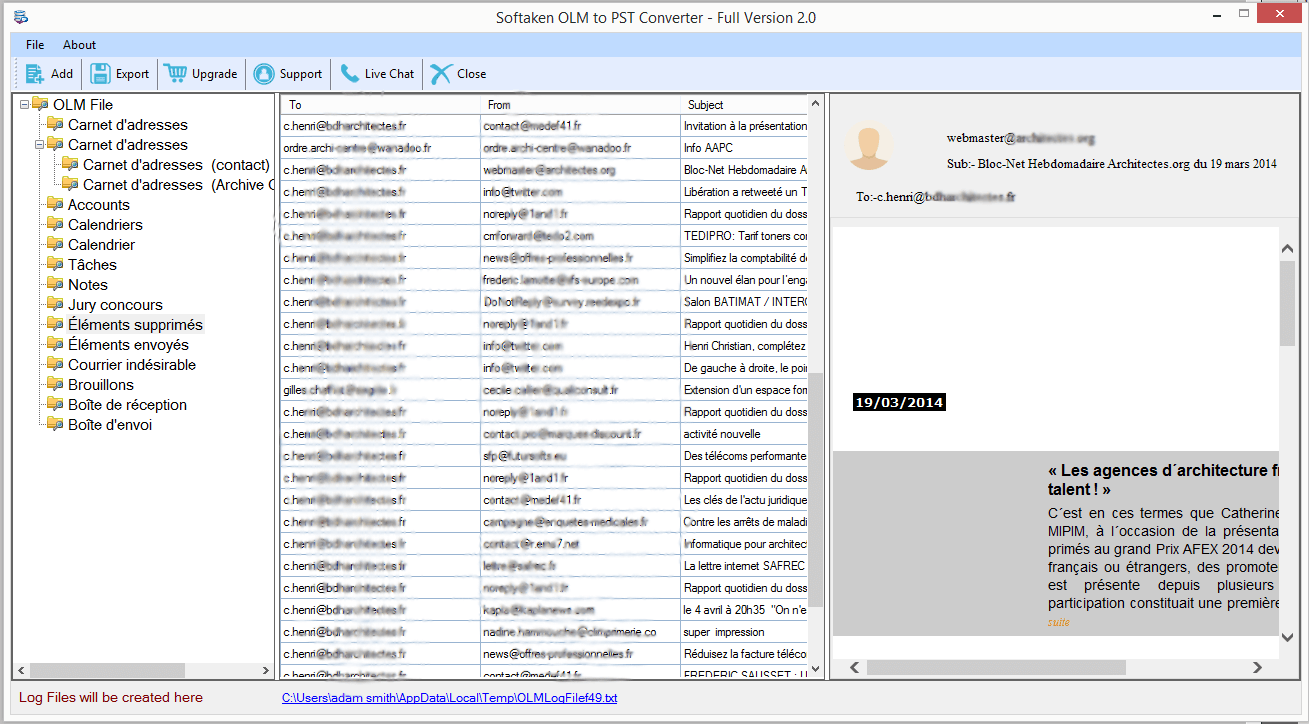 Step 4. On this page, you will get a small dialogue box with many export options. Pick 'EML file format.'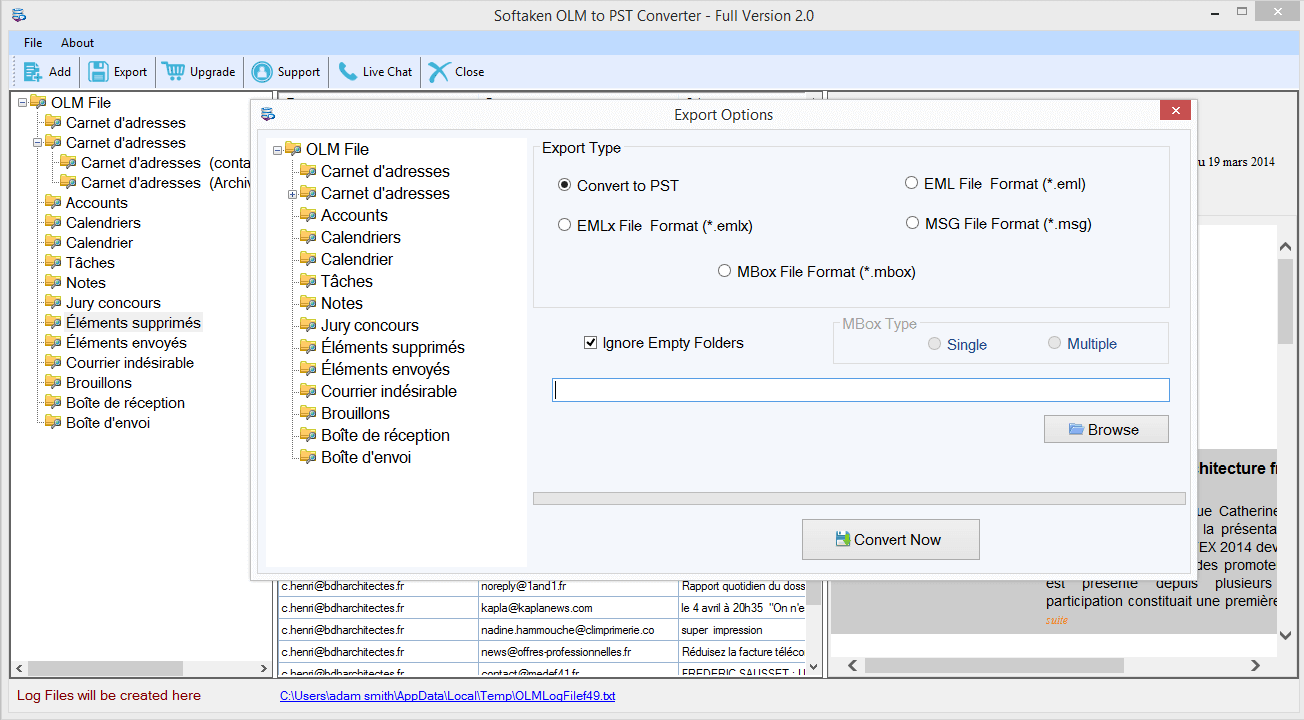 Step 5. Now, you will see the 'Browse' button by which you can set a path to save EML files.
Step 6. To commence exporting Mac Outlook emails into EML format, press the 'Convert Now' button.
Note: You can swiftly convert multiple OLM files directly into EML file format using this software.
Benefits/Advantages of using this software to convert OLM data to EML
Here are the top 6 advantages that you can get by using this software:
Show detailed preview of OLM data items prior export to EML file
Export Mac Outlook emails along with attachments to EML file
Allow converting OLM file to PST, MBOX, MSG, HTML, and MHTML formats
Comfortably work without the installation of any email client
Option to specify the required path to save EML file
No restrictions applied on the size & number of OLM file
Conclusion
Nowadays, users prefer to access their emails from multiple email clients and operating systems. So, through this post, one can easily access Mac Outlook emails & attachments to EML-supported email clients. Check out the discussed third-party solution to get quick and safe results without the loss of any data item. Also, take a free trial of the software & known its working before you apply for the license version.
Frequent Questions Asked by Users

Q – After the conversion of Mac Outlook email items to EML files, where can I open EML files?
A – You can easily access EML files in different applications like Outlook, Windows Live Mail, Thunderbird, Outlook Express, Apple Mail, Postbox, Incredimail, etc.

Q – Do I need the configuration of an email client to use this software?
A – No, this is a standalone program that can perform the conversion without any additional software.

Q – Can I open this software on Windows version 8.1?
A – Yes, this application well supports all the editions of Windows operating systems including 11, 10, 8.1, 8, 7, XP, Vista, and others.