Microsoft creates OST, PST, and OLM files. However, OST & PST are created by Windows Outlook and OLM is created by Outlook for Mac. In this guide, we will understand OST, PST and OLM file formats and the differences among them. Before this, let us have a look at the table of contents:
What is a PST file?
PST file format is expanded as 'Personal Storage Table' and this file is the primary data file of Microsoft Outlook email client.
This file carries the given information:
All email messages and attachments
All calendars and events
All contact information
Tasks, journals, to-do-lists, etc.
PST file format resides locally on your system. This file is considered secure and easy to share data. You can simply import, export, and transfer data easily from one device to another.
Also Read:-  Repair Outlook .ost and .pst file
The difference between PST vs OST is PST files are more versatile than OST files.
PST file is generally used to create backup and restore them. Another advantage of having PST file is it is easily imported into Outlook for Mac. (We will know more about it Outlook OLM vs PST file section)
If you want to import PST file in Mac Outlook, then the process is too simple.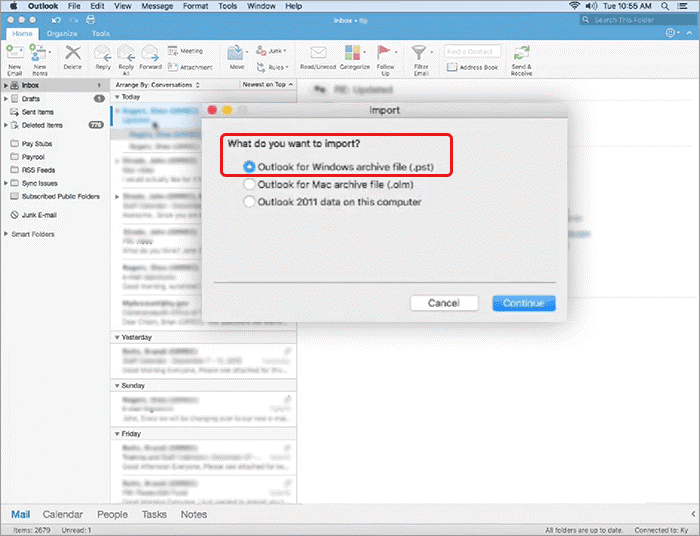 Go to File – Import and then choose the file type 'Outlook (.pst). Then, navigate to the location of PST file and hit the Import button.
What is OST file?
OST is termed as 'Offline Storage Table' and as its name suggests, allows users to access Outlook data when there is an absence of internet connection.
When you re-connect with the internet, this OST file scans and compares itself with the current Outlook account and then update your account with the changes.
This means if there are changes in OST file (when the device is disconnected), then surely those changes will show in Outlook account.
When we talk of the difference between OST vs PST, then OST file is provided weightage over the Outlook account.
However, users can easily transfer OST file data to another system by converting it into PST file format. About this conversion, we will discuss in the next sections of this article.
For More Info- Convert OST to PST file with Outlook 
Basically, the difference between OST & PST is almost zero, except for the functionality of PST file to allow data transfer from one system to another.
What is OLM file?
OLM basically belongs to Mac Outlook and is generated on Mac OS. This file format holds all details like PST file.
But it is hard to transfer OLM file anywhere like PST file. One can't transfer OLM file to another operating system like PST file.
However, by converting OLM mailbox to PST file format, this can be done. We will later discuss how users can convert OLM email items to PST file format in the next sections of this article.
When we talk of Outlook OLM vs PST, PST file format is more flexible than OLM as OLM file is non-transferrable to other operating systems.
Purpose of PST, OST, and OLM file formats
It is obvious that Outlook is a highly useful and known email application that users use as per their needs. Depending on the OS, users go with Outlook. To offer you a seamless experience, these file formats are created.
In this article, we will also understand the difference between OST & PST, and OLM & PST in the next sections.
Here, let us know about these file formats & why we require them.
| | | | |
| --- | --- | --- | --- |
| Description | PST | OST | OLM |
| Account Specific | No | Yes | No |
| Created Automatically | Yes | Yes | No |
| Encompasses whole Outlook | Yes | No | Yes |
To access these data files, navigate to the File tab, go to Account Settings, click on Account Settings again and finally go to Data Files.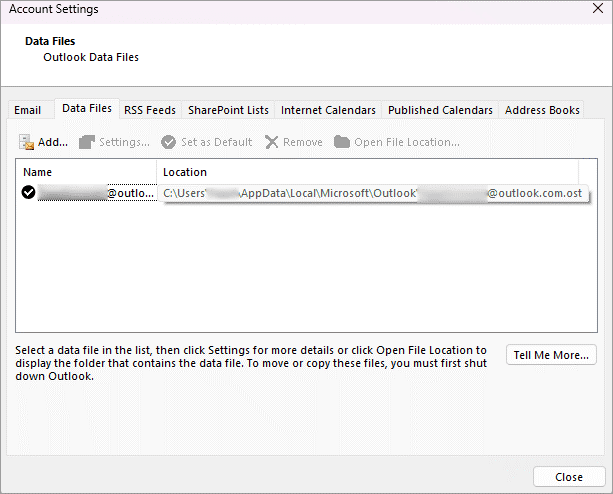 This will provide you the details of the number of data files (OST, PST, & OLM) you have as well as their storage limits.
How to convert OST file to PST format?
As we mentioned above, users can easily convert ost to pst without outlook by using third-party utilities like Softaken Exchange offline OST to PST Converter.
With this automated utility, one can export all items inside the OST file directly into PST file format. This utility converts items like:
 Emails and attachments
Contacts
Calendars, notes, tasks, etc.
With this advanced solution, users can comfortably export OST file not only to PST format but also in EML, MSG, MBOX, Office 365, etc. Also, this program supports the conversion of multiple OST files at once without any issues.
You will get a free assessment copy of this program prior you pay for the license version.
Functioning of the software:
Launch the software with proper installation on your local system.
Next, add one or more OST files as per your needs to convert into PST file.
Find the whole OST file preview and mark desired items to export.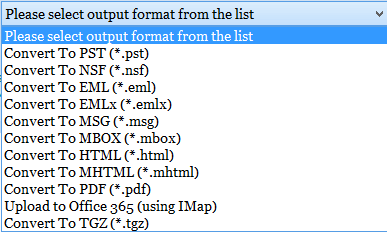 Pick the PST option and a destination path for saving the output PST file.
The final step is to tap on the 'Convert' button to commence the conversion.
How to Convert OLM files to PST format?
Similar to the conversion of OST emails to PST format, the best way for OLM emails to PST conversion is by selecting automated tools like Softaken Mac OLM to PST Converter. This is a smart solution to easily export all OLM mailbox data like emails, notes, contacts, calendars, tasks, attachments, etc. into PST file format. This effortless program allows a fine preview of OLM mailbox data prior moving to PST format.
Users have the option to convert OLM data to PST file manually but this can be risky so we highly recommend users third-party solutions.
This software grant users to switch from Mac Outlook to Windows Outlook without any hassles. You can simply browse any heavy OLM file to export its data to PST format by using this application.
Functioning of the software:
Open the installed program on your local system.
After that, browse for the OLM file you want to convert.
Get a quick preview of OLM file.
Go with PST file format.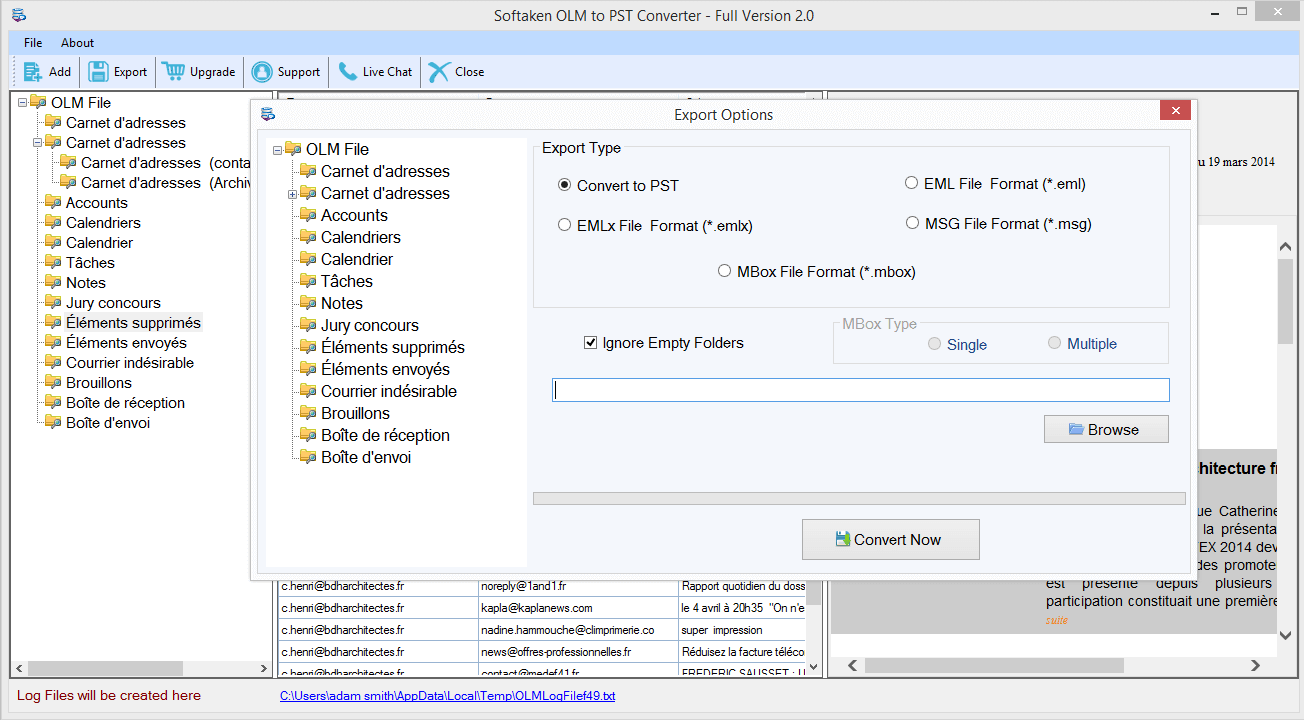 Set the preferred path for saving the PST file.
To start with the conversion, tap to the Convert button.
Conclusion
I believe after having a look at this article. You have understood these file formats, their differences, and the ways of converting one file format to another. We have covered all the required details about these file formats – OST, PST, and OLM in this post.