DIY Techniques to Convert OST to PST in MS Outlook
Microsoft Outlook users face several issues with OST file and due to which the users need a safe file format i.e. PST format. For this, the complete data of OST file including emails, contacts, notes, appointments, and another database needs to convert to PST format in Outlook.
What are the cases when Offline storage table to PST Conversion is needed?
OST is an Outlook file that helps users to work in offline mode. Without Exchange Server connectivity, a user can manage their email messages and automatically these changes are updated when you utilize a Microsoft Exchange Server Account. PST contains all email messages and other data items to save on the user computer system.
Now, let us talk about the cases and causes to convert Exchange to PST –
Exchange Server Crash
A user may face sudden crash in exchange server due to virus attacks, power supply failure, software corruption etc. Once the server gets crashed, you may be unable to get connected to MS Exchange Server. Moreover, in case of Exchange Server maintenance, accessing user mailbox is not possible so Offline storage table to PST export is needed.
Job Switching
When users left old job, they try to forward OST files on another account. To access OST files on another account, the users need to export Exchange to Personal Storage Table.
Corruption of OST files
OST files are more likely to corrupt due to abnormal closing of Outlook, lack of storage space, server breakdown etc.
Moving OST to another system
Conversion of Offline storage table to Personal storage table helps in migrating data from one place to another. OST file can't be directly moved to another system.
Pop Up OST File errors
OST file pop up several error messages like your offline folder could not be configured. This makes OST file inaccessible and to view OST mail items, the users require to convert OST files to Outlook PST format.
Process to convert OST files
If you know the location of OST file on your system, you can locate it and begin the conversion process. If you are not aware of the location of OST file, you can locate it by the given steps –
Open Outlook and go to File tab
Select Account Settings > Data file tab
You will find your OST file. Click on Open File Location
How to fix corrupt OST files in MS Outlook?
If your OST files get corrupted or damaged. No need to worry. You can recover corrupt OST files without any delays using the powerful software i.e. OST Recovery Tool.
Get the secret of Exchange to PST Conversion
The very first and simple method to convert offline storage file to PST format is archiving.
Technique 1. Archiving
This is the very easy method that can be used by users to get PST file from OST file. The main drawback of this method is it is unable to archive contacts.
Get the steps to enable AutoArchiving feature
Go to the File tab
Go to Options > Advanced > Auto Archive option
After that, click on Apply settings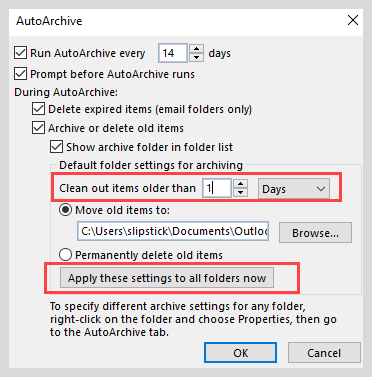 You can simply perform the task with –
Go to the File menu > Tools > Cleanup > AutoArchive option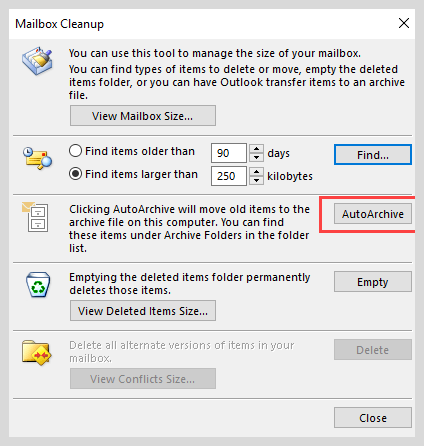 More about AutoArchive
The AutoArchiving feature is used to archive the recent items, only for a less number of days. Hence it is not considered to be the best method.
Technique 2. Export exchange into PST format
Another technique is with the help of Export feature. This method is helpful when users are connected to Exchange Server and have Outlook installed on their system.
Get the steps to export OST into Outlook PST format –
Go to File tab and then select Open & Export and choose Import/Export.
Choose Export to a file.
Select Outlook Data file (.pst)
Export Outlook data file which you want to export to new PST file.
Select a location to save the PST file.
Things to remember before using Export to PST method
With this method, the users can export only selected folder. To export multiple folders, the users need to repeat these steps for every folder movement that makes this method too lengthy.
Technique 3. Drag and Drop
One of the easiest ways to move mailbox data from offline storage file to PST file. Just drag and drop folders like inbox, calendar, contacts into a new PST file.
About this method
This is not an effective method since it involves the risk of file corruption.
Best Offline storage table to PST Converter software searches
It has been found that people are searching for the best Exchange to PST Conversion Tool. In order to get things in the right way without any difficulties. It is advised to use Softaken OST to PST Converter software. It is one of the smartest tools which do not need Outlook and Exchange Server to perform the conversion task.
Why the tool is in limelight?
No dependency, no extra tool installation and having a simplified interface of the tool. Easy working on all Outlook versions. Rapid working without any losses.