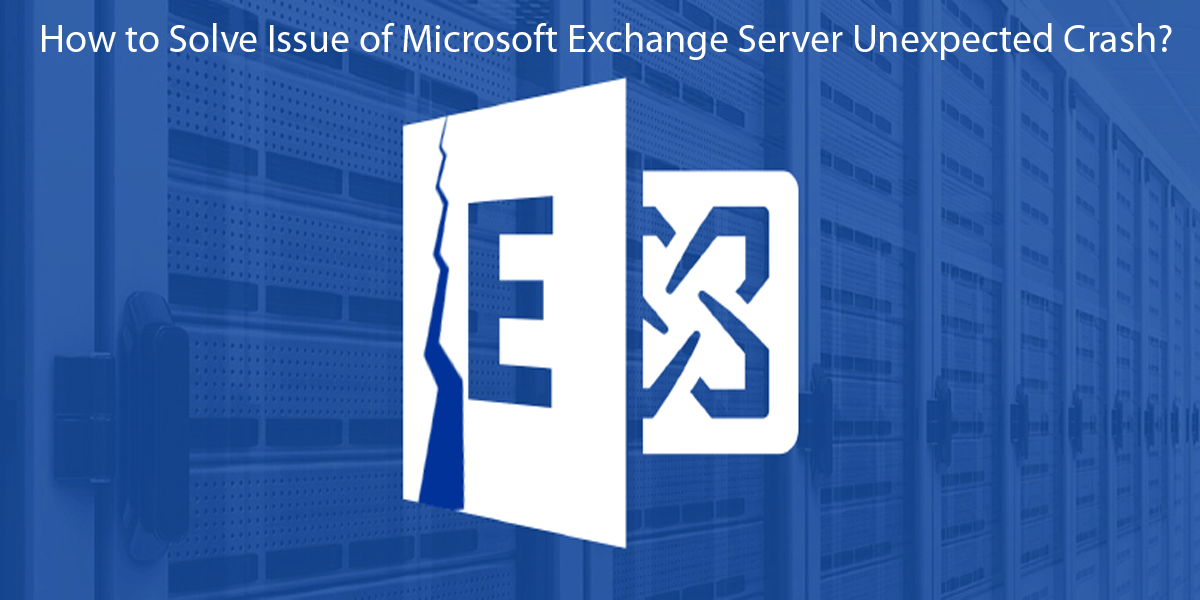 How to Solve Issue of Microsoft Exchange Server Unexpected Crash?
There is no doubt that Microsoft Exchange Server is excellent application and works amazingly. Therefore, many organizations rely on MS Exchange Server to maintain reliable email communication. In such organizations, MS Outlook works in coordination with Exchange Server to access Exchange mailboxes. This makes the communication seamless.
However, some disaster may happen where users face issues in accessing Exchange mailboxes. In such situation, users have to take correct decision to solve the issue to save from the disaster. The most common issue faced by Exchange users is Exchange Server sudden crash. This arises due to many reasons. Through this technical blog, we will know the reasons and solutions to deal with Exchange Server crash.
Download OST Recovery & Converter Software
How Exchange and MS Outlook work together?
MS Exchange Server saves all user mailboxes in database file known as Exchange Database File (EDB) and access mailboxes on their system by configuring Outlook with Exchange accounts. By enabling 'Cached Exchange Mode', Outlook users can even access mailboxes when Exchange Server is offline.
Using Cached Exchange Mode, a backup copy of mailboxes of Exchange in the form of OST file is saved on user computer which stores all data items like emails, contacts, calendars, notes, tasks, etc. Using OST file, Outlook users can even work offline without connecting to Exchange Server.
With OST files, you can recover Exchange mailbox items in situations of Exchange crash & disaster. But due to damage in Exchange database file, Outlook users can't communicate further. In this situation, if Exchange data file backup is available, one can fix the issue with less efforts but the situation can be worse if backup is not available. No need to worry at all in this situation, as OST file will work as boon for you and by its conversion into PST file, you can get access of mailboxes items with MS Outlook.
Download Exchange Recovery Software
Before we get the solution to come out of Exchange Server crash issue. Let us know reasons behind crash of Exchange Server.
Causes Responsible for MS Exchange Server Unexpected Crash
Here, we are providing you major reasons that can crash Exchange Server unexpectedly.
Power Failure: Power failure is common in most organizations. Make sure you & other members have not unplugged server power cable. Also, ensure that your UPS is serving enough power to server. Check the power cables connected to the server as many times, the cable may burn due to short circuit or overheating.
Network Issue: Network issue is the biggest issue. You can't sure where the actual issue is occurring as this may happen from your side or from client side or somewhere in between. So, you can do is to check all network connections properly on your side and make sure all connections must be OK.
Hardware Problem: Due to hardware failure, Exchange Server can go down or crash. So, make sure that you have no hardware failures on your server.
Operating System crash: Sometime the operating system stops working or it hangs until you perform reboot. Rebooting the server makes the system stable. But if there is virus problem and some part of the system is destroyed by virus then you have to recover or re-install the operating system.
Application Crash: Sometimes the application that is serving your client may be crashed. It is because of many reasons like system overload, resource exhaustion, logic error, database corruption, etc.
Methods to Resolve Exchange Corruption Issue
In case of Exchange corruption issue, no need to be panic. You must know the right technique and tools for perform quick recovery.
You have to first check the database state by using EseUtil 'm/h' parameter. If the database is in shutdown state, corruption & missing files will be there. Try to recover the database with minimal corruption using EseUtil '/r' parameter for software recovery of the database.
If EseUtil does not work for you, then you can using OST files saved on your system, you can recover Exchange mailbox items. For this, user third-party solution and convert OST data file to PST format that gives you access to your valuable data items.
Throughout the conversion, the tool maintains data integrity and won't change the data originality.
Exports to PST file - The software efficiently exports Exchange OST file to healthy PST file. Hence, OST files become accessible in Outlook after the conversion.
Restore Deleted OST items - By this conversion, users can restore deleted items from Exchange OST file. Without any hassles, the software deals with multiple OST files at a time.
Export emails to Email Servers - By using this efficient solution, OST file can be imported into multiple email servers like Office 365, Gmail, Yahoo, G Suite, etc.
Availability as free version, the software offers flexibility to analyze the software features and working. Moreover, this program offers all versions of MS Exchange and MS Outlook.
Conclusion
We believe this post has cleared out the issue of MS Exchange Server unexpected crash. You come to know about the reasons and solutions to recover data from Exchange Server. Using the above solutions, you can access Exchange mailbox items through Outlook.