Summary: This post is fruitful for those who have lost or deleted photos from your Android phone's Gallery app and want a quick recovery.
Android phones are widely used all over. With Android, you can capture, store and share photos. It has a Gallery app that saves infinite photos and videos in separate Albums like WhatsApp images, Facebook images, Camera images, screenshots, and so many more
However, at times, while deleting the less important photos, we delete the crucial photos from the mobile phone's Gallery app.
Here, we will discuss how to recover the deleted photographs from the Android gallery app.
Ways to recover deleted Photos:
There are four alternatives to recover the deleted photos from Android phone:
Recover from Google Photos
Recover from Google Drive
Restore photos with Android Backup Services
First Way Out: Recover Android photos From Google Photos
Every mobile has Google Photos, photo-sharing, and a storage app. The photograph was taken with your Android mobile or shared through WhatsApp on your mobile device automatically saved in Google Photos. Suppose, you delete a photo from the Gallery app, you can still see them in your Google Photos until and unless you remove them permanently.
Steps to restore pictures deleted from Android Gallery using Google Photos
First, open the Google Photos app on your Android phone
And choose the deleted photo which you wish to restore.
Now, tap on the menu icon (three dots on the top right)
Now, recover photos from the android gallery app
Choose the 'Save to device' option. It is important to note that if the photo already exists on your device, then this option will not appear. The image will be saved in your Android Gallery under the Albums >> Restored folder.
Second Wayout: Recover Gallery photos from Google Drive
You can recover the deleted Gallery photos from your Google Drive account on your mobile or computer and steps for the same are as follows:
open Google Drive on your phone or computer in the web browser
Now, all the uploaded or backed up photos appear. Choose the photos you want to restore and download the files from there.
Important to Note:
If you delete a photo in Google Photos, then it will also be deleted from Google Drive too.
If delete folders, including the Google Photos folder in Google Drive, then photos and videos in those folders will be there in Google Photos.
Third Wayout: Restore photos using Android Backup Services
Android phone manufacturers provide inbuilt backup functions in the devices. This will help to back up your phone's app data to the phone's cloud backup, local backup, Google backup, or external storage. This option varies with the mobile phone brands. Some mobile phones come with an in-built backup app.
The location path of the backup function may vary with the Android phones. You can find it in the Settings of your phones. For instance,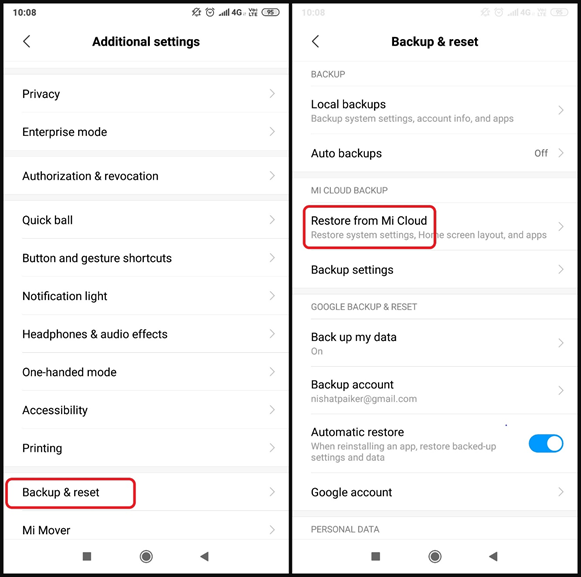 Xiaomi Redmi phones: Settings> Additional Settings> Backup & reset
Samsung phones: Settings> Cloud & Accounts> Backup & restore
LG Android phones: Settings> Backup & Reset> LG Backup Service
Make sure that you turn on the device backup service to restore the deleted Gallery pictures from these backup files.
Tips for not losing your Photos and Videos on Android Phones:
In case, the photos are not visible, try to open the files in ES Explorer or Total CMD file manager. You can try to transfer your pictures to the DCIM/Camera folder on an SD card or in the device's internal memory. This will help you to avail the pictures in the android gallery app.
Enable the backup feature on your Android Phone for avoiding the loss of photos.
If you see only thumbnails then clear the cached images in Android Gallery and delete the file. thumbnails in the DCIM folder.
In case, your pictures are disappearing from the android gallery app then clean up your storage space. Clean up your device via file manager using CCleaner utility for Android
The Final Word: A backup is a useful option in case of accidental deletion or loss of the photos from Android Gallery. Take back up your photos from Google Photos, Google Drive, or your phone's Android backup service.