Summary: Have you ever tried to know what if you switch from one hosting to another? It's time to think about the matter seriously if your hosting platform has several important emails. The article cracks down the way to export from Hostgator to Office 365. Keep your eyes open and read the article to learn how to extract data from Hostgator.
Are you looking for a solution to export from Hostgator to Office 365? Your search is over here. In this article, we learn reasons to transfer from Hostgator to Office 365 and an effective solution to transfer Hostgator emails to Office 365.
Define Hostgator and Office 365
Hostgator is an advanced platform to host your website. It allows you to keep a separate email ID to manage your website-related emails. Today, Hostgator gives support to thousands of websites at affordable prices. Hostgator service is fast and reliable. It offers various packages to users. An affordable hosting plan is named basic. However, with the basic plan, you cannot get email service. For this reason, you can buy an email service package separately.
Office 365 is a professional utility. The cloud platform allows users to manage their emails and tasks. The robust platforms come with the added advantage of Microsoft Office like Outlook, Word, Excel, PowerPoint, One Note, Teams, etc. You can manage your emails, contacts, calendars, tasks, notes, and other components on Office 365 systematically.
Why Do Users like to Move from HostGator to Office 365?
There are several reasons why users like to move from HostGator to Office 365.
HostGator offers limited email service for an hour (around 500 emails in an hour). Furthermore, each IP address is limited to 30 POP verification every hour. The limitation is not the case with Office 365.
Hostgator is not as advanced as Office 365. It offers a simple email service whereas Office 365 offers several advanced features.
If you are planning to change your hosting, you may plan to switch from Hostgator to the intended hosting panel or can choose Office 365 to maintain website-related emails. It saves money.
Automated Conversion from Hostgator to Office 365
Automated conversion is the safest way to extract data from Hostgator to Office 365. You can choose an IMAP to IMAP conversion application like Softaken IMAP to IMAP converter. It is a reliable program to export IMAP to IMAP in bulk.
Steps to Migrate Hostgator to Office 365
Download and launch the application
Fill out the authentication form by providing the host, port, username, password, and section option.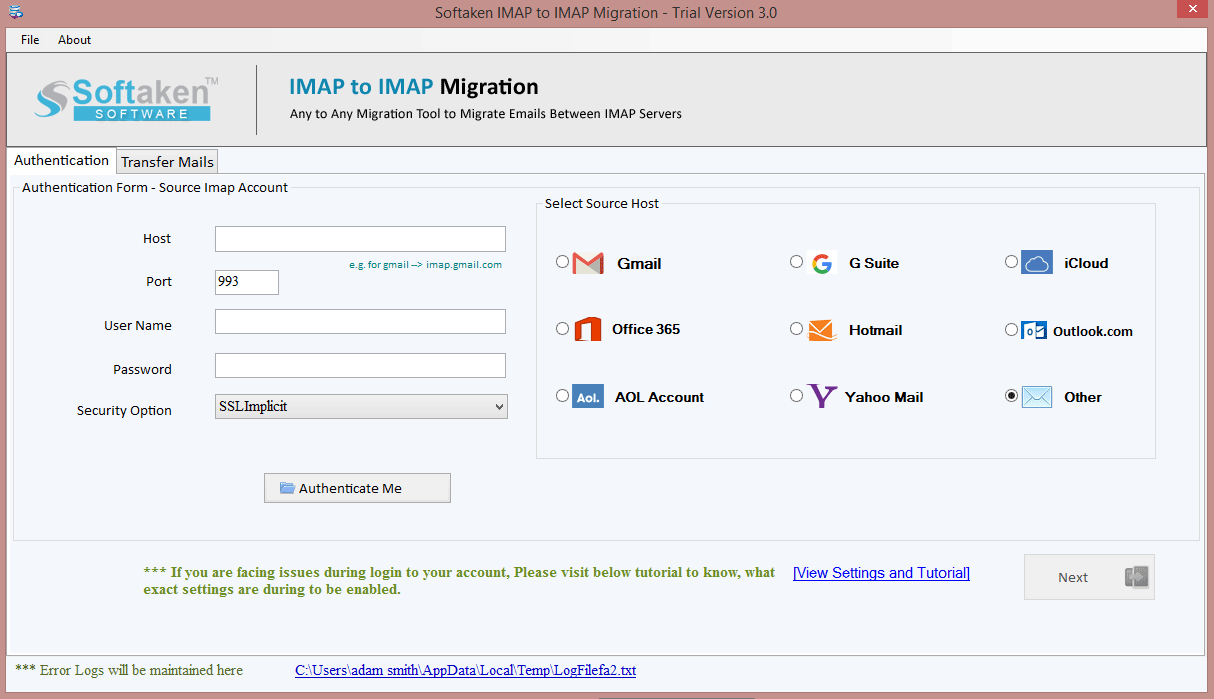 Select the radio button of the "Other" option and Press Next.
In the target IMAP Server, Click the radio button of Office 365 and provide credentials- host, port, username, and password.
Press Next and click on the tab "Filter and Transfer Mail"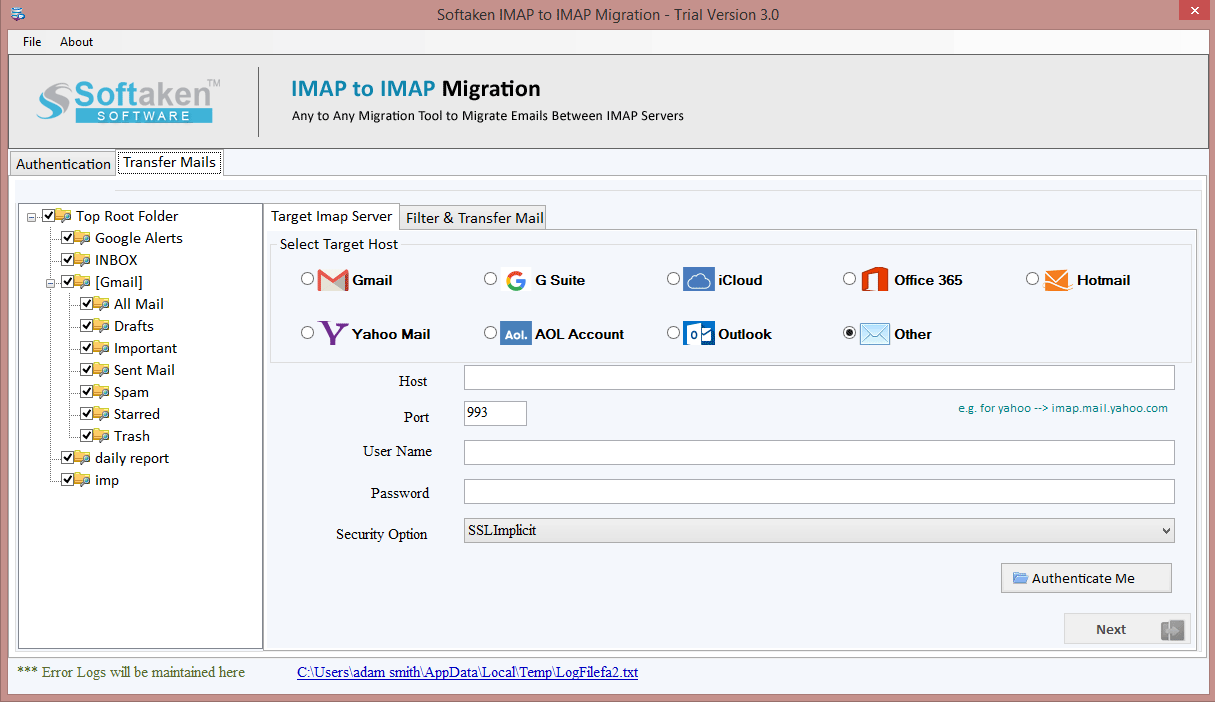 Deselect the folder that you don't want to extract or apply filter by date range.
Choose the existing folder of your Office 365 or create a new folder to save data.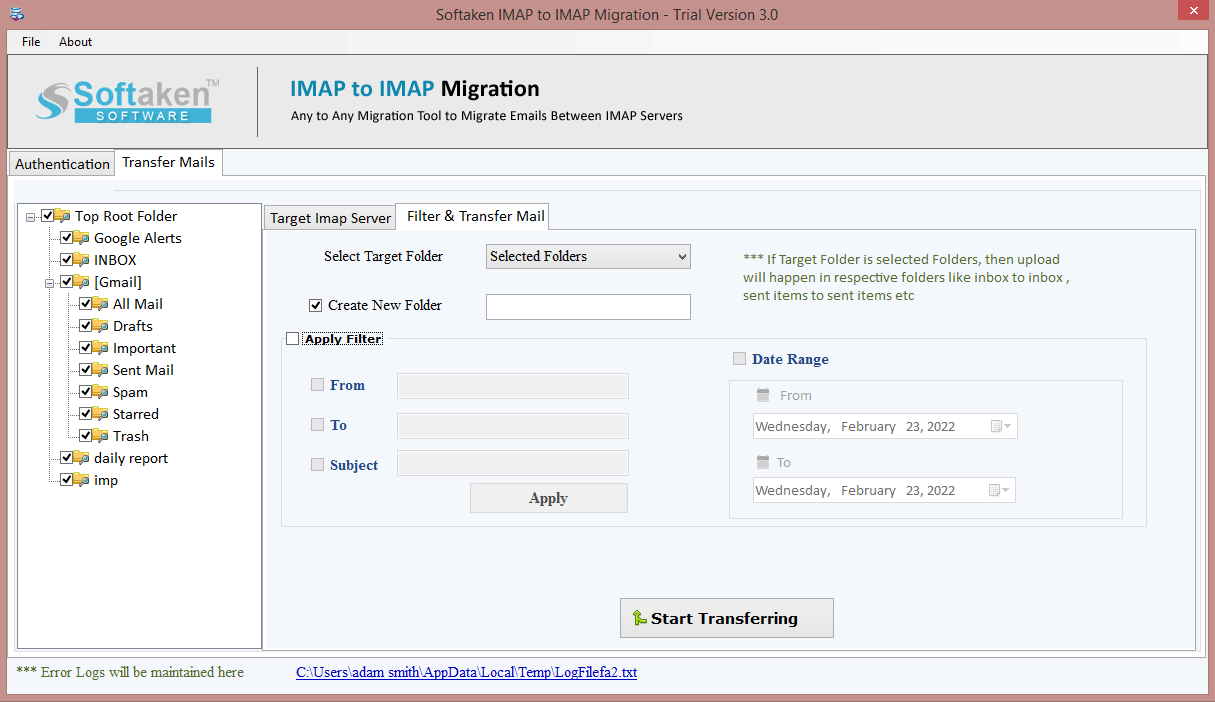 Finally, hit the "Start Transferring" button for conversion.
(Note: Keep your internet on at that time so that the tool doesn't put the conversion process on hold.)
Why Select This Application?
Instant Transfer-  The application makes the process of extraction easy and quick. It exports Hostgator to Office 365 in a few clicks. The app interface is interactive or self-descriptive. With this application, you are a few steps away from the conversion of Hostgator to Office 365.
Bulk Data Conversion-  The application supports bulk data conversion where you can choose to export entire folders or a selective one at a time. Bulk conversion saves time and effort for users. It makes the process of conversion hassle-free.
Control on Results-  The app provides users with optimum control of results. They export only specified folders of Hostgator to Office 365. Furthermore, it allows users to save the exported data to an existing folder of Office 365 or a new folder. It has the feature to filter emails according to date basis. Select the date range to extract only selected date range data.
Preserve Email Properties-  When you have chosen the professional application for conversion, you don't have to look back for quality. The utility preserves the quality of each email with its properties intact and unmodified.
Unlimited Conversion-  The utility comes with the benefit of unlimited conversion. The licensed version is valid for an unlimited duration. You can use the app as much as you desire. Each time it offers accurate results.
Also Learn this Post- Migrate Live.com  to IMAP Migration
Conclusion
Overall, conversion from Hostgator to Office 365 is easy when you choose a professional utility. Manual solutions can cause data loss. They can lead to incomplete conversion. Attachments may not be extracted. This is the reason many users like to use a third-party application.