If you are a Roundcube user who want to secure your emails? Then read this article to get solution of all your emails security. Here, we will discuss probable solutions for backup of Roundcube emails.
Know about Roundcube
Roundcube is a web-based email client provided through cPanel and used to send, receive, and save information in the form of emails like other email clients do. It comes with two other webmail services i.e. horde and SquirrelMail. These clients offer other services as well including Calendar and Contacts with support for around 70 languages. You can access this web-based application from anywhere.
Why need to backup Roundcube emails?
Like other web-based email clients like Gmail, Roundcube also needs protection. Users can do this with a backup solution and backup emails to a portable file format or to cloud destination. This backup is necessary to get access of data in situations like accidental/intentional deletion of data. Roundcube application becomes inaccessible or crash down or when there is data loss with hacking, virus attacks, phishing, switching email clients, etc.
A manual way to backup Roundcube mailbox
The manual solution to backup emails of Roundcube is simple and free. Here, we have explained the detail process to manually backup Roundcube account emails –
Login to Roundcube web-based application with details like username and password.
From Roundcube application interface, go to particular email which you need to backup and click on More option on top right. Then, choose Export option from the list.
This will start downloading the selected emails and once the download is completed, you can access the default Downloads folder on your system in EML file format.
To take backup of other emails in EML file format, repeat this same process again.
Why manual solution is not reliable?
The above explained manual solution is not fit for users as it has various drawbacks such as –
Not suitable to backup multiple emails
Do not support file format other than EML format
There is no flexibility in the backup process
It is a time-taking process when large amount of Roundcube emails backup is required
Backup emails of Roundcube to PST/Office 365
Many users want to backup Roundcube emails into PST/Office 365. For this, there is no manual way available. Hence, we suggest to use professional solution. One such automated solution is IMAP Backup Software. It is a direct and secure application to export Roundcube account emails into PST and other formats. Keeping all attachments and meta properties intact, emails from Roundcube account to PST & other file formats are exported.
The software provides filters for selected data backup from Roundcube account. Without any restrictions, any number of emails from Roundcube account is saved into PST, MSG, EML, MBOX, EMLX, PDF, HTML, etc. formats. Only correct login details of Roundcube account needs to be entered to download Roundcube emails. Freely use this program on all versions of Windows OS.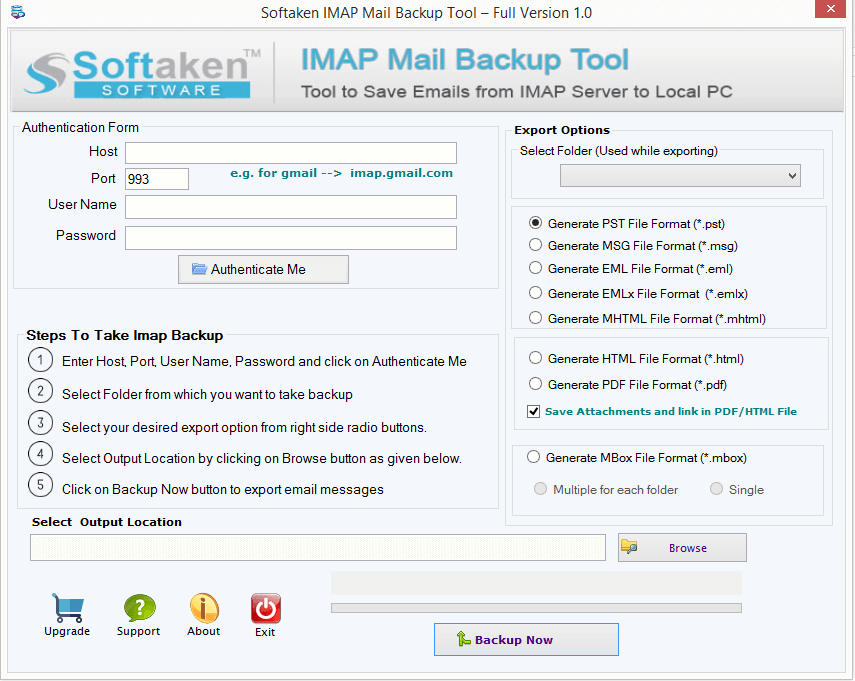 Now, let us check the process to backup emails from Roundcube account to PST/Office 365 with this automated tool –
Install and Launch the software to backup Roundcube data.
On the first screen, enter host address, username and password of Roundcube account.
Select all folders of Roundcube account or desired folder that you want to backup.
Select PST format under Export Options.
Then, use the given Browse button and set destination for saving PST file.
Finally to start the backup task, press the Backup Now button.
After getting Roundcube emails into PST file format. Users can import this file to MS Office 365.
Final Words
Taking webmail emails backup is necessary for businesses and individuals to secure the data from external/internal threats that cause loss of data or inaccessibility. Through this post, we have discussed manual way for backup Roundcube to EML data for Outlook. Also, alternate professional solution is also discussed. The software offers instant backup facility by retaining quality of data. To monitor the working speed of the software, you can download the free trial version first before applying for the license version.