MS Outlook is one of the best email clients for users to manage contacts, notes, journals, emails, and messages. MS Outlook saves its data in PST and OST file extensions. These extensions are operated and opened with the MS Outlook Windows application. When you try to open on Thunderbird and any other email clients, MS Outlook doesn't allow this. It is said that for security purposes MS Outlook doesn't support other platforms. Microsoft has evolved the application over time. Now, MS Outlook can access from your Android devices. It permits its users to open their Office 365 and calendars on Android devices. Download MS Outlook from the Google Play Store.
But what to do when you are looking to open only contacts of MS Outlook? The best solution is to export PST to VCF. The conversion from Outlook Contacts can take place through manual conversion methods and automated ways. You can go either way. Experts always suggest using a reliable automated tool.
What is VCF File?
vCard or VCF i.e. Virtual Contact File is a common file extension that is preferred for electronic business cards. The file extension is used to send or import contacts from one device to another. Some other good examples of VCF file extensions are VFC, FCF, and VCD. VCF files are plain text files that store the contact's name, physical address, office address, phone number, and several other crucial contact details. A VCF file can back up a single person's contact and contacts of several people. VCF file extension also stands for Variant Call Format that stores gene sequence variations.
Why Convert from Outlook contacts to VCF?
Now, you must be wondering why there is a need to use a VCF file extension.
PST is the file extension of MS Outlook only. It is not supported by other email clients. VCF is a flexible file extension. It supports several platforms including desktop-based tools and hand devices. If you are using an iOS device like an iPad or an iPhone, the VCF file can open easily. Upload the file extension directly from the Contacts app via an email, website, or some other means.
For Android users, use the Contacts app to locate the VCF file. For this, go to Settings > Import and then choose the VCF file on your phone or Google Drive account.
Do you know on your Windows 10 system you can open VCF files on Windows People, a built-in feature?
Mac users can access VCF files with Address Book or vCard Explorer.
You can use your Gmail account or any other online email client to open VCF files. It needs to follow a few easy steps.
One of the golden features of the VCF file extension is that it can integrate with MS Outlook and Handy Address Book. MS Outlook allows its users to view VCF file formats. We will discuss it in the later paragraphs.
Manual methods to transfer Outlook Contacts in vCard format
Luckily, there is more than one method to export from MS Outlook to vCard manually. You can choose your favorite method. Here is a straightforward method to export PST to VCF.
Export PST Contacts to VCF
At first, start your Microsoft Outlook
Take your cursor to the navigation bar
Hit the People tab (for Outlook 2013) or Contacts( for Outlook 2007, 2010)
Now, look for the contact that you want to export to VCF
Then go to the File tab and hit the Save As tab
Provide the folder and the location where you are looking to save the data and then set the Save as a type to vCard Files
Hit the Save tab to convert all the contacts in vCard format
Convert PST Contacts in a Single VCF File
Launch your MS Outlook move the cursor to the "File" tab and press Open >> Export
After that, choose Comma Separated Values or CSV
Access your Gmail account and press the Google Apps >> Contacts
After that, press the Import tab, it will open a window, choose CSV file and press the Import tab
Look for additional choices and press the Export tab
In the end, choose Contacts and opt for the vCard format for commerce.
It is how each contact data will export to VCF file format.
Automatic method to Access MS Outlook Contacts in vCard(.vcf)
When it comes to selecting the best-automated conversion from PST to vCard, choices can confuse you. Several software development companies are offering Outlook Contacts to Vcard Exporters. You can choose the right one by looking at the company's reputation, the number of downloads of the software, its reviews, and last but not least is its free trial version.
Why do you bang your heads on walls to look for the best export tool? Softaken vCard Export-Import is a one-stop solution. It is a two-in-one app. In other words, the application can export PST to vCard and import vCard to PST quickly. It is an independent program. It doesn't need the pre-installation of MS Outlook to export data. Here are some prominent key features of the application to notice.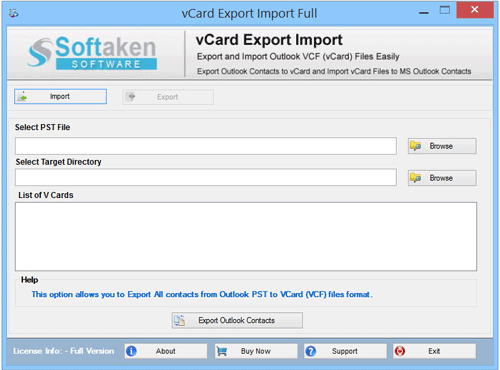 Main Features of  Softaken vCard Export-Import
Simple & Interactive Interface – The application has an interactive interface. Each window of the app is self-expressive. Users with a little technical competency can install and run the app. It doesn't need technical proficiency. Conversion steps are so easy to follow. There are mainly two steps to export data.
An Independent Import Export Tool – The program is independent. It doesn't need the pre-installation of MS Outlook and any other assistive applications to export data.  No manual conversion methods can complete without MS Outlook pre-installation.
Export All Contacts of a PST File at Once – The tool is advanced as it exports entire contacts of a PST file to VCF. The file size doesn't matter. It supports both ANSI and Unicode versions to export data. All contact details including names, addresses, and phone numbers are exported without losing data integrity.
Export PST Contacts to Multiple vCard files – The tool saves each PST contact to each vCard file. It means for each PST contact it creates a separate vCard file. It is one of the striking features of the application. The tool automatically creates the list of vCards and saves them to your listed location.
Unlimited Export Support – The licensed version of the application offers an unlimited export facility. You can extract contacts from as many PST files as you desire to save into VCF format.
Import Multiple vCard files Data to PST – There is one additional feature of the application is that it extracts vCard data to save into PST. If you are looking to extract contacts from vCard files to save into PST file extension, the tool will help you to achieve this.
Save Data in a Local Folder – The application saves data in a local folder. The "Browse" output location button allows users to locate a specific folder to save the exported data. It can save data in a new PST folder or an existing PST folder.
Unlimited Import Support – The licensed version of the app supports unlimited import support. It means you can use the application to extract contacts from as many VCF files as you desire.
Suitable for Every User – The tool meets the purpose of exporting and importing data of every user including individual and commercial users. The application is useful for every user who likes to export or import from VCF files.
A Lightweight Application – The program is lightweight. It consumes a few MB of storage on your hard drive to install. The installation doesn't affect the performance of the system. The program doesn't hamper your work productivity.
Conclusion
Manual conversion from PST to VCF is tricky if you are not so technical. It is also time-consuming,  and risk of data loss. Why do you put your contacts at risk? A reliable conversion tool is the best method to export from Outlook to Vcard effortlessly.