Do you need to generate vCard files by exporting contacts from Outlook? In this post, we will broadcast complete solution for exporting contacts from Outlook to VCF file.
Massive users have Outlook as their prime email client for their personal & business use. The data is very important for users therefore, backup should be always taken to access it in case of any disaster.
Same like this, copy of Outlook contacts is saved into VCF file format as backup. Contacts contain important information of users and they need them all the time. So, users can't afford losing them at any cost. Therefore, most users have the requirement for exporting Outlook contacts into vCard format.
vCard or VCF format is highly preferred by users as it is widely used in all devices and platforms. In MS Outlook, innumerous contacts are saved with users. But when users need to view these contacts out of Outlook, they need to export into vCard format. Hence, it is very clear that why vCard format is given priority by users.
How to freely export Outlook Contact Items in VCF format?
For this free method, one needs Outlook's proper configuration on your system. Then, you have to go through the given instructions:
Method 1. To Export Outlook contacts to VCF
Open Outlook on your system
Go to the navigation bar
Go to People or Contacts
Pick those contacts you want to export in vCard format
Go to File tab and choose Save as button.
Choose the folder and destination to save the file. Set save as type to vCard files.
Hit Save button for exporting contacts in vCard format.
This is one free way for exporting contacts into VCF file from Outlook. But this solution exports a single contact at once. Due to this reason, less users prefer using this method. No worries if you want another free solution to move multiple Outlook contacts at a time to VCF file format.
 Method 2. By exporting contacts into CSV file
This is another free solution for which Outlook installation is must. In this method, users first export Outlook contacts into CSV file and then into VCF file from CSV file.
Step 1. Export Outlook contacts into CSV file
Launch Microsoft Outlook.
Open File menu and choose Open & Export
Select Export to file followed by Import/Export and hit Next button.
Pick contacts to export into CSV file.
An option to save CSV file is provided. After this, click OK.
Map custom fields and click on Finish.
Step 2. Convert CSV file to VCF file
Search Contacts folder by opening Run command by pressing Win + R key together.
Click on Import and choose CSV file. After this, click on Import.
Browse CSV file, map custom fields and click on Export.
Choose vCard file and hit Export button.
Provide path to save the file and hit Done.
This is all about free solutions. What would be the next move if users find these methods unsuitable for them? Before we response you let us figure out the issues faced by users with free solutions.
Demerits or issues faced by users with free solutions
Every user needs a quick, effortless, and safe solution and both these free solutions lack these features. It is not so quick, nor there is a complete date safety guarantee. Also, novice users are unable to fully understand it. Due to this, they may face errors when any wrong step is followed or missed.
In all the above-discussed cases, we simply suggest users to choose professional solution. This is the complete solution of users' problems which they face with manual or free ways.
PST to VCF Converter to smartly & safely export Outlook contact list to vCard
By using Softaken vCard Export Import Software, one can effortlessly export contacts from Outlook file to VCF file format in few clicks. Any large size Outlook file can be added for exporting contacts into VCF file format by this application. Also, users can utilize this application for importing contacts from VCF file to Outlook as well. Without any damage to any contact detail, all contacts are effortlessly moved into VCF file format. Even this program is effortless to use by naïve users.
Steps to Convert PST contacts to VCF
Install this Outlook to vCard Importer software on your system and for launching it, double-click on it.
Now, hit Export button to export contacts into VCF from Outlook.
Pick and load Outlook PST file having all your contacts using Browse button.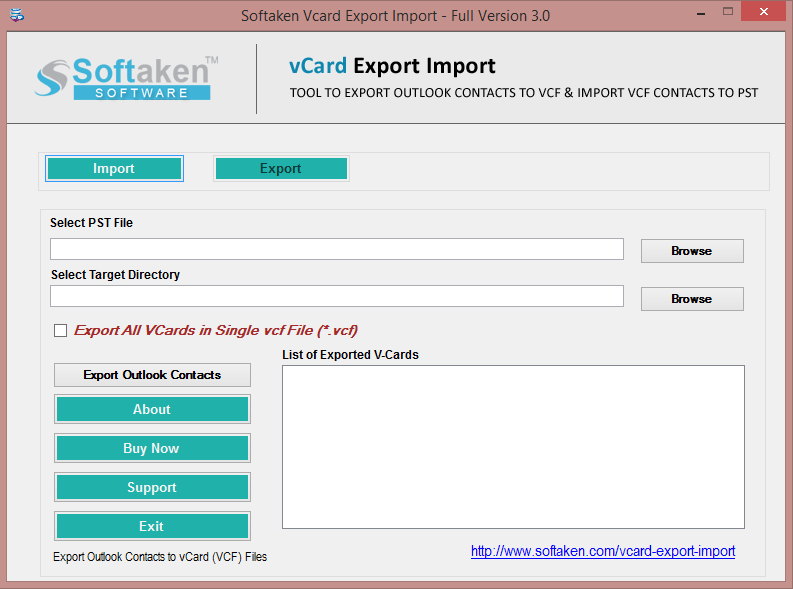 4. Then, use another Browse button for setting the path for VCF files.
5. Place the mouse pointer to Export Outlook Contacts button and this begins exporting contacts from Outlook PST file to vCard file.
Also, you can see the entire export process. In few moments, receive all contacts into vCard format. Now, you can import or use these contacts to the desired platform.
Causes to stick with the Professional tool over Manual solution
The main advantage of utilizing professional software is its ease and processing speed. Along with this, innumerous features are instilled in this software which we will know here:
Batch Contacts Export: Here, the first benefit you are getting over manual solution is this software can load any size Outlook PST file for moving contacts into VCF file. Without any restrictions, contacts movement is done in batch mode.
Export contacts without Outlook: There is no compulsion that users need Outlook on their system. This software is capable enough to export PST file contacts into VCF file with or without opening Outlook.
Perform VCF file import as well: You can utilize this software for importing VCF contact files to Outlook. In this way, in single investment, users are getting multiple benefits. This is like a blessing for every user to get benefits of two at once price.
All Outlook files are supported: This program does not make any difference in PST file type. This means it welcomes all size, all types (ANSI & Unicode) PST file for exporting contacts into VCF file format.
Preview list of vCard files: After exporting contacts to VCF file, users can get a quick view of VCF files list before they actually move into it. By this, users can re-assure about the contacts first. Also, user-picked destination is there for saving VCF files.
Full assurance of safe export: There is 100% safety to contact properties like images, photos, logos, URLs, and other items while Outlook contacts are exported into VCF file format.
Final Closure
The best and all possible solutions are well defined in this post. You can initially check out free solutions and if they fit your needs, nothing can be perfect for you than this. But in mostly cases, manual solutions won't work. In that situation, go for professional solution which fulfills all requirements of users. It's simple, safe and moreover supports batch conversion. You can self-evaluate and examine this software functions by using free demo edition. This is similar to paid edition but gives you facility to export first 10 items per folder.