Many organizations use Lotus Notes as their primary email client to manage emails, notes, messages, journals, etc. NSF or (Notes Storage Facility) is the only file extension that Lotus Notes supports. Enterprises have found the app suitable for storing emails and confidential databases. Companies with 50-200 manpower and 1-10M of revenue trust the email client.
IBM Lotus Notes is now famous as HCL Notes after HCL has bought the email client. So, users can call it HCL Clients. Even after multiple upgraded versions of HCL Notes, users have complaints about its performance. Lotus Notes is complex to handle because it requires technical skills. Users who introduce with the app for the first time need a training to operate it. Lotus Notes has some other problems too. It is not flexible. The artic discusses reasons why users like to move from Lotus Notes and why MBOX file format is a suitable choice.
Reasons for Conversion from Lotus Notes to MBOX
IBM Lotus Notes is an enterprise application and is costly, whereas MBOX supporting email clients are open-source and user-friendly.
NSF file format is not accessible to other email clients accept Lotus Note and IBM Domino Server, whereas MBOX is a flexible file format to open on 30+ email clients like Opera Mail, Apple Mail, Thunderbird, Entourage, etc.
Since IBM Lotus Notes requires technical skills and a training to run, many small companies like to move from Lotus Notes.
Conversion of NSF files require advanced algorithms, users find difficult to export from Lotus Notes to other email clients. Hence, it is for privacy, it causes problems to several users.
These are some obvious reasons that provoke users to switch from Lotus Notes.
Conversion of Lotus Notes to MBOX
When it comes to converting Lotus Notes files to MBOX, users like to go for manual conversion or a third-party utility. Manual conversion is a tedious task because limited solutions are available for users. Technical experts often suggest to a use a professional tool to export Lotus Notes files to eliminate technical difficulties and reduce the chances of data loss.
When you search on the internet, several tools will appear claiming safe, quick, and error-free conversion. Picking one of them can be time-consuming because safe data conversion and privacy are the foremost requirements. Reviews, free-trial, and the brand reputation are some factors to filter the best professional conversion app.
Softaken Lotus Notes NSF to MBOX Converter is one of the best applications to use because it lives up to customers' satisfaction. The offline application exports NSF files to MBOX with accuracy.
Impressive Key Features of Softaken Lotus Notes to MBOX Converter
An independent migration tool for easy, fast, and accurate conversion to be trusted by enterprises and small organizations
Enable users to convert bulk of NSF files to MBOX without file size issue
Give freedom to select specific NSF files from local folders to get the desired conversion results
Provide a clear view of the uploaded NSF files in the table format with file name, size, and last modified date
Display preview of the selected NSF files to get the preview of each file data including folder and items of each folder
Save attachments in HTML or PDF file format as per your instruction
Allow users to select the MBOX type as single or multiple to saves emails in a single MBOX file or multiple MBOX files
Provide the option to filter data by date range like from and to
Save the conversion results to the user's specified location on the system
Give users multiple naming conventions to save emails strategically and use them for future conveniently such as subject + Unique ID, Subject + Date, etc.
Steps to Convert NSF files to PST with NSF to PST Converter
 Download the application on your system and run it for conversion
A small window will open asking you to browse and search Lotus Notes files from local folders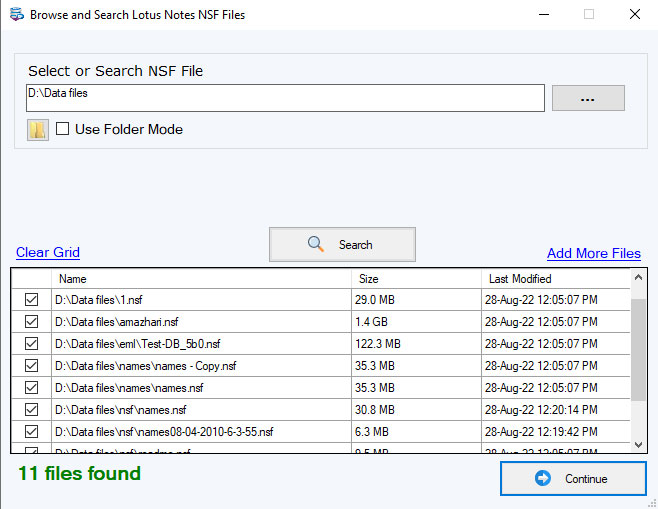 Get the preview of the selected file, displaying folders and items of each folder in separate tables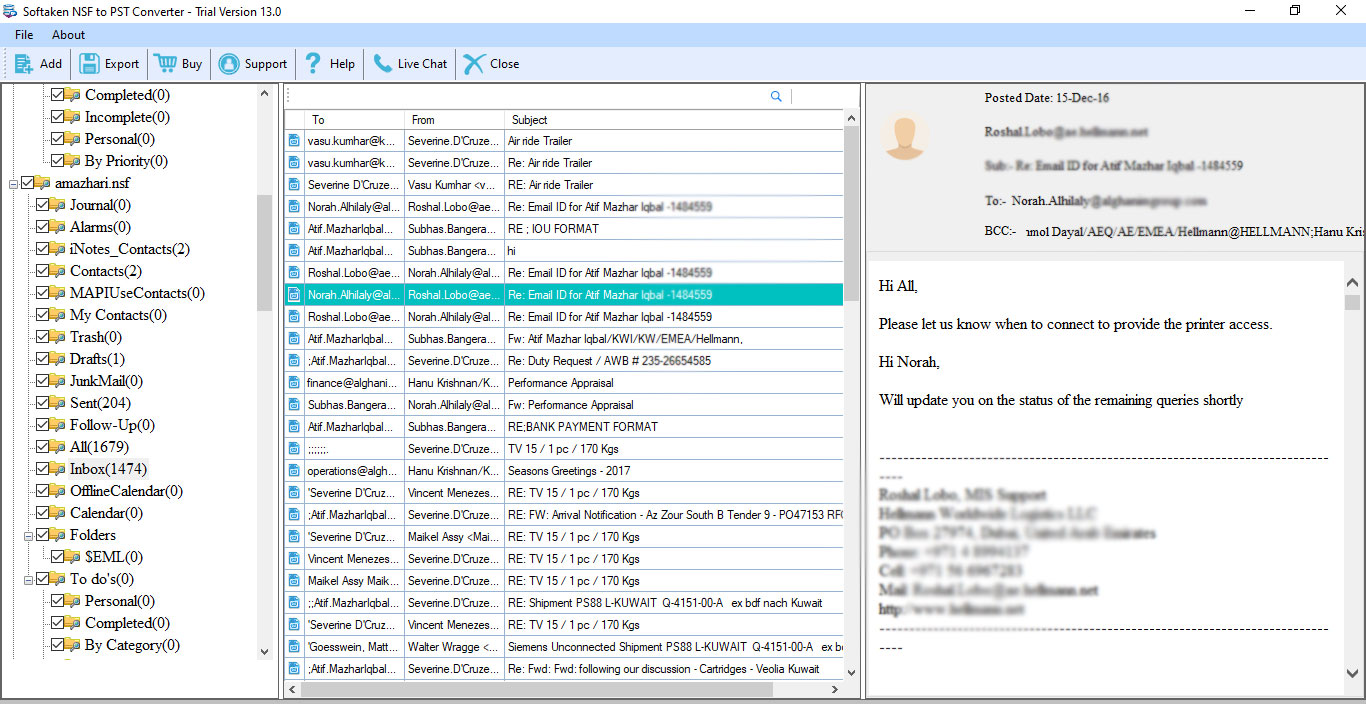 Select the export option "MBOX File Format", check "Save Attachments in HTML or PDF", filter the date if you want, and choose the file name format according to your desire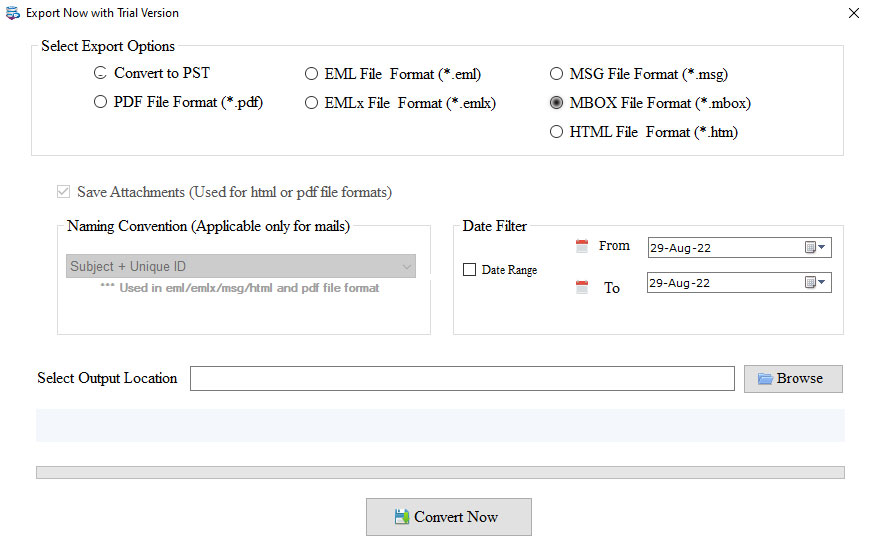 Select the output location of your choice in the system and press the "Convert Now" button
You May also Read this post- Easy Method to Export Lotus Notes to Thunderbird
Conclusion
IBM Lotus Notes is one of the best applications to use by enterprises. The application prevents users from accessing its data on other email platforms like Entourage and Thunderbird. Therefore, conversion of Lotus Notes to MBOX is one of the best choices you can make.. A third-party tool can meet the conversion goal smoothly and accurately.