Office 365 doesn't need an introduction. It is one of the most popular cloud platforms to integrate with Word, Excel, and PowerPoint to offer users room to manage databases. The subscription-based service ensures that you always keep yourself updated with MS Office apps.
It is a subscription-based application that requires monthly payments. Therefore, it is not safe to depend on it completely. Some users have faced compatibility issues with Office 365 while integrating with bespoke systems, constant updates make changes in its function, and many users of Office 365 are aware of only 20% of its function. One of the biggest downsides is that Office 365 is the product of Microsoft. Users have no control over it.
The safe side is to create a backup of Office 365 data and for backup what will be better than EML file format? EML is a user-friendly file format supporting 30+ email clients operating on Windows, Mac, and Linux. If your search is to export Office 365 to EML, it is going to end here.
What is the EML format?
EML stands for Electronic Mail to store email messages. The file format can store single or multiple messages. EML is flexible to save data of WLM, Thunderbird, Entourage, Eudora, and 30+ email clients without losing single databases.
Benefits to Save Office 365 to EML File Format
Offline Access
EML files can open offline. Office 365 is a cloud platform. If the server connection is poor, it results in inaccessible Office 365. It prevents you from real-time access because of the poor internet connection. Moreover, it interrupts workflow.
Periodic backup
Office 365 is a subscription-based application. You may lose your database if you miss paying off your subscription plan timely. Backup of Office 365 data in EML file format creates a backup.
Switching to another account
Since the EML file format supports multiple desktop-based email clients it is easy to switch from one email client to another.
Methods to export emails from Office 365 to EML file to EML
It is easy to export from Office 365 to EML file format through automated or manual solutions. The blog discusses both methods. You can pick any of them.
Export Office 365 emails to EML using Outlook
The process is helpful in exporting only one message from Office 365 to EML. If you want to view a few messages in EML file format, the manual method is suitable for you.
Follow the given steps carefully for conversion-
1. If you are working on Outlook, open it.
Read this post to know- How to Import PST files to Outlook Web Access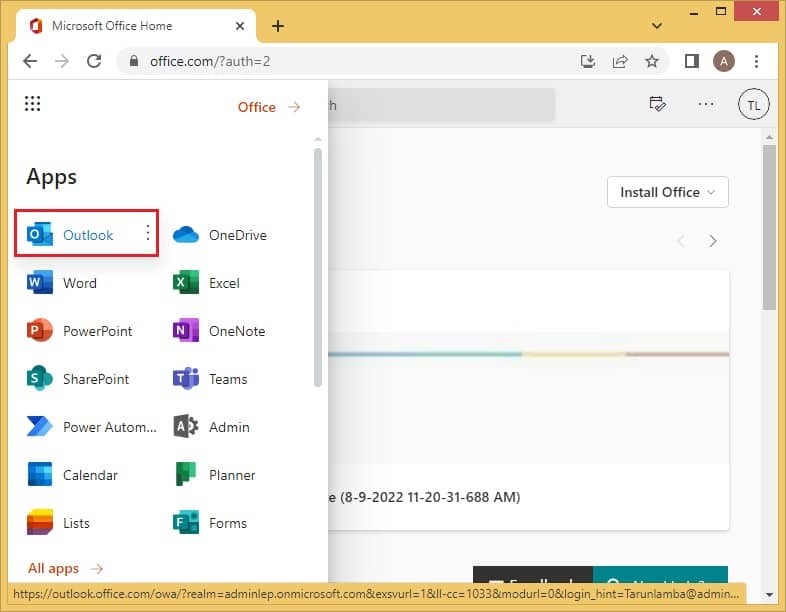 2. Choose the Office 365 email that you like to save and open in the EML file format.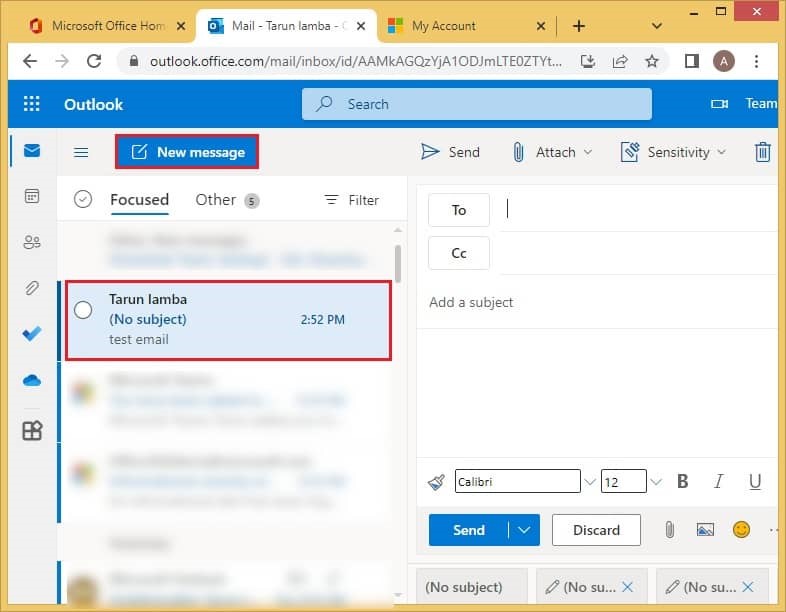 3. Go with the drag and drop feature to drag the message to the new message window.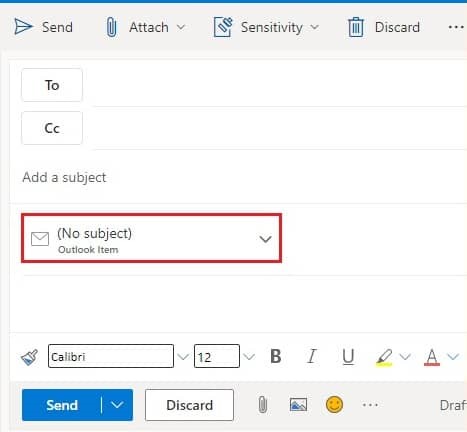 4. Right click and hit Download.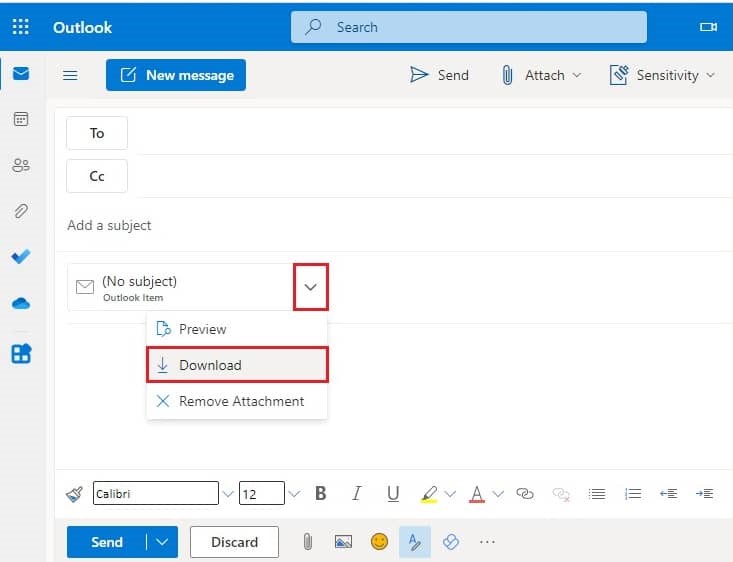 5. It is now ready to open in EML file format.
Automated Conversion of Office 365 to EML File Format
The IT market offers various choices to users for conversion. Users who have requirements for bulk conversion like to choose a third-party conversion tool or an automated program. Manual conversion solutions have limitations and there is no data security assurance. On the hand, a professional tool gives accuracy, safety, and convenience.
The Office 365 emails Backup is one of the best-selling applications from Softaken, a leading online conversion tool provider. The tool makes the conversion process 100% easy than a manual conversion solution. Here are significant
key features of the application-
The conversion tool can export Office 365 to EML, Office 365 to PST, Office 365 to MSG, and Office 365 to MBOX in four easy steps.
The interface of the app is interactive for conversion without technical assistance. Each tab is self-descriptive that tells users the steps to follow for conversion.
Users don't confuse about operating the app independently as it doesn't need deep technical competency.
It exports one account data at a time for which it requires correct credentials. Provide the utility with the correct user ID and the password for conversion.
The app creates a log report displaying the folder name and the number of messages it has exported at a time.
It is users who decide the output location after conversion. They manually set the location of EML files.
The independent app converts Office 365 to PST/EML/MSG/MBOX without the installation of other third applications. Hence, it is an independent program.
Below are the steps to run the program on your Windows system-
Download the application on your system and open it by clicking once.
Enter your Office 365 account credentials and press Connect.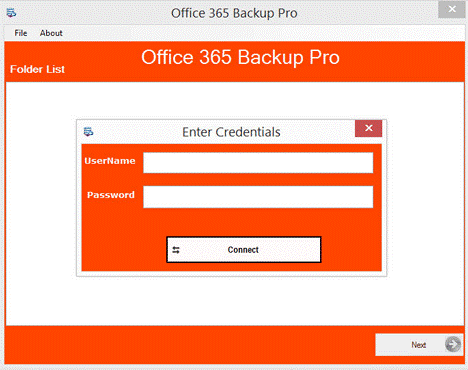 Select the folder that you want to back in EML file format.
After that, choose the export option "EML" file format.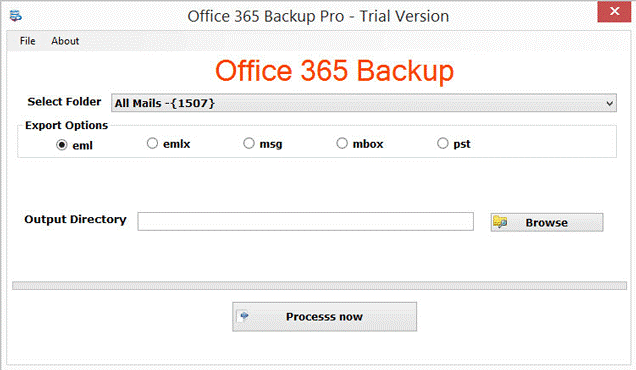 The second last option is to set the output directory by clicking on the "Browse" tab.
Finally, press the "Process Now" tab for conversion.
The app creates a log file displaying the folder name and the number of messages exported by the app.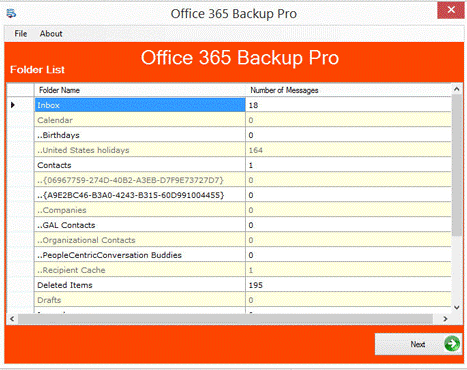 Conclusion
Creating a backup of Office 365 emails to EML is a cakewalk if you choose the right approach. In other words, go for a well-suitable utility for conversion. The IT market offers choices to users. If you are technically skilled and ready to take risks with conversion results, a manual solution can be suitable choice for you. A business with bulk conversion requirements can consider a third-party utility for migration. Softaken Office 365 Converter is suitable for you and your organization.