IBM Notes or HCL Notes is a collaboration platform to share emails, messages, journals, contacts, etc. Users use the platform to send emails and meeting links, create task lists, manage leaves, etc. HCL Notes is an outstanding tool for several organizations worldwide. According to users, the platform is highly secure and gives a carefree data management experience. The app offers templates to develop personal productivity tools. Because of automatic support, it is easy to manage your calendars on the app. Remote access is an incredible feature of the app. Sometime chat and Concur are some applications to integrate with HCL notes to get the best output. With these advantages, the tool has some downsides that encourage users to move to other applications.
Some Downsides of HCL Notes & Advantages of Apple Mail
Some users complain of poor performance of HCL Notes. Let's understand the downsides of the app.
HCL Notes takes much time to connect with the web, and load the web content, while Apple Mail is a server-based application to connect with the internet directly.
The links shared in HCL Notes emails are sometimes inaccessible when you click them to open. Therefore, it requires you to copy and paste the links to view them. Apple Mail allows
users to open a link in an email with just one click.
Sometimes HCL Notes hangs and needs users to restart. Apple Mail has no such problem. It works smoothly with uninterrupted internet supplies. Users often complain of a crash issue with the email client.
The application speed can become poor if it contains large files. Apple Mail has no speed issue if the internet connection is smooth.
You May also Read this post to-  Export Lotus Notes emails to MBOX
What are EMLX Files of Apple Mail?
Mac users can get the advantages of Apple Mail for free. It is an email client by Apple Inc. All Mac devices like macOS, iOS, iPad, and WatchOS support the email client. Despite having basic features, Apple Mail is popular among Mac users. The utility uses EMLX file format to save data locally. The Apple product keeps data in a plain text file and is accessible through any text editor like Notepad.
Conversion of Lotus Notes to Apple Mail
The article will not keep you in dark by providing manual solutions because no manual solutions are available for Lotus Notes to Apple Mail conversion. Luckily, third-party applications are available to make the conversion task easy. One such application is Softaken Lotus Notes to EMLX Converter. It is a reliable and easy-to-use application to transfer Lotus Notes files to EMLX quickly. It is an all-in-one app.
Some Significant Features of the application
Bulk data conversion is a primary feature of the app. The utility exports single or multiple NSF files to Apple Mail without losing properties. Users can transfer as many NSF files as they want in a single go.
Advanced file filtration is another attractive feature of the app where users can select NSF files in the file mode or folder mode. The Folder mode can upload multiple NSF files to export to EMLX File Format at one time.
The interface of the app is interactive. Thus, users with basic technical skills can operate the app uninterruptedly. The tool is self-descriptive to guide users to the next steps for conversion.
Its preview button displays the whole folder and items of each folder. Users can view emails with their properties and attachments. The feature ensures you have selected the intended files for conversion.
The preview feature allows users to deselect the folders that they don't want to export. It fulfills the goal of custom conversion.
Steps to Operate the Application
Download the application on your system and click to start it.
Choose the Folder Mode or the File Mode to select the NSF files of your choice.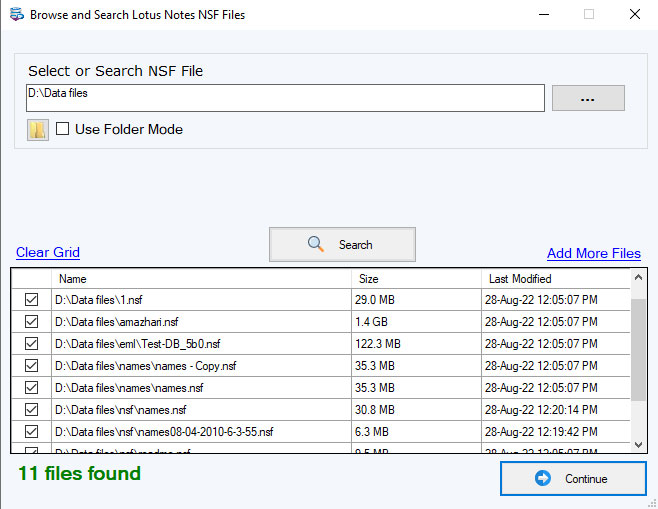 Get the preview of the selected files and exclude or include those folders you don't need.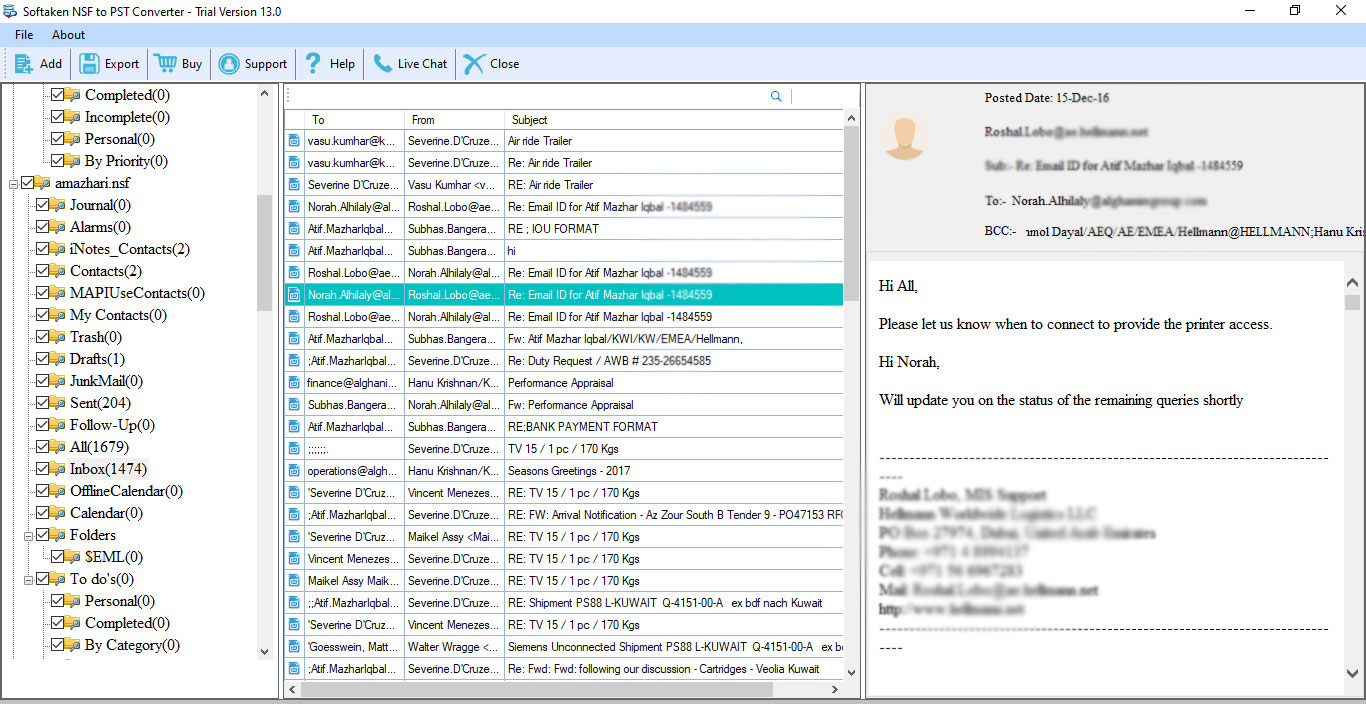 Choose the file format "EMLX" for conversion and set the file name style according to your convenience.
Filter the conversion date by selecting "From" and "To" if you want.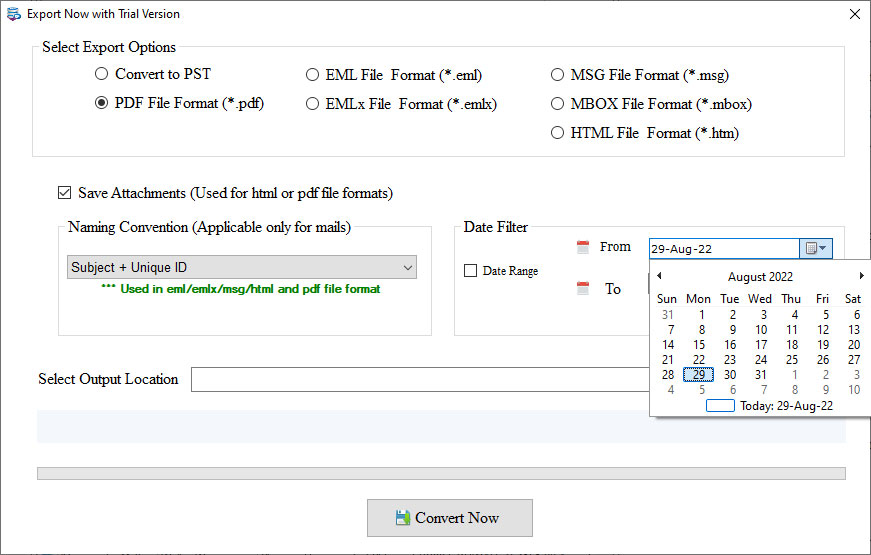 Choose the output location and complete the conversion task by clicking on the Convert Now Tab.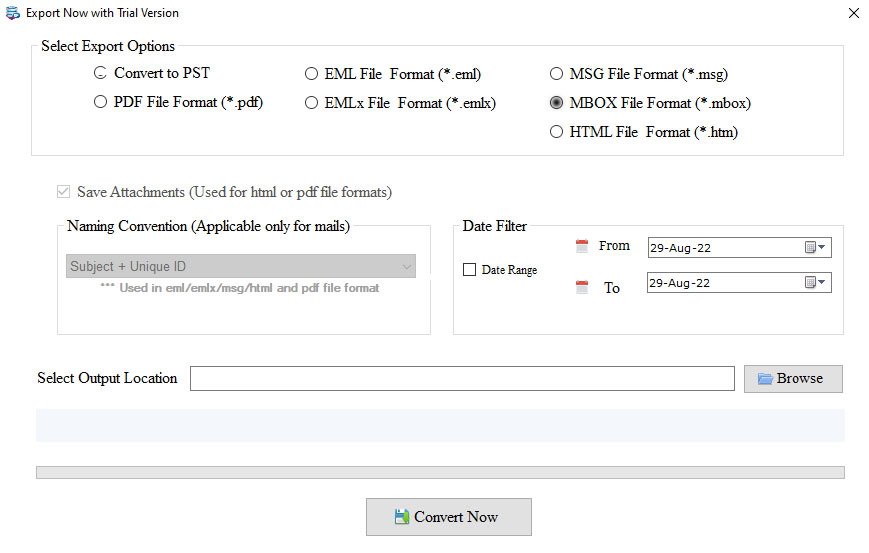 Conclusion
Users who want to experience safe and easy conversion can use a third-party tool because there are no free manual solutions for Lotus Notes to Apple Mail conversion. A professional application can simplify the conversion goal rapidly and with accuracy.