It is needless to say that Gmail is one of the best emailing client. Being easy to use, it has made millions of clientele in a short period. Every feature in Gmail has its specialty.  Overall, nothing can be compared with Gmail facilities. At times, users cannot extract the email attachments and feel into severe trouble and then they ask how to extract all attachments from Gmail. This blog will discuss Gmail email attachment extraction at length.
Go through the following Situations:
I have chunks of emails in my Gmail account that contains a huge amount of attachments of different types. I am intended to download all the attachments from my Gmail account to the desktop. How to do this?
I am a busy architect and come across immense of emails every day in my Gmail. Many a times, slow internet connection doesn't allow me to download the attachments. Most of the email attachments that I receive comprise photos, Word Documents, Excels sheets, etc. Now, I am planning to extract the attachments from email and keep them safely in a folder. When I begin to do this, it consumed several hours. Guide me a quick solution.
With a lot of space in Gmail, I am feeling into trouble. Everything messed up. To sort out this problem, I have to delete my emails. Before doing so, I want to check the attachments, so that they can be extracted to fulfill the purposeful need in the time of an hour. May I know how to extract all attachments from Gmail
Over the years, I have gathered bulk of images and files in the email attachments via my Gmail emails. I am looking for all in a one-way tool that can extract the attachments from my Gmail account.
In all the above-mentioned situations, users want an instant and secure software solution. There is a manual method available to fulfill the need but users want fast performing utility. Keeping in view the demand of users, we suggest you Softaken IMAP Attachment Extractor. This praiseworthy software supports email extraction from a large number of emails in few clicks.
Features Highlighted – IMAP Attachment Downloader:
The following features make IMAP Attachment Extractor tool make it a special utility:
Extract attachments from the IMAP servers
Compatible to work with IMAP servers such as Gmail, AOL, Yahoo, Office 365, etc.
Secure to use
Extract the email attachments of various file extensions RAR, DOC, JPG, etc
Can be used with all Windows OS editions
Simple Graphical user interface.
Extract email attachments of any size
Keep IMAP data structure unharmed
Allow saving the attachments to the desired location.
How to extract all attachments from Gmail? The step-by-step process to extract all the attachments from Gmail are as follows: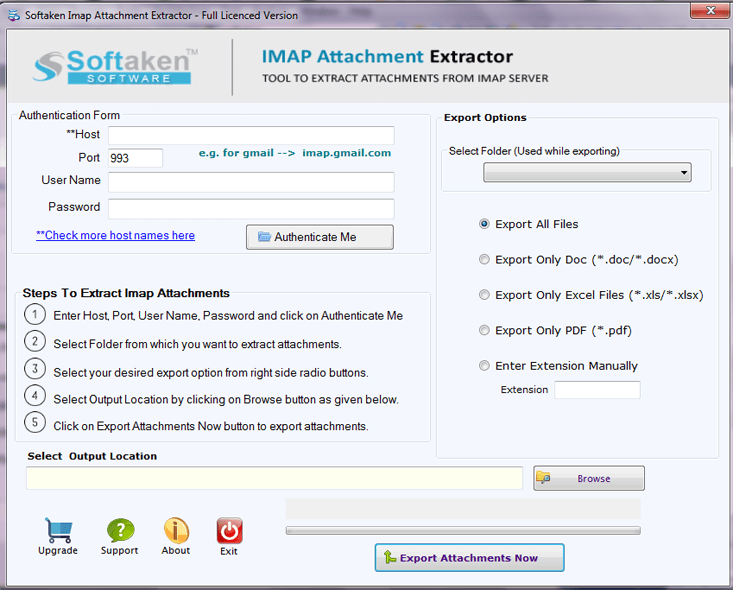 The interface will have the following buttons:
Authentication Form: For authenticating the IMAP Server, enter the following details:
Host: Enter the Host Address of the IMAP Server
User Name: Enter the email address of the IMAP server
Password: Provide IMAP password
Authenticate Me: Click on Authenticate button to authenticate the IMAP account.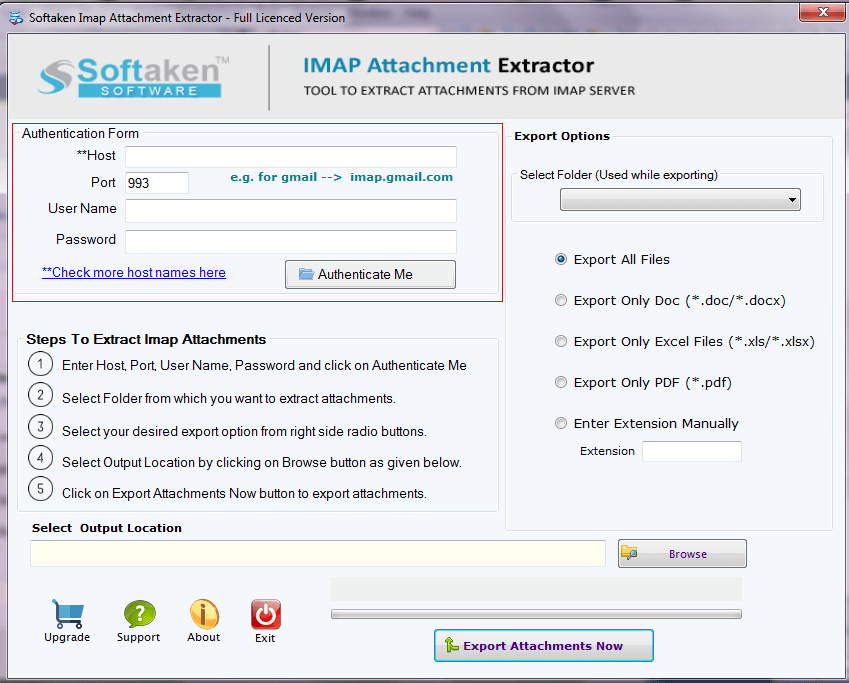 Select Folder: Choose the folder of IMAP server for extracting the attachments:
Export all files: Select all files to download the attachments
Export DOC files: To export attachments only .doc extension files
Export only Excel (XLS/XLSX) To export attachments only .xls/.xlsx extension files
Export PDF: To export only.pdf extension files
Enter Extension Manually: Manually enter the file extension for extracting emails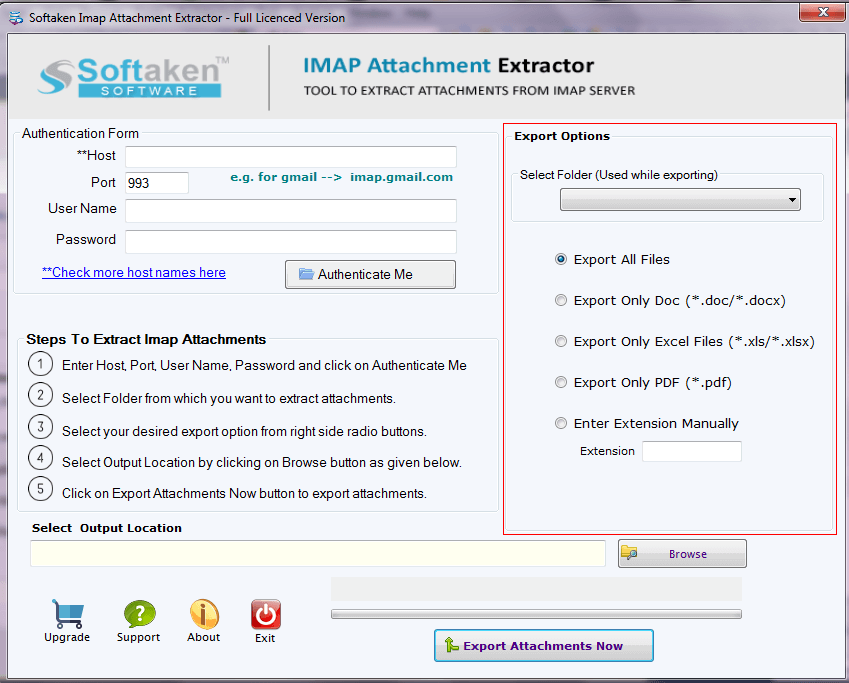 Now, click the browse button to save the attachments exported from IMAP server
After this, click 'Export Attachment Now' button to export the attachments from IMAP server
These steps will sort out your query on how to extract all attachments from Gmail in just a few clicks. This is an automated utility that requires minimum human involvement.  You will be able to extract the attachments from emails stored in Gmail with ultimate ease.