Steps How to Download/Export/Extract all Attachments from Webmail?
Webmail applications like Gmail, Hotmail, Yahoo, G Suite, etc. are powerful and convenient to use but one issue that can stress users is extracting all attachments from these webmail accounts. Maybe you want to shut down the account or facing storage limitations, whatever the reason be, the main issue is how to extract webmail all attachments to a folder. To resolve this issue, the blog is here from which you can take help for easy extraction of webmail attachments.
Why need to export webmail all attachments?
All webmail accounts have a storage limit and once you reach that limit, you will start facing issues, and getting large size attachments is one of the main reasons behind this. So, many times, due to the storage limit issues, users want to export attachments from webmail accounts to local drive.
Apart from this, simply backup could be another reason to extract attachments from webmail accounts. Moreover, closing an old account & downloading important attachments to local system is required by users.
How to extract all attachments from webmail accounts?
To extract all attachments of a webmail/cloud account, multiple solutions are there over the internet. But one should intelligently pick a solution that is simple to use & provide quick and safe results. Therefore, we suggest avoiding manual solutions and suggest you to pick professional solutions like Softaken IMAP Attachment Extractor. This smart application will extract attachments from all webmail accounts. You are required to put the username & password in the correct fields of the desired webmail account and all the attachments are exported to local drive with it. Moreover, the software allows users to make use of filters to extract specific attachments like Word, Excel, Image, PDF, etc. The utility offers bulk extraction of attachments from webmail email folders.
You can download the demo edition of this application and get its overview before buying it. This software works accordingly you as per the instructions provided by you.
Complete guide to extract webmail attachments:
Step 1. Install and start the software on your Windows device.
Step 2. Add the username and password of your webmail account and click on Authenticate User button to successfully connect with the webmail account.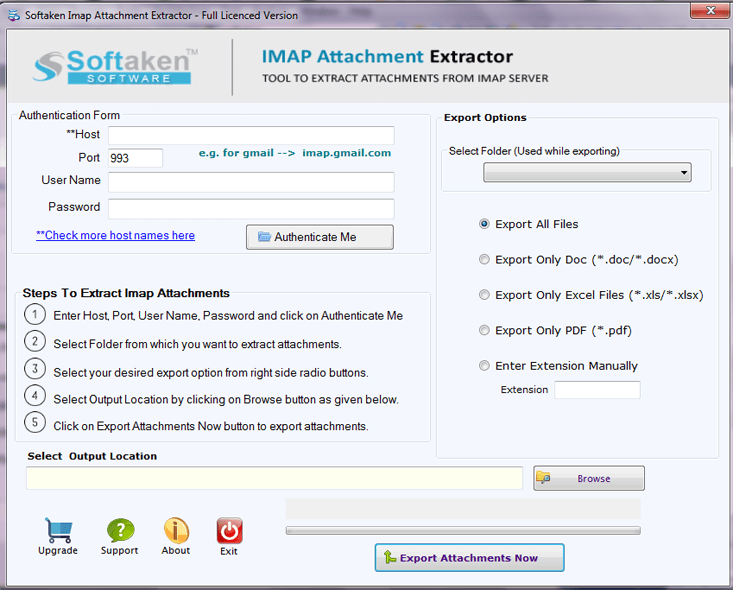 Step 3. In this step, either select all or selected email folder of webmail account from which you want to export attachments. After this, users can choose Export all files or select PDF, DOC, XLS, JPG, etc. formats.
Step 4. Mention a destination path to save the exported attachments.
Step 5. In the end step, click on Export Attachments button and this will show you the live process of exporting attachments from webmail account.
Final Words
Through this blog, we have suggested an automated solution for easy extraction of all attachments from cloud/webmail accounts. You can simply and comfortably extract cloud account attachments using filters with this application and get 100% safe results. If you have a few attachments to extract from a cloud account, you can go with the manual solutions otherwise we always advise you to with professional solutions that are simple to understand & assures fruitful results. With this one application, users can extract attachments from all webmail accounts.