How to extract Office 365 attachments from multiple emails?
Email attachments have an important role in every email application, be it Office 365 or others. Many users are confused about how to extract attachments from multiple emails of Office 365 account. Keeping that in mind, we are going to describe a step by step tutorial on how to download attachments from multiple emails in Office 365 mailbox to local storage.
So, let's get started!
Extract attachments from Office 365 manually
In case, you are getting an email having multiple attachments in it, here is the solution to export attachments from Office 365 to local storage.
Open Office 365 mailbox
Go to "Download all" option on the particular email message. This will export all the attached files (you will get the attachments in ZIP folder)
Now, click on the File and click on Save Attachments option.
Under Save all attachments, select the data items you want to save.
Click OK
Choose the desired folder to save the files and hit OK
Quick solution to extract all attachments from Office 365 multiple emails
The above-discussed manual can download multiple attachments from a single mail in Office 365. If users have multiple emails to export attachments from them, then a safe and instant solution, Softaken IMAP Attachment Extractor is recommended.
The software automatically extracts attachments from Office 365 multiple emails in bulk. It smoothly extracts Word doc, PDF, Excel, and other attachments. Users can simply choose selected file extensions or can extract all Office 365 account attachments. Users can easily export Office 365 email attachments to the desired location of their system.
You can simply download the free version of the software to check the efficiency of the program by extracting 10 emails per Office 365 mail folder.
How to export Office 365 attachments in bulk?
To export attachments of Office 365 account in bulk, here is the complete guide –
Step 1. Launch Office 365 Attachment Extractor on your system.
Step 2. Enter the user id and password of Office 365 account & authenticate Office 365 account.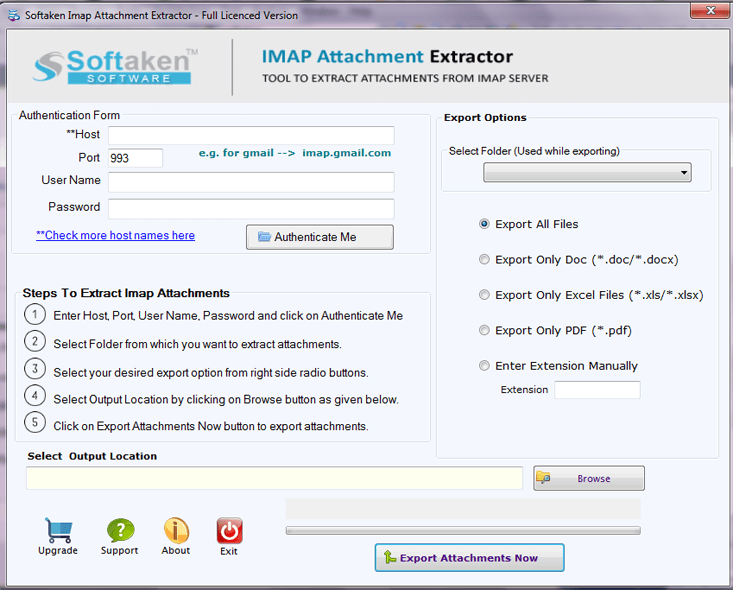 Step 3. Choose all email folders or a particular email folder of Office 365 account to extract attachments.
Step 4. Now, choose export all attachments or select particular attachments like with PNG, JPG, DOC, XLS, PDF, etc. extensions.
Step 5. Use the Browse option and select the location to export the attachments.
Step 6. Click on Export Attachments Now and this will commence the process of exporting Office 365 attachments.
Bottom Lines
With this blog, we have discussed manual as well as software solutions to extract attachments from multiple emails in Office 365 account. But with the manual method, users are unable to export all attachments therefore it is recommended to choose Office 365 Attachment Extractor third-party solution for bulk or filtered attachments extraction from Office 365 account. It will quickly extract all attachments like DOC, PDF, XLS, HTML, JPG, etc. to local storage without any data loss.