This article provides answer of general problems that users face with duplicate emails in Outlook. Through this guide, we will know how to prevent duplicate from Outlook OST & PST, where they come from and how users can eliminate them. All the data of MS Outlook, a desktop email client, is saved into PST file format.
Duplicate emails in Outlook annoy users a lot. But removing them is must. It is not easier to remove duplicates from Outlook. Through this article, we will share you tips & tricks to prevent duplicate Outlook emails and other items.
Top 6 Reasons That Occur Duplicate Emails in MS Outlook
There are various reasons behind duplicate emails that users receive or sent in Outlook. Below are the top reasons that are explained below –
Received email is infected or corrupt: In Outlook, multiple copies of emails are result of corruption. It can take place on any received or sent email items. To issue can be fixed instantly from the server end by contacting to IT administrator.
Synchronizing Outlook emails on various devices: Many Outlook users use the same Outlook profile on multiple devices like tablet, laptop, mobile, etc. that leads to creation of multiple copies or duplicate emails. Users can resolve this issue by manually deleting emails one by one.
Settings of Outlook not configured properly: In every Send/Receive cycle, MS Outlook generate duplicates. This is due to account settings; the checkbox 'Leave copy of messages on the server' is enabled. To fix this issue, users can disable account settings in all Outlook versions.
Import PST file to current profile of Outlook: Users archive emails to PST file to backup and to export the data. If you want to import PST file to same Outlook profile from which it has exported, it will surely create duplicate for complete mailbox items.
Incorrect Rules configuration: This is a common mistake where users may configure inappropriate rules. Due to incorrect rules, Outlook creates duplicate data in mailbox.
Multiple Outlook accounts: Most of the users configure their personal or professional email together. But this becomes confusing so you need to keep accounts separate so that duplicate emails are not created in Outlook.
Manual Ways to Prevent Duplicate Email Messages in Outlook
Method 1. Simple steps to stop receiving duplicate emails in Outlook
First of all, right-click on taskbar and click 'Start Task Manager.'
Now, go to 'Processes' tab.
Click on 'Image name'. By doing this, all processes will be sorted out alphabetically. Only single 'Outlook.exe' should be listed. If you have more than one account then there are chances of receiving duplicate emails.
Right-click on 'Outlook.exe' list provided and then click 'End task'. Click Yes if the confirmation message is displayed.
Method 2. Steps to avoid leaving copies of receiving duplicate emails
Don't leave copies of messages on the server
Open MS Outlook.
Click on Tools and after this, select Email accounts
Click on 'View or change existing email accounts' and click Next button.
Select desired email account from the list and click on Change.
Now, click on More Settings and select Advanced tab.
A Perfect Professional Solution to Prevent Duplicate Outlook Emails
Softaken PST Duplicate Remover Tool is the best professional and automated solution to remove multiple copies of emails from Outlook PST files. This program has all potential to detect and find duplicate copies in single as well as multiple PST files at once. The tool assures no data loss and is smartly designed with intelligent algorithms to detect duplicate items.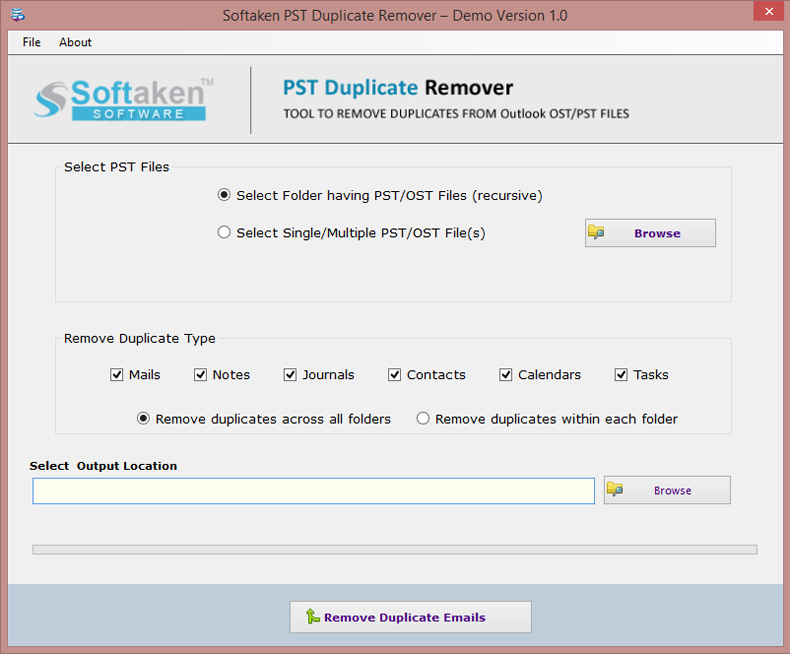 Here is the complete process to run this software for preventing duplicate items in Outlook.
Step 1. Install and Launch the software for fixing duplicate items from Outlook.
Step 2. Add single or multiple PST files by using Browse button.
Step 3. Choose emails and other items in Remove Duplicate Type. Also, select remove duplicate across all folders or within each folder.
Step 4. Set a destination path for saving resultant PST file.
Step 5. Finally, click on Process button.
Conclusion
This article focuses on reasons and solutions to prevent duplicate Outlook emails. Here, we have discussed manual ways which are less fruitful. Hence, to save time & efforts, we suggested an automated solution that will instantly check Outlook data file and remove duplicate items from it.