Summary: Do you need to delete duplicate emails from Orphaned PST files of Outlook? If your response is yes, then you are on the correct page. In this comprehensive guide, we will explain the different ways for deleting duplicates from orphaned PST files.
Emails are very crucial for every organization as they are the basis of communication. Users when getting duplicate emails in Outlook, they have to face many consequences. Basically, Outlook provides many robust features for managing emails but Outlook users have to face duplicate emails issue.
There are many issues that users can face if their Outlook profile has duplicate items. So, don't keep & store these duplicates in your Outlook account. Just read this post and get rid of Outlook orphaned PST file duplicates using the discussed solutions.
Reasons to Clean/Delete Duplicate Emails from Outlook
Having duplicate items in Outlook will affect its performance.
Outlook may crash due to harmful duplicate emails & may be not started again.
Outlook PST files may corrupt due to oversizing and even users may lose their important data.
Searching for particular emails may be tough if you have multiple duplicate emails in Outlook. As this will create confusion.
Probable Reasons Behind Duplicate Emails in Outlook
Before we find the solution, finding out the causes of duplicate emails in Outlook is important. So, let us figure out the reasons behind Outlook duplicates.
Mistakes in Configuring Rules: If the rules are not properly configured, it will create confusion when a new email message receives. This results in duplication in the Outlook mailbox.
Incorrect Account Settings: In case, you have configured the same mail account multiple times, then the incoming data may synchronize again & again. It can lead to duplicate emails in the Outlook mailbox.
Short Intervals to Send/Receive Messages: If you set the low frequency of Inbox updates, there will be improper synchronization of emails and it results in data duplication.
Antivirus: An anti-virus installed on your system can interrupt the send/receive process of Outlook and results in the duplication of emails.
Improper Settings of the Mailbox: While creating an account, it might be possible that you have incorrectly set your mailbox. As a result, you receive the same emails & other data items repeatedly.
1 – Delete All duplicate Emails from Orphaned PST files – Manually
There are numerous ways to remove duplicate email items from Outlook. Let us check them:
Method 1. Checking the Account Settings
In case, multiple accounts are added to Outlook having the same PST file and due to this, duplicates are generated so you can verify them with this method.
Launch the Microsoft Outlook application. Find the option of Account Settings by following File – Info.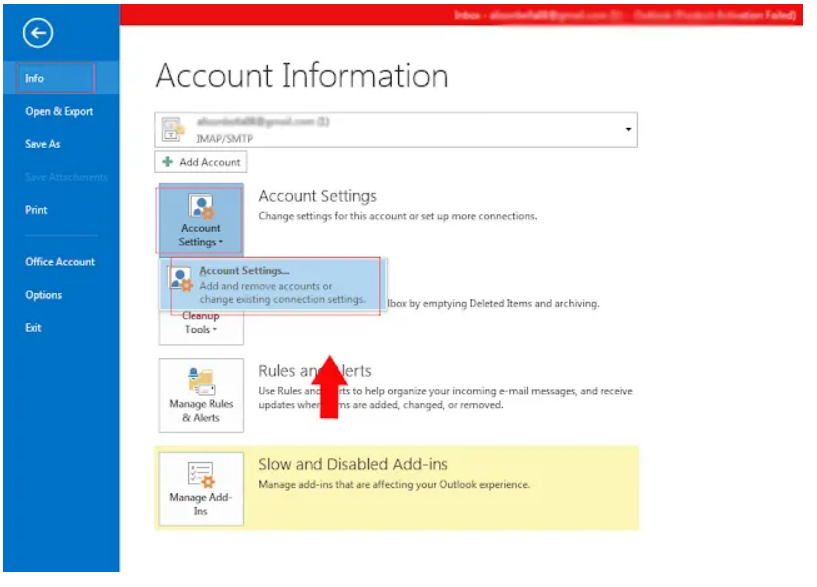 In the Account Settings window, go to the Email tab and check the account name configured in Outlook. Remove it, if it finds more than once.
For doing so, go to Email account and click on the Remove button available on the top.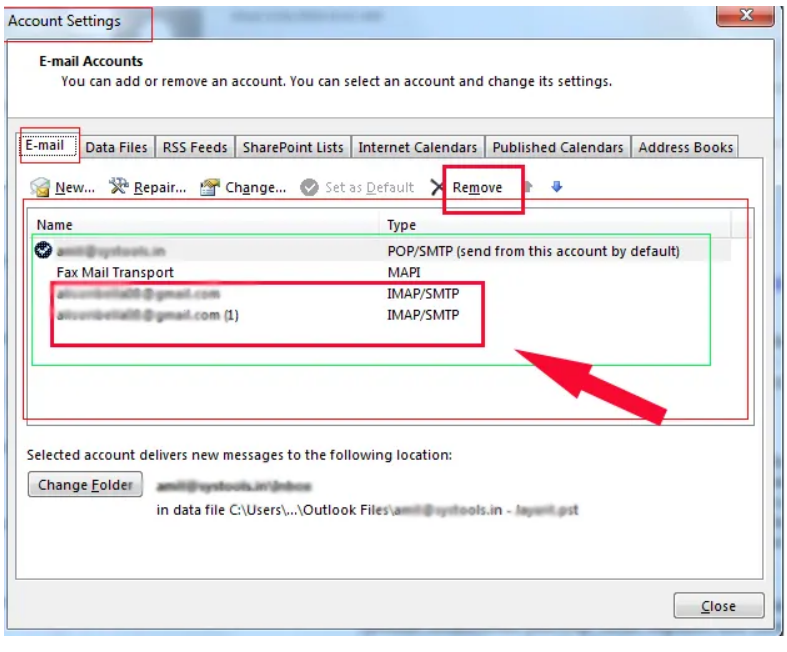 Also Read :- Remove Duplicates from Thunderbird mailbox
Method 2. Remove Duplicate Items using Outlook Import/Export Option
Using the Import/Export feature of MS Outlook, users can remove duplicate email messages in Outlook.
Open the Import/Export option by going to File – Open & Export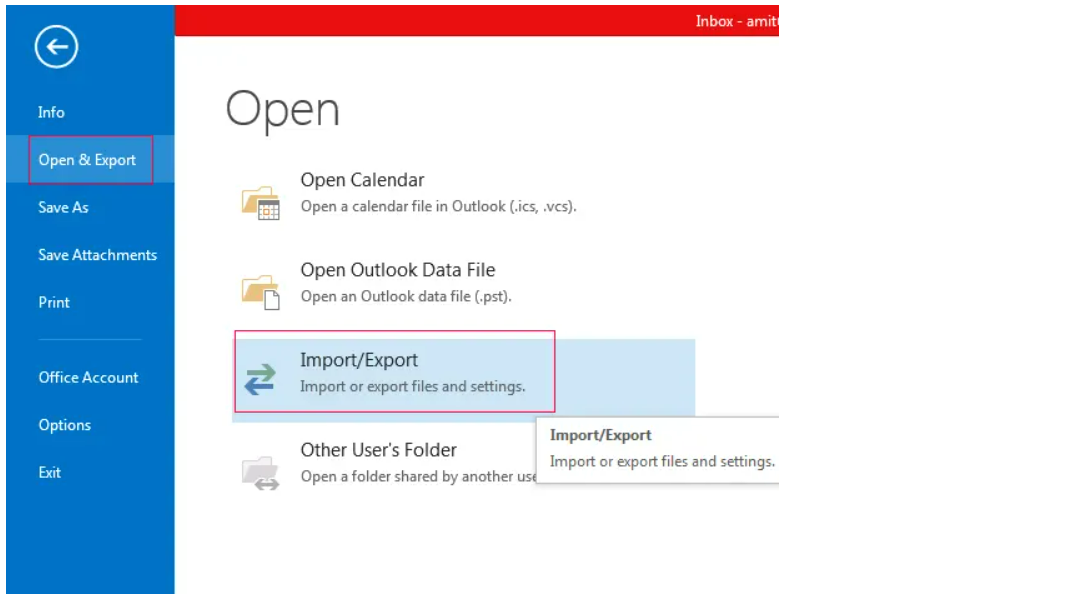 In Import/Export wizard window, pick the option Import from another program or file. Hit the Next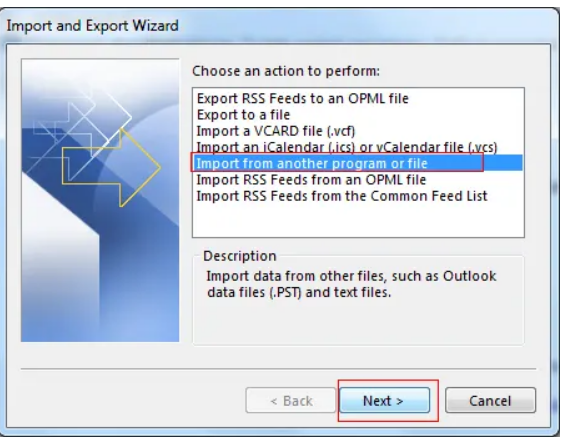 Pick Outlook (.pst) option on Import a file window. Then, press the Next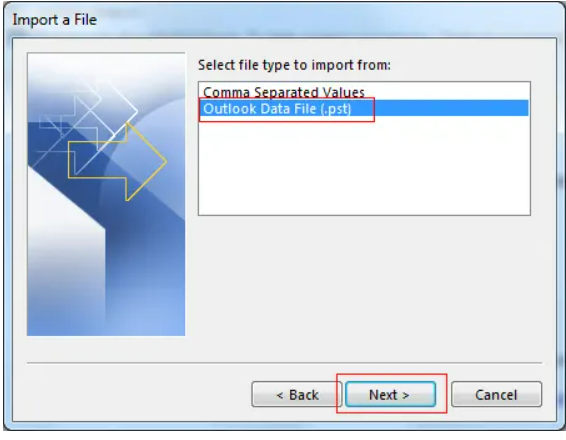 In Import Outlook File window, browse the PST file and mark Do not Import Duplicates Then, press the Next button.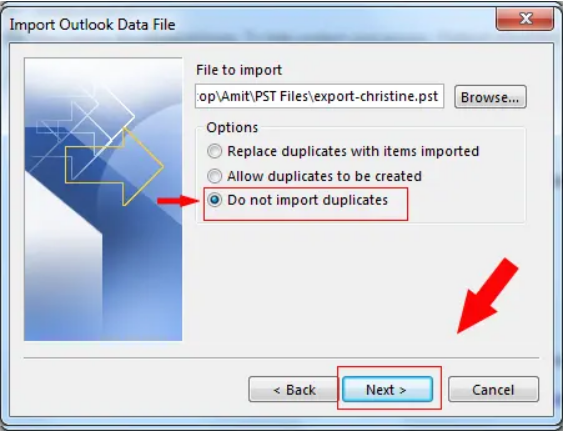 Now, pick Outlook file to export the data then hit the Finish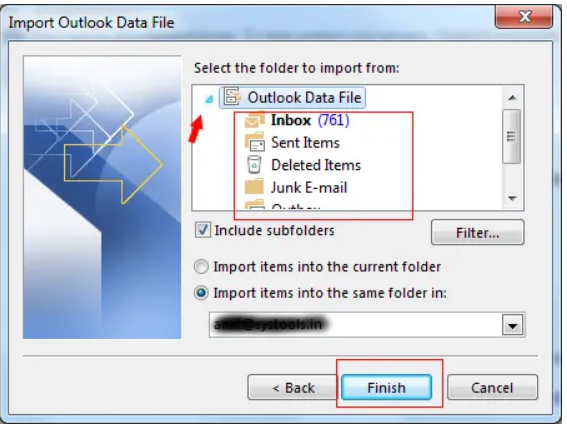 Method 3. Clean Up Tool to Remove Outlook Duplicate Emails
Using the Clean Up Tool of Outlook, you can get rid of duplicate items from Outlook PST files.
Open MS Outlook and go to Clean Up Tool from the ribbon bar.
By expanding it, you will get 3 options – Clean Up Conversation, Clean Up Folders, Clean Up Folders & Subfolders.
You need to choose the Clean Up Folders & Subfolders
Now, you will get a dialogue box in the Clean Up folder. Click on the Clean Up Folder
Go to the Settings option to manually enter the location of Deleted Items
After this, it will open the Outlook options Hit the Browse button to add a PST file.
Now, select the Folder window will open, choose Deleted Items, and then hit the OK
Finally, click on the Clean Up folder option to delete duplicate emails in Outlook mailbox.
2- Professional Way to Delete Duplicate Emails from Orphaned PST files
Using the manual methods is useful only for small-sized PST files. If you have a large PST file, you need to use third-party solutions. You can go for Softaken Outlook Duplicate Emails Remover Software. This is a smart tool to remove all duplicate emails from orphaned PST files.
The software is developed to meet all needs of users. One can simply remove duplicate emails, contacts, calendars, notes, and tasks from Outlook mailbox using this application.
Working of the Outlook Duplicate Remover Software:
Install and Open the software to Remove Outlook Duplicates.
Select One or more PST files.
Choose items to remove duplicates. Also, choose desired search option – either search duplicates across PST or search duplicates within the folder.
Set a location for saving the output PST file having no duplicates.
Finally, press the 'Remove Duplicate Emails' button.
Conclusion
Dealing with duplicates is really a tough task. Thus, to make it easier, we have provided solutions to remove duplicates from Outlook PST files. This post covered the manual as well as professional solutions. Users can pick out between them as per their needs.
Frequently Asked Questions

Q- Will I be able to delete duplicate emails from Outlook 2019?

A- Yes, you can easily remove duplicate emails from Outlook 2019 and other versions using manual as well as professional solutions.

Q- What are the advantages of removing duplicates from PST files?

A- Removing Outlook duplicate items is beneficial because:

Free up storage drive space
Avoid confusion related to the search
Avoid corruption due to oversized PST
Increase in performance of Outlook

Q- Which is the best method to get rid of duplicate emails from PST files?

A- We have discussed all possible ways to delete duplicate emails from Outlook PST files. However, the above-suggested software is best in all cases as it is simple & 100% safe to use.

Q- Can I remove duplicate contacts & calendars from Outlook with the discussed automated tool?

A- Yes, the automated software can easily remove all duplicate items like emails, contacts, calendars, notes, tasks, etc. from Outlook PST file.

Q- What are the benefits of the software that are not available in manual techniques?

A- Here are some unique features of the software:

Search duplicates within the folder & across the folder
Work with password-protected, orphaned, and ANSI PST files
Remove all duplicate items flawlessly
MS Outlook configuration is not required.
Preview total and duplicates found