How to Remove Duplicates from Thunderbird Mailbox?
As we know that Thunderbird is a free, reliable and open-source email client provided by Mozilla foundation. It is a preferred choice among users to integrate several webmail accounts in it. It sometimes makes a copy of duplicates emails that will increase the mailbox size and occupies large storage space. In order to get rid of problems that occurred due to duplicates mailboxes, it is suggested to remove duplicates from Thunderbird mailbox. With the help of this article, we will show you an easy way to remove Thunderbird duplicate emails.
Need to delete duplicate emails of Thunderbird
Having a few duplicate emails in Thunderbird is not a big issue but when we have thousands of duplicate email messages, it is required to remove all these duplicate emails through an appropriate solution. When users access webmail application in Thunderbird, there are various chances to receive duplicate mailboxes.
Possibilities for duplicate emails –
Know other reasons to receive duplicate emails in Thunderbird –
Server related issues – The server has an important role to send and receive emails in email client. Sometimes, the server downloads the same email repeatedly which causes duplication of emails in Thunderbird application.
Issues from the sender's side – Sometimes the sender sent the same email message again and again that leads to Thunderbird receiving duplicate emails on the receiver's end.
Accidental User activities – Having multiple folders and subfolders in Thunderbird, the user copy a mail to any other subfolder of the application which causes duplicate emails in Thunderbird.
How to remove duplicates emails from Thunderbird?
In order to remove duplicate mailboxes from Thunderbird, you have the choice to do it manually.
Instant solution: if you want a quick solution to remove Thunderbird duplicates, then use the professional MBOX Duplicate Remover by Softaken that automatically load Thunderbird mailboxes and remove duplicate emails from all folders.
Steps to manually remove Thunderbird duplicate emails –
1. Open Mozilla Thunderbird application.
2. Go to Tools menu and select Add-ons from the drop-down list.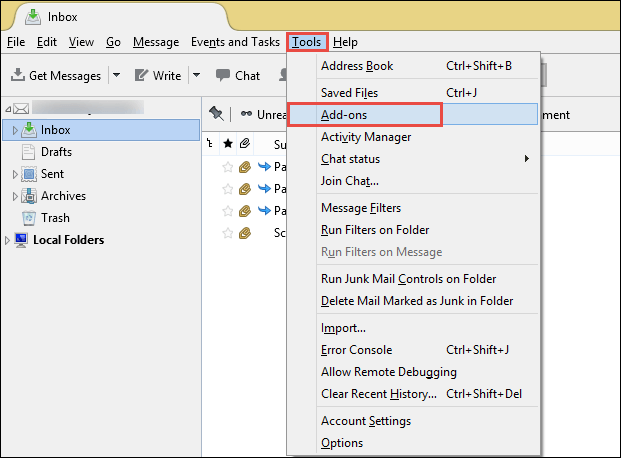 3. Add-on Tab gets opened, search remove duplicates and hit search button.

4. You will find remove duplicate messages add-on. Click on Install button.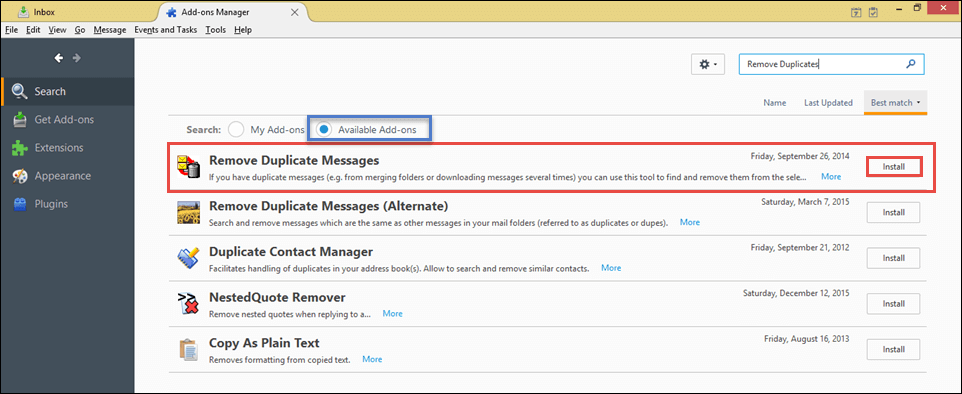 5. After its successful installation, hit Restart Now button.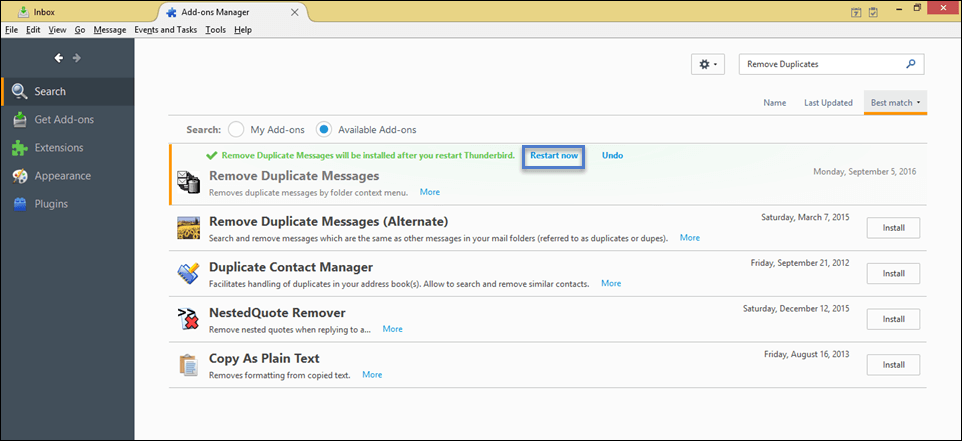 6. When Thunderbird is restarted, follow step 3 again i.e. search for remove duplicates and hit Enter.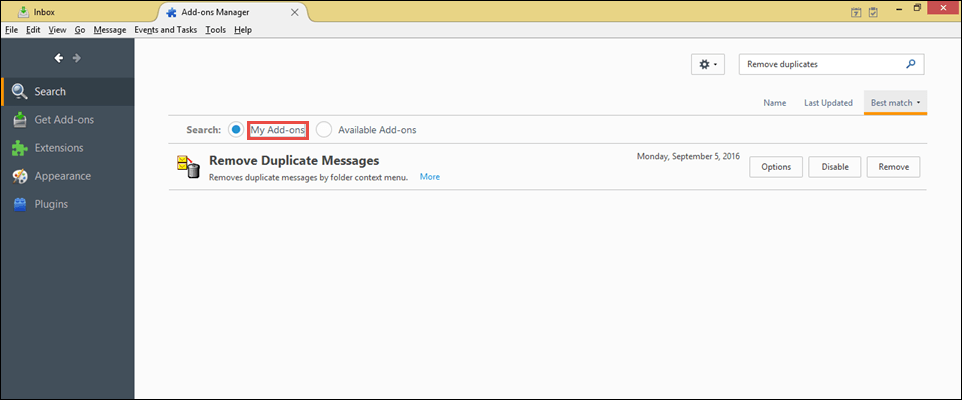 7. Then, go to My add-ons section.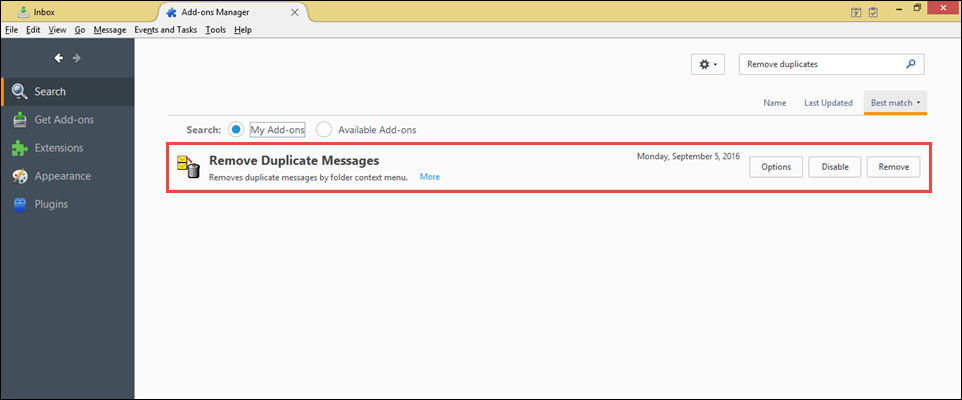 8. Now, go to your account and right-click on the mailbox folder (Inbox, sent, drafts, etc.) from where you want to delete duplicate emails.
9. Choose Remove Duplicate Messages option.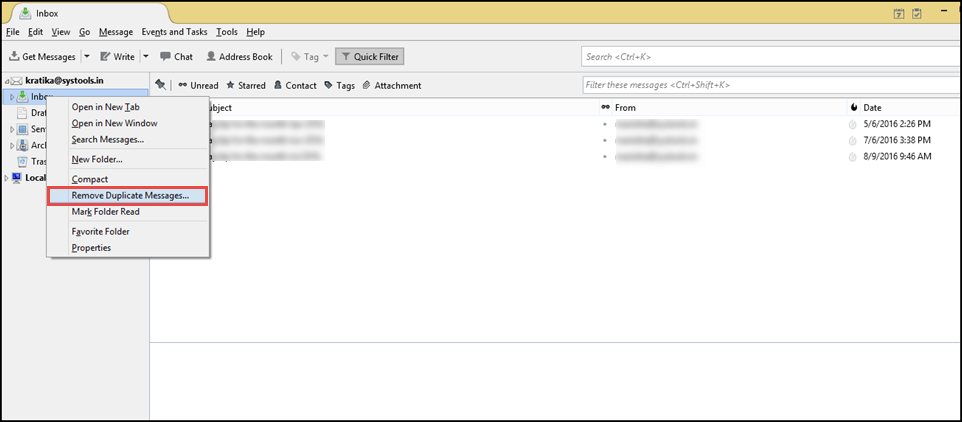 10. If the selected folder does not have any duplicate emails, it throws a message of not finding any duplicates, Click OK.

11. If the folder contain duplicate emails, it will open Duplicate Messages window showing you the total number of emails hold by the folder and the number of deleted emails (that were duplicate)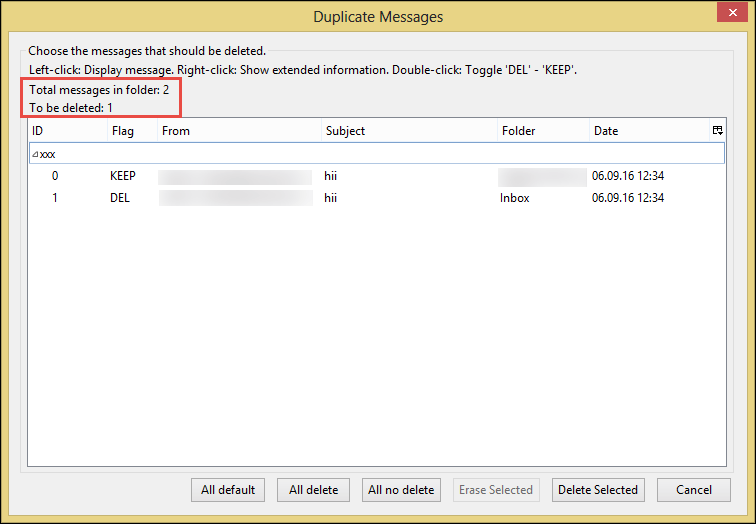 12. Now, click on the Delete Selected button to remove the duplicate messages from Thunderbird.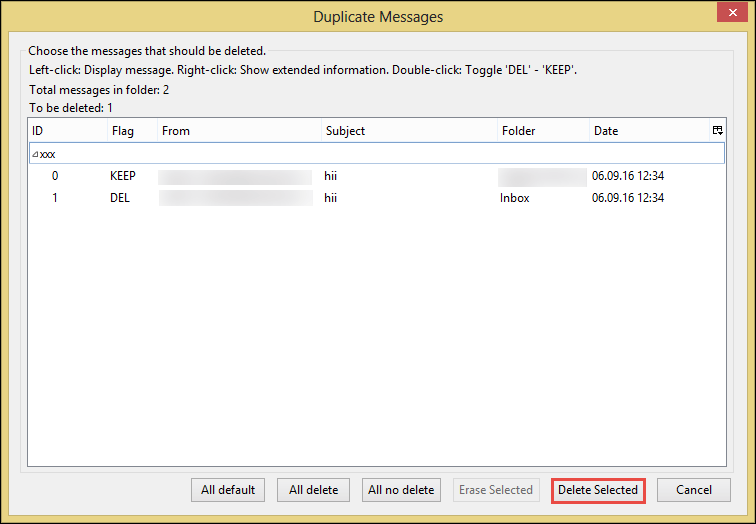 13. You will get a message to confirm to delete the messages, Click OK.

Professional solution to delete/remove duplicates from Thunderbird mailboxes
You can see that the manual solution is quite lengthy and complicated for a novice user. Also, you need to manually select a folder one by one to remove duplicate email messages with the manual solution that makes it a time-consuming and inappropriate method for a huge database. Therefore, we have suggested a professional solution by Softaken named MBOX Duplicate Remover. You can load all mailboxes of Thunderbird at once and can easily fix all duplicate emails from all mailbox folders. Let us know the working of the software –
Step 1. Install and start the application on your Windows device.
Step 2. Choose Load Default Thunderbird directory. It will load Thunderbird mailboxes automatically. You can use File or Folder mode, if you have exported Thunderbird emails into MBOX file format.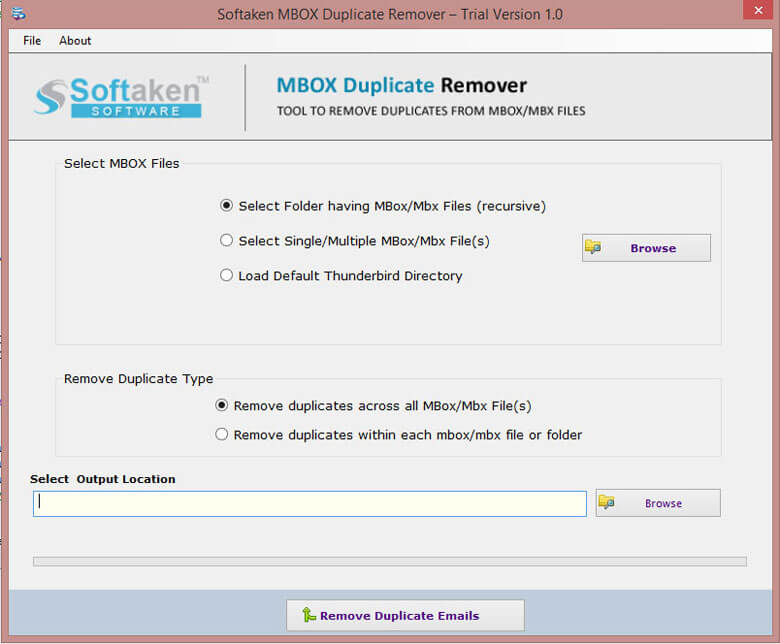 Step 3. Select a duplicate remover type – choose either across all folders for removing duplicate emails or select within each file/folder.
Step 4. Mention an output path by using the Browse button.
Step 5. Finally, hit Remove Duplicate Emails button and this commences the process of removing duplicate emails.
Within a few minutes, it will show you the number of duplicates and you will find the resultant file having no duplicates at the defined location by you in step 4 above.
Final Thoughts
I hope you have got a reliable solution to fix Thunderbird duplicate emails after reading this article. Choose any method to remove Thunderbird duplicate mailboxes however, we recommend the professional solution to get instant results in no time. Go for the free version to check the software suitability.