This article presents a simple way to import EML files to IMAP Server with attachments. If you need a solution for this, you must visit this post. You will find the solution of one of the emerging topics on the internet i.e. 'How to upload EML files directly into IMAP Server?'
In many scenarios, users want to switch EML files to the other applications. Due to free cloud storage and all-time accessibility of data, users believe to move towards cloud space. A lot of email application use IMAP Servers to receive and send email messages. Before we talk of importing EML data items to IMAP Server, let us explore what is IMAP Server and main reasons of users to require convert EML emails to IMAP Server.
Know IMAP Server 
IMAP: It's stands for Internet Message Access Protocol is a protocol to access internet messages called as IMAP. By the IMAP, e-mail application can receive e-mail messages from a mail server over the TCP/IP connection. IMAP enables users to access email messages from anywhere via internet.
Understand the need to import EML files to IMAP Server Account
Due to server connectivity, all your data is saved on the remote server. Thus, you can access the data from anytime and anywhere without any issue.
Users have the option to save desired emails locally.
Emails can be backed up automatically, if they properly maintain IMAP Server account.
As the data is stored on the server so there are less chances of data loss and corruption.
How to bulk Import EML files to IMAP Server?
To import EML files in bulk to IMAP Server, we suggest to use an automatic solution like Softaken Local to Cloud Mail Importer. You can simply free download this application and start using it without any trouble. This smart tool can easily import multiple EML files with attachments into IMAP Server directly.
This utility can import EML files from multiple email clients to 100+ IMAP Servers accounts. No need to install any further tool, one can use this program without any hassle. Let us understand the entire process step by step.
Working Steps of the Software:
 Start and open IMAP Importer Tool on any Windows system.
After launching this program, choose EML file format from mail source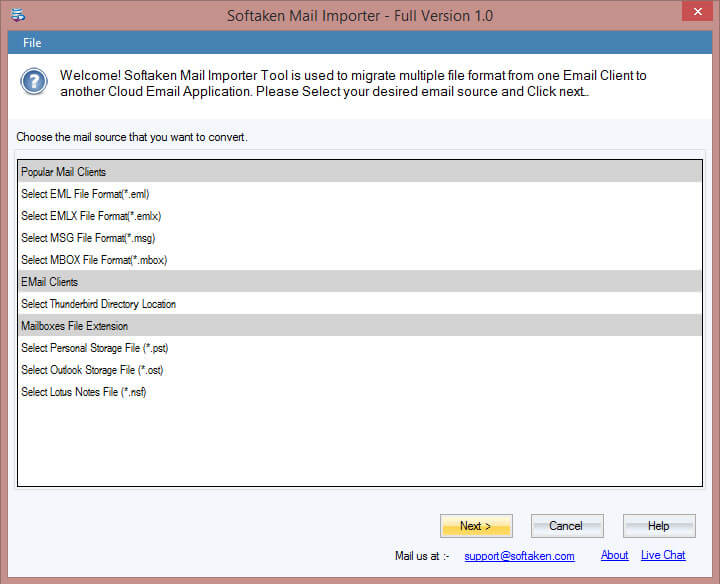 Then load EML files from your system.
This will show the list of added EML files on your screen.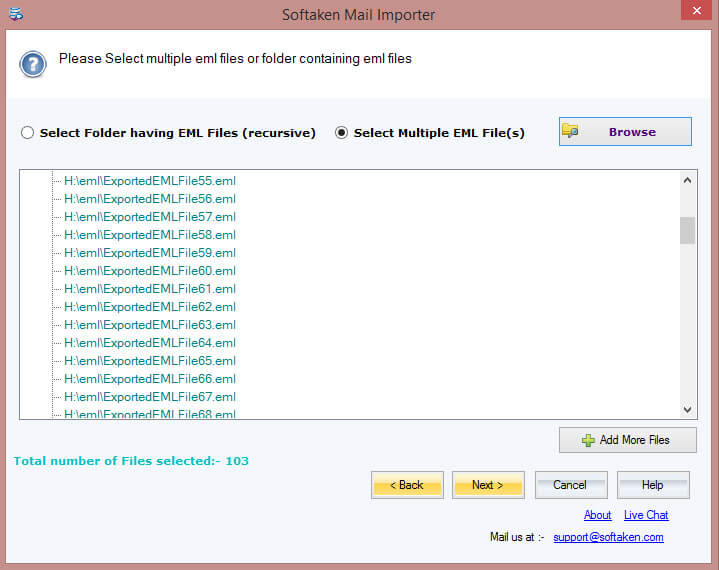 Now, pick the option of 'Export to IMAP account'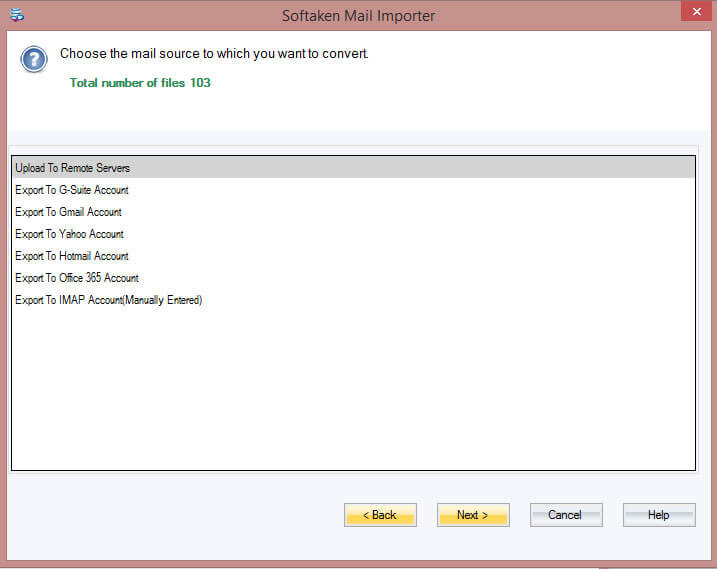 In the next page, provide desired IMAP account login details.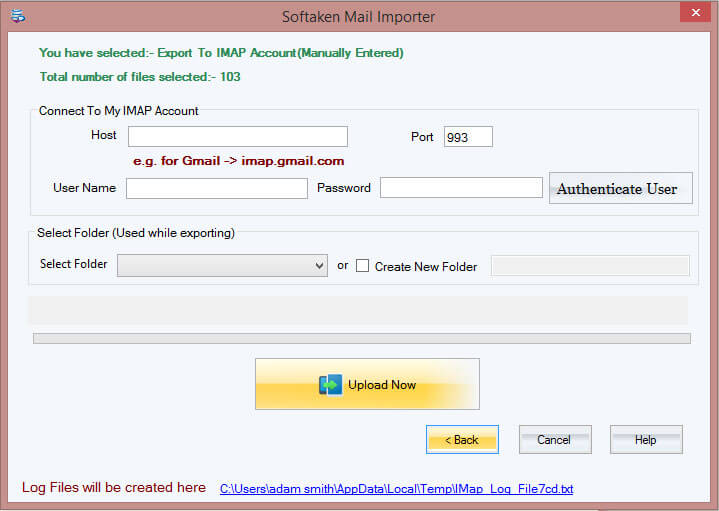 Then, choose a new or existing folder of your IMAP account. Press the 'Authenticate User' button.
Finally, press the 'Upload Now' button to start the process immediately.
Free Software demo version
Use the free version of the program to have a clear understanding of the software. The free version are allow you to import the initial 10 EML files to IMAP Server account. So, after using the free trial, one can buy the tool and use it for lifetime.
Quick Solution:-

In this blog we explain the complete methods to convert Yahoo emails to EML files format directly without facing any problems with entire data, and so learn this post for more info.
Benefits provided by the software for importing EML data items to IMAP Server
No file size limits: This utility does not come up with any limitations for EML file size & number. One can simply load unlimited EML files to upload into IMAP Server without any trouble.
Support EML files import in bulk mode: You have File & Folder mode for loading single as well as multiple EML files at once to import into IMAP Server. This bulk operation feature is really helpful to import thousands of EML files within a few simple clicks.
Import EML files with attachments: With all attachments, EML files are imported into IMAP Server. There is no loss of any data item and attachments during the import process with this application.
Safe and Trouble-free process: The tool completes the migration process under a safe roof. You don't have to face any trouble and data loss during the process of uploading EML messages to IMAP Server.
No supported program installation: To use this software, you don't need any external program assistance. This utility is completely standalone to use. Simply download and start using it without the need for EML-supported clients. Only IMAP Server login details are needed for the process.
Automatically create log files: At the end, this utility automatically creates a log file having all details of EML files import to IMAP Server. You will get a detailed summary of the import process in this file.
Import to multiple IMAP accounts: You have the option to import EML files to multiple IMAP Servers such as Gmail, Office 365, AOL, Yahoo, etc. This utility is well supportable to all IMAP Servers.
Friendly to use: This application is fully easy to use without any hassle. Having no confusion, users without any technical intelligence can work on this application.
Keeps email properties intact: During the import of EML data items into IMAP account, the software keeps all email properties, attachments, and database structure intact. There is no alteration to the actual database.
Conclusion
Importing emails to IMAP Server is very beneficial for users. Through this post, we have clearly explained it. Also, a reliable and smart way to bulk import EML files directly to IMAP account is explain here. You can simply utilize this program as the complete process is explained with screenshots. For any query, connect to our support team 24×7.
Frequent Questions Asked by Users

Q –  Will this program import Windows Live Mail emails to IMAP Server?
A –  Yes, why not. This utility allows importing EML files of Windows Live Mail to IMAP Server. Also, it supports EML files from all email clients.
Q –  I have around 1000+ EML files to upload in IMAP Server. Can I upload them at once?
A –  Yes, it is quite simple for this program to upload thousands of EML files at once to IMAP Server without any hassle.