We have recently switched to 2FA but MS Outlook fails to set up properly. It prompts for credentials using modern auth that supports 2FA. Instead of asking for the password, it is prompting to use the old auth. The problem is faced by almost all users using Windows 7 or 10 with the integration of MS Outlook 2019, 2016, and 2013. The password is not supported by the app. The challenging thing is that when trying to fix the problem, the one system fixing steps are not working with the other systems.
Manual Steps to Open Protected MS Outlook Files
Step 1: first of all, delete all the existing passwords that fail to open or  are not in use
Step 2: Now, the step is to create a new password and save it safely to an excel sheet
Step 3: Close your MS Outlook if it is open
Step 4: Visit the Credential Manager and remove all credentials which are associated with Office 365/Outlook
Step 5: Restart your system
Step 6: Again open MS Outlook
Step 7: In the credential box, provide the gibberish made-up password and give the command to MS Outlook to remember it
Step 8: Repeat the 7 Steps more than one time
Step 9: In the credential prompt, add the password you have made in step 2 and command MS Outlook to remember it
The manual steps are useful when you have a few MS Outlook files with forgotten passwords. When you have a bunch of protected MS Outlook files that you fail to open, in this situation the best way is to use a third-party application. Companies don't want to take the chance of data loss especially since the data is highly sensitive. A reliable application can crack the encrypted MS Outlook files and make them accessible.
Fortunately, several online utility sites have come forward with their programs. It is a reliable application because of several reasons.
Why you need PST Password Recovery Tool
First of all, Softaken is one of the oldest MS Outlook third-party tools providers online. It offers a wide range of applications to deal with MS Outlook issues such as conversion, preview, and repairing tools. The online store helps a large number of MS Outlook users with its reliable programs. There is trust built by the company to use its applications for general and commercial purposes.
Advantages PST Password Recovery Tool
PST Password Fix application comes with several advantages. Let's know about them before you plan to get its license.
Boast Interactive Interface
The application is prepared for everyone. In a simple manner, whether you are a technician or a non-technician, you can use the application independently. From configuration to installation and running, all are easy to follow. No special technical help you may need if you have basic computer skills. The process of unlocking PST files requires users to follow only three primary steps. There is no need to wait till the process of unlocking is going on. Users can work in the system. Therefore, it offers a productive work environment.
A Lightweight Program to Use
It is a very lightweight application. It uses a few MB to upload and a few MB to store on your system. The utility doesn't make any change to your system while you upload it. The  PST password Remover tool works as an integral part of your system. The whole process of configuration and installation takes a few minutes. You can do the task independently.
Free from Viruses or A Reliable Application
Softaken makes sure to win the trust of each user. Therefore, the application goes for rigorous quality performance assessment. During uploading of the utility, the team of Softaken makes sure that no bug is uploading with the program. Hence, it offers reliable uploading. You can use the application to unlock sensitive PST files.
Capable of Bulk Password Removal
No manual password Removing steps offer to unlock more than one PST file at a time. Therefore, it is time-consuming to use a manual method to remove the password. The application supports a bulk process facility. Under this feature, users have the flexibility to upload and remove the password of as many PST files as they desire. It is one of the striking features of the application.
Allow Users to Reset a New Password
The application has an added feature. It allows users to Change the password of those PST files which password is removed. It has the button to reset the password. As you click on the button, the tool lets you enter a password for PST files. The process of resetting the password is so easy to follow independently.
Offer Users Full Control over Its Results
The tool gives users full control over its key functions. It doesn't give users the reason to feel regret about getting the license of the application. The Browse menu helps to select locally saved PST files including archived PST files. No third-party support needs to upload PST files. Hence, users have full control over operating the program.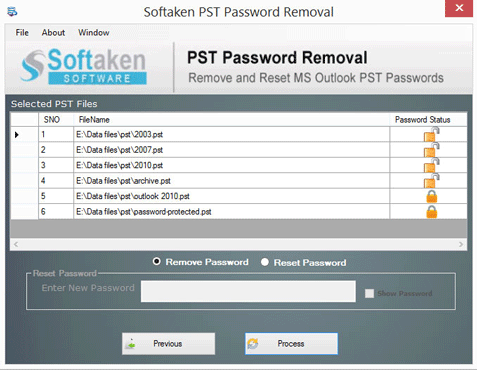 Conclusion
Overall, it is best to remove the password of your PST files is to using a third-party application. PST files are protected because of data sensitivity. There are no such manual ways to recover back the lost password. Therefore, it is good to use a third-party tool to crack the existing password and reset a new password. Softaken PST Password Recovery is the best solution for this. Download the free trial version of the application today.