Summary: A PST file stores emails, contacts, notes, journals, and several other databases. It is an import file that you don't want to lose. A PST file format protects privacy of database with password protection. Protect a PST by strengthening the password. Here we crack a PST file password with the help of an amazing application.
Outlook is one of the most sophisticated applications to use. It allows users to create emails, contacts, notes, journals, and various other databases. Outlook uses PST file format as a default format to store data. A PST file can hold multiple databases with sub-folders. It can keep emails, contacts, notes, journals and various properties of Outlook. For companies, a PST file is nothing less than an asset because it stores important emails and contacts.
For data safety, password protection of PST files is one of the best practices.
Ways to Open Password Protected PST file
According to Microsoft, password protection feature of PST file format helps prevent unintentional intrusion by other people who share your file or computer. When a PST file has password protection, it requires the password to open the file. Outlook automatically starts as you open a PST file.
Security Note:  Remember, Outlook Data File (.pst) passwords don't provide protection against intentional malicious attempts. Therefore, the best practice is to create a password-protected Windows user account for yourself.
Creating or Changing PST Password
According to experts, the best practice to keep your Outlook Data File (.pst) safe is to keep change the password periodically.
Access Outlook on your computer and go to the File tab, then Account Settings > Account Settings.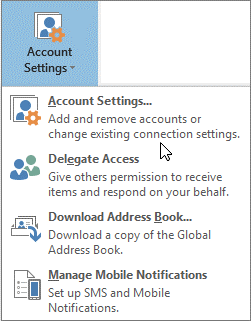 From the Data Files, select the Outlook Data File (.pst) that you want to lock, and then hit Settings.
Select Change password.
Note:  The Change Password feature will not appear if you are using MS Outlook with an Exchange account.
From the Change Password dialog box, enter at least 15 characters of password in the Verify password.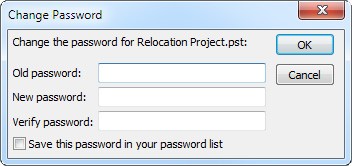 Note: Microsoft suggests users to use a strong password comprising-, case-sensitive alphabets, numbers and symbols to help improve the password.
Finally, hit the OK button for a unique password.
Best practices to Manage Password for Your PST Files
It is tough to remember password of multiple PST files. Write down password of your PST files in a diary or a secure location.
You can make your computer remember your password. In this case, you don't have to enter the password Outlook Data Files (.pst) when you want to access it. If you have protected your Microsoft Windows user account, no third party can access to your PST files.
Do you know if you want to protect a specific folder of a PST file instead of the entire data, the feature is available.
Also Read :- Remove Password from PDF Bank Statement
Removing Protection from a PST File – An Automated Tool
Outlook has no features that support recovery of protected PST files if you have forgotten the password. Therefore, the best solution is to use a third-party program. Fortunately, various options are available to remove protection from a PST file. We recommend you to choose a third-party program wisely.
Before selecting a PST Password Removal application, you can see the following criteria-
Users' experience about the application
Application ratings
The Demo trail
For your convenience, we like to suggest you to choose one of the easiest applications and that is Softaken PST Password Removal program.
Softaken is a leading name in providing a wide range of Outlook applications including conversion, password protection, password removal, merging, and splitting.
Softake PST Password Removal Prominent Features-
The Softaken application helps to remove password from multiple PST files.
The application removes security from PST files of any size including ANSI and Unicode.
The advanced app manages to remove and reset password of PST files.
There are four easy steps for unlocking and resetting password of a PST file.
It is a self-dependent application to remove password without Outlook.
The app supports Outlook 2003, 2007, 2010, 2013, 2016, and other latest versions of Outlook.
It is a lightweight application to use on your system.
Step to Run the Program
Download the app on your Windows system to Open password protected PST file
Click on the Browse File or Browse Folder button to select required PST files
Press the Next tab and select the radio button of Remove Password or Reset Password
Set the password if you want and press the Process button to complete the process
Final Words
Unlock password protected PST files is easy if you consider a third-party program. Softaken PST Password Remover is one of the significant application to remove password from single and multiple PST files at once.