MS Outlook is a popular email management tool among Windows users. Now, the program is available for Mac users, but Windows users have more options than Mac users to find the best MS Outlook versions. For security reasons and to maintain data integrity, MS Outlook has its file extensions that don't support other email clients except for MS Outlook. There are two popular file extensions of MS Outlook- PST and OST. They offer incredible data storage and encourage users to manage their items in a well-organized manner. A PST file can store up to 50GB of data.
A PST file holds emails, contacts, notes, journals, events, and several sub-folders so that users can easily access them. For protection reasons, MS Outlook allows users to set a unique password for each PST file. Users are responsible to keep their passwords remember to access the encrypted PST file. In case, they want to change the password, they can do this by following some manual steps within MS Outlook. If they forget the password, getting back the locked PST file becomes very difficult.
Though MS Outlook doesn't allow its users to protect the entire Microsoft Outlook, each PST file can be password-protected. A locked PST file needs the correct password whenever you try to access it. Companies often practice protecting their PST files with a unique password. For them, it is necessary to safely note down each PST password to avoid inaccessibility issues.
It is wise to protect sensitive data with a strong password. Like PST, OST files cannot be protected. Therefore, using PST file extension for sensitive data is always a wise choice.
What if have you forgotten the password of protected PST files? Is there any solution? MS Outlook supports unlock the password of PST files only. Here are some ways to get back your protected PST files.
Steps to Change or Recover Password from PST Files
Open your MS Outlook application
Go to the File menu and then select Account Settings which is in the Account Settings.
For Microsoft Outlook 2007 users, select Data File Management from the File menu.
Select the Outlook Data File (.pst) file that you would like to reset its password on the Data Files page, and then press the Settings option.
Hit the Change Password tab. Remember, the option is not available if you have saved data in OST file format. The file extension is listed in the Data Files tab's Location column.
Provide your old password in the Change Password dialogue box. If there is no password, leave this box empty.
After providing the old password, enter the new password in the New Password and Click on the Verify tab. Keep the password strength stronger. MS Outlook accepts the password of 15 characters and they must be case sensitive.
In the end, press the OK tab.
Important: This is a password reset feature. MS Outlook doesn't support any manual solution to retrieve the password of a PST file that you have forgotten. In this case, you may need to look for a technician or choose a third-party password recovery program.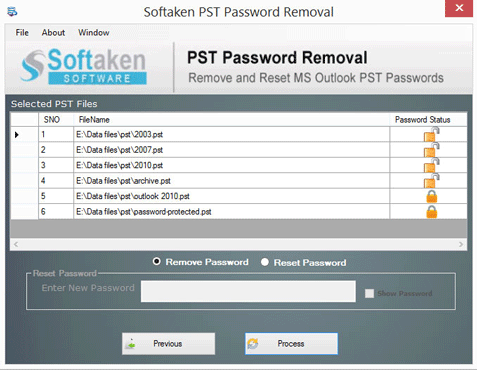 Using a Third-Party Password Recovery Utility
When you forget the password of a PST file, there is no need to be worried about it because the situation can handle gently. We will not suggest you look for a technician if more than one PST file is locked. The best solution is to use a reliable third-party password recovery tool. Softaken PST Password Recovery is one of the best applications to crack the password of PST files. It makes the recovery process of protected PST files so easy that you have never thought so.
Key features of the PST Password Recovery Tool
Here are some significant features of the application that prompt users to get their license.
The program is straightforward as it makes the process of recovery so easy to be followed by everyone even if they are not so technically efficient.
The program recovers not only one but also several PST files at once. Bulk recovery of protected PST files is the key feature of the program.
The utility offers to reset the password of PST files so quickly. It is just a matter of three easy steps if the program is already installed on your system.
It is an independent application, doesn't need pre-installation of MS Outlook to recover locked PST files.
The tool supports recovery of PST files created in MS Outlook 2019, 2016, 2013, or any versions of MS Outlook with top accuracy.
The tool is lightweight as it needs only 100 MB of free disk space to install and run.
It is a pure Windows application that supports Windows 10, 8, 8.1, 7, and other versions of the OS.
The application has received 4.6 ratings out of 5 from its users for its accurate data conversion.
The licensed version of the application is available for individual and commercial users. The license validity is for an unlimited duration with an assurance of unlimited recovery of protected PST files.
After reading the reviews if you are deciding to get the application for your individual or commercial needs, it is good to install its free demo versions. The version helps to assess the performance of the application. It is an outstanding solution to use.