Summary :- Outlook PST files serve as secure repositories for storing email data, contacts, calendars, and other important information. Encrypting these files with a password gives an extra layer of protection. However, accessing the encrypted PST file becomes a highly challenging task if that password is lost or forgotten. Password Recovery for PST files is really tough in case you have lost it.  But through this blog post, we aim to unveil the most effective password recovery methods for encrypted Outlook PST files, enabling you to regain your valuable data access.
Know about Password Protection
Password protection is a security feature provided by Microsoft Outlook to safeguard the data available in PST files. Password protection on PST files adds an extra layer of defense, ensuring that only authorized users can access the PST file. Without having the correct password, PST file data can't be accessed.
The primary purpose of PST password protection is to prevent unauthorized access to confidential data stored in Outlook PST files. It helps maintain the privacy and security of confidential databases.
How to Encrypt Outlook PST file?
Once you set a password on your PST file, you need to enter it while opening the file. Setting a password or encrypting Outlook PST file is very simple. Here are the steps to encrypt PST files using MS Outlook:
Open MS Outlook on your system.
Go to the "File" tab from the top left corner of the Outlook window. From the drop-down menu, choose "Account Settings" twice.
Now, go to the tab of "Data Files"
From the list of data files, choose the specific PST file that you want to encrypt.
Go to the "Settings" button available at the top right side of the window.
Now, mark the option "Encrypt data file" to enable encryption for the selected PST file.
Enter a password in the "Password"
Again provide the same password to confirm it.
Hit the 'OK' button to save the password.
Close all opened dialog boxes by clicking on the 'Close'
Methods to Recover Password for PST files
Sometimes, users need to recover password for encrypted PST file. Then, they have only two ways for password recovery. One is manual and the other is professional software.
Manual solutions:
Method 1. Remove PST file Password Using MS Outlook
Open MS Outlook
Go to Account Settings followed by File and then Info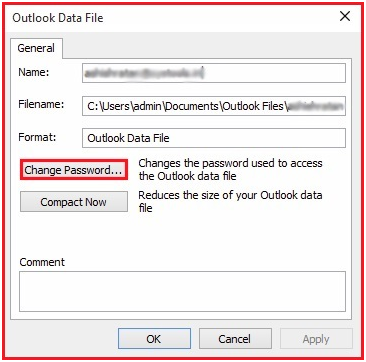 In appeared account settings window, choose a path for PST file by clicking on Data Files. Then, choose Settings.
In appeared window, change your password by hitting the change password button.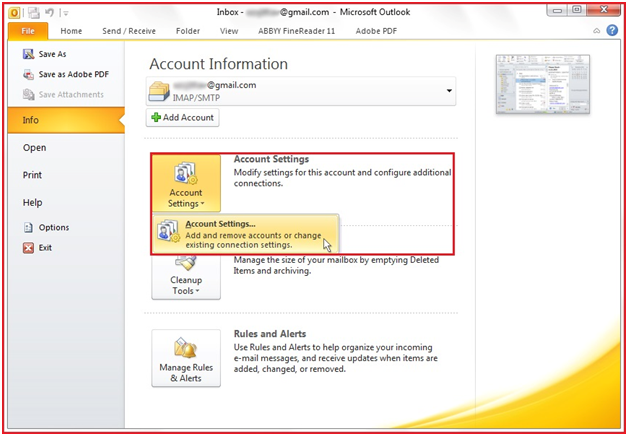 Method 2. Use pst19upg.exe
You can use the free application of Microsoft i.e. pst19upg.exe to recover lost or forgotten PST file password. You can get it from the web and use it.
Exit from Outlook
Locate scanpst.exe on your system.
Open it and choose the option for 'Repair'
Note: Backup your PST file before commencing the process.
Now, open the CMD prompt by pressing Win key + R
Here, look for the path of PST file.
This will create a new PST file with psz, with xyz representing PST file name.
Change the name of the new PST to old PST
Type exe-newfilename.psz & hit Enter.
Method 3. Best Solution for Password Recovery: Professional Tool
The best way of recovering PST file passwords is to use a specialized program for password recovery. You have to carefully choose a third-party software from the multiple ones available on the web. One such effective program is Softaken PST Password Recovery Software.
This tool allows you to remove the PST password as well as reset a new password without asking for the original password. You can simply utilize this program without any trouble.
Know the Steps to Use this Software:
Install and open the software to recover Outlook PST password
Now, add locked PST files to unlock them.
Go with either 'Remove password' or 'Reset password' option.
Hit the 'Process' button to recover PST file Password.
I believe with these simple steps; you are able to remove PST file password. Also, most users consider special tools like this one the best for password recovery methods for PST files. Here, we will tell you the reason behind it.
Features of Softaken PST Password Recovery Tool
Easy to utilize: This program has an intuitive user interface that allows users to navigate through the recovery process effortlessly. It provides clear instructions to perform Outlook password recovery.
Quick and accurate: Quick password recovery is done by the tool to save valuable time for users. Also, the software delivers accurate results without any harm to password-protected PST files.
Perform bulk operation: The software has the ability to perform bulk operations, it can process multiple PST files simultaneously to unlock them from passwords.
No Outlook configuration: Without the need for Outlook configuration, the software can directly recover PST file passwords. It is a standalone solution for password recovery of PST files.
Important Tips for Password Protection
Use Unique and strong Passwords: You need to use strong and unique passwords. It should be combined with uppercase and lowercase letters, numbers, and special characters. Avoid using easily guessable passwords.
Use Lengthy passwords: Opt for longer passwords as they are generally more secure. At least create a password of a minimum of 12 characters.
Regularly Update Passwords: Change PST file passwords periodically. Updating passwords assists in protecting against unauthorized access.
Conclusion
In this post, we have learnt how to encrypt PST files and the available ways for password recovery for PST files. You can check out the solutions and pick the best one as per your need. However, the best solution is to go with a specialized tool that is very simple & accurate to utilize. I hope this post has helped you to sort out your queries.