You may occasionally have large PST files including email folders, contacts, calendars, notes, tasks, etc. You need to extract data when you need smaller PST files as sharing large PST files can be difficult to use. If you need a solution to split Outlook data files i.e. PST by year, date, & folder, this post will be really helpful for you to resolve this issue.
Splitting PST file is the most difficult task for many users. Here, we first talk about the problems faced by users while dividing large Outlook PST files. Don't worry at all! Here, you will know the easiest ways to solve your queries regarding splitting Outlook PST file.
Major User Queries
"Hi, I am working with MS Outlook 2013 and facing an oversized PST file Corruption issue. I am annoyed with this problem. Can anyone help me to easily split large PST files? Please provide the solution."

"I have all Outlook emails seem order-less as all my office emails and advertisement emails get mixed. So, can anyone tell me how can I split this PST file by date without any data loss?"
Why do users need to Split Microsoft Outlook PST files?
Large or huge size PST files slow down the performance of Outlook. Hence, to increase the performance level, splitting the PST files is mandatory.
Oversized PST file leads to corruption issues.
Users can't send or receive emails due to large PST file which has consumed all the space.
Break or Split PST file using Professional Solution
Softaken Outlook PST Splitter Software is one of the smartest tools to quickly reduce PST file size by breaking the file into parts as per size, folder, and year. The software provides various features to safely reduce Outlook PST file size. This amazing solution can load any heavy-size PST file to divide into parts. Even, users can preview data inside the selected PST file prior splitting. One by one, multiple PST files can be divided into smaller PST files by this utility. You have an option to ignore contacts during the process.
Let us look at the step-by-step process to Split Outlook PST file:
In the beginning, start the recommended software by Softaken for splitting your PST file.
Then, add the targeted PST file you want to split.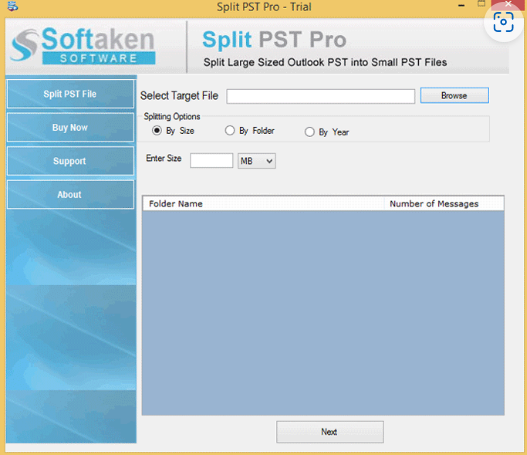 Get the preview of data in respective folders with their numbers.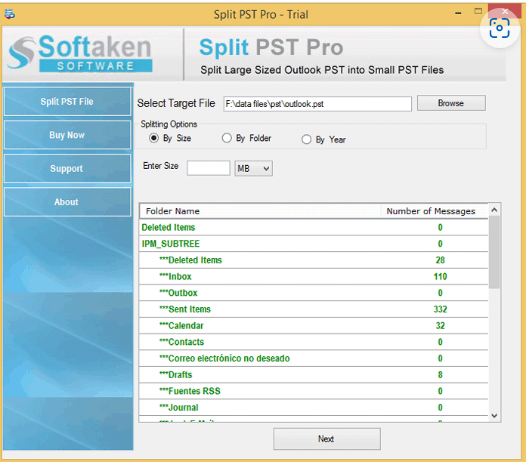 Then, pick the splitting option – by size, folder, or year.
Now, provide a destination path where you want to see the output PST files.
Place the mouse pointer to the 'Split Now' button.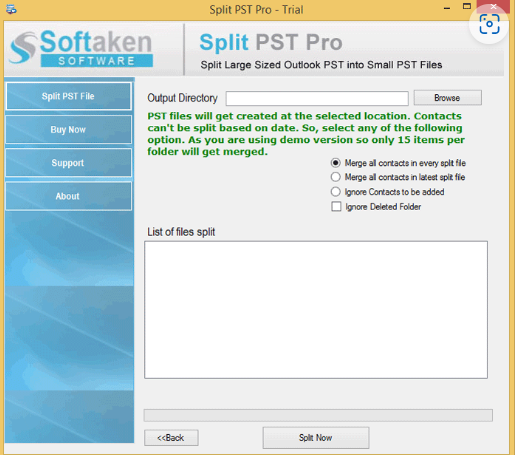 Now, you can check multiple PST files as output at the defined location.
Helpful features offered by the software to break Outlook PST file
Easy process: Using this software, the process of splitting Outlook data file is too simple. This toolkit has only 4-5 easy steps which any user can comfortably understand. No technical intelligence is mandatory to operate the tool.
Work without Outlook: The most attractive feature of this wizard is you can use it even when you don't have MS Outlook present on your system. It smartly works on its own for splitting any PST file into smaller PST files.
Also Read this Post-  Split large size PDF file into multiple PDF files
Easily split any heavy PST file: You can effortlessly select PST file of any heavy size to break it into smaller parts. This utility has no such barrier on PST file size. It safely & successfully breaks every large PST file.
Split by folder, year and size: This program gives you three options to break Outlook PST file – by year, by folder, and by size. You can pick any of them & successfully split your PST file without any data loss.
Show detailed preview: Prior splitting your PST file, you can view all its data items on the screen. The software display data inside the PST file in a structured manner. Thereafter, users can accordingly split the added PST file.
Is there a manual way present to split Outlook PST file?
Yes, there are manual ways available that can help you in splitting large PST files. But make sure to have Outlook properly installed on your system and you should have complete knowledge of MS Outlook.
In MS Outlook, run the Archive dialog box, whichever is present:
File – Info – Clean up old items
File – Cleanup Tools – Archive
Choose the option – Archive this folder & subfolder
Pick the account or desired folder as per your needs
Now, pick the date by which you need to break your PST file in 'Archive items older than' option.
If you have set the date to 1 Jan 2021, all emails of this date will be saved in a different PST file. Thus, it splits your PST file.
Use the Browse button to provide the name, and location of the new PST file on your computer.
Now, hit the OK
Finally, your Outlook mailbox is divided by date into 2 files.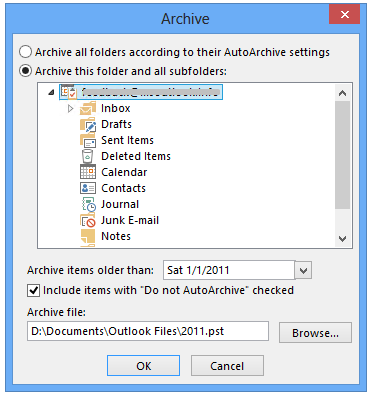 Undoubtedly, this method works and is fully free to use. But without having prior knowledge of MS Outlook, you can't use this method. While implementing manual solutions, you need to be very careful otherwise, this leads to complete data loss. In addition to this, the manual solution splits the added PST file by date only. Due to this, most users prefer the 1st method i.e. professional solution.
Conclusion
In conclusion, we want to say this if you need an effective and secure solution then we suggest users opt professional method. However, users can pick the manual method if they find it suitable for them. Both methods work but the ultimate decision of solution is of the user. You can try out the manual way first and if it failed to work, then third-party software will surely assist you in splitting big-sized PST files. It's perform with both ANSI and Unicode Outlook PST files. You can test the capabilities of the software by downloading its demo version free of cost.