Summary: If you are using Outlook with Exchange Server, it means the data saves in OST file format. In this situation, you cannot transfer Outlook data from one system to another. You require conversion of OST to PST. The article outlines the reasons for conversion and how to achieve it.
MS Outlook for Windows doesn't need introduction if you work in an IT company. It is one of the most popular email management tools. The application helps manage, send, and transfer emails. It is a useful tool to store contacts, notes, journals, and calendars. Outlook lets you create tasks and collaborate with employees for a particular task. Its' add-ins let you add multiple features.
MS Outlook for Windows supports two file formats- OST and PST. When you integrate Outlook with Exchange Server, the tool saves data in OST or Offline Storage Table. As the name suggests, the file format allows you to work offline. When the server connection re-establishes, OST synchronizes with Exchange Server to transfer data to your Server account. In other words, an OST file is a copy of your Exchange Server account. It is one of the incredible benefits of OST file format.  An OST file can accommodate emails, contacts, notes, messages, journals, calendars, and events. It can store up to 50GB of data.
Similarly, a PST file format can stretch up to 50GB. It can keep emails, notes, calendars, events, and journals. When you use Outlook without Exchange Server, Outlook keeps data in the PST file format. PST is the default file format of Outlook for Windows.
Why Do Users Choose PST over OST?
Various reasons encourage users to move from OST to PST.
Accessibility: PST files are not device specific. In other words, a PST file can access by Outlook on any computer. OST files, on the other hand, are associated with a specific Exchange account. Therefore, the OST file can access when Outlook is connected to the Exchange server. Therefore, if you want to access your emails offline or on a different computer, PST file format is a flexible option.
Portability: Do you know unlike OST, you can transfer or copy PST files to different machines. It also allows you to move emails and other data of one Outlook version to another version effortlessly. OST files, on the other hand, are not portable enough. It is typically for a particular user profile and Exchange server configuration.
Archiving and Backup: You can use PST files for archiving and backup purposes. You can use the format to keep older or less frequently accessed emails. Thus, it reduces the size of your active mailbox. It ultimately increases the speed of Outlook. OST files store the copy of the Exchange mailbox, but they are not ideal for independent backups. If your Exchange account is inaccessible, you cannot access the associated OST file.
Ultimately, it depends on users and their needs for conversion from PST to OST or OST to PST. If your internet connection is not stable, OST file format can work for you. It helps maintain workflow. If you want to archive data of Outlook and want to share Outlook data to another computer or Outlook version, PST file format can be a suitable choice.
So, the conclusion is that if you want to export Outlook data to another computer, you require conversion of OST to PST.
Manual Conversion of OST to PST Using the Import/Export Feature
It is the most recommended method to export OST to PST.  Here you utilize the Outlook credentials with the Exchange account to export OST files to PST format.
Start Outlook and hit the File tab.
Take your cursor on the Open & Export section and then hit the Import & Export option.
From the Import and Export wizard, choose the Export to a File option and then press Next.
From the Export to a File option, select the Outlook data file (.pst) option and Next.
After that, choose the desired folder and hit Next
Hit the Browse button to choose the desired path to save data and hit the radio button of the "Do not export duplicate items" option.
Press the Finish tab to complete the process.  You can protect the new PST fie with a password. It is optional.
Also Read :– Unlock Password Protected PST files 
Downsides of the Manual Method
There are some downsides of the manual method. Therefore, it is not recommended to practice.
It is a lengthy and time-consuming process.
The manual conversion process is also tricky to follow.
It can cause data loss or may experience incomplete conversion.
The process may be unsuccessful if you follow the wrong steps.
The process is not corrupted OST files.
Conversion of OST files to PST Using a Professional Solution
With multiple applications available to choose, you may confuse to choose a reliable one. You can show your trust to the application that has good ratings, downloaded multiple times, has a demo version, and is offering by a reliable store.
Softaken Exchange OST to PST Converter is one of the best alternatives to manual solutions and other third-party apps. The conversion program exports OST to PST without losing quality. It allows you to export large to small sized OST files.
Significant Features of the Softaken OST to PST Converter
A reliable and one of the oldest and well-recommended applications to export OST to PST
Convert OST to PST without losing the file structure and quality
Repair and export damaged OST files
Support conversion of single or multiple OST files
Display a preview of the uploaded OST files
Export OST to PST in four easy steps
Convert OST to multiple other popular file formats
The free demo trial of the app exports data effortlessly
Steps to Run the Program
After downloading, launch the program on your system.
Step 1- Select the File Mode or Folder Mode, then click on the Browse button to upload OST files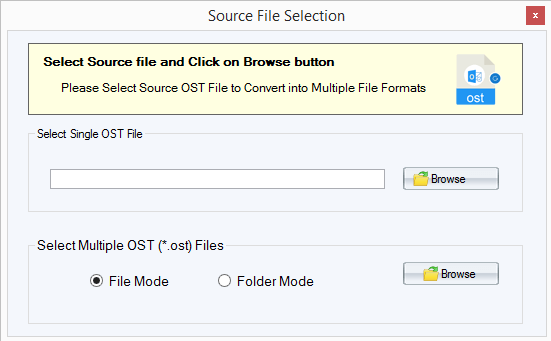 Step 2- Get the preview of the uploaded OST files and deselect the folders that you don't want to export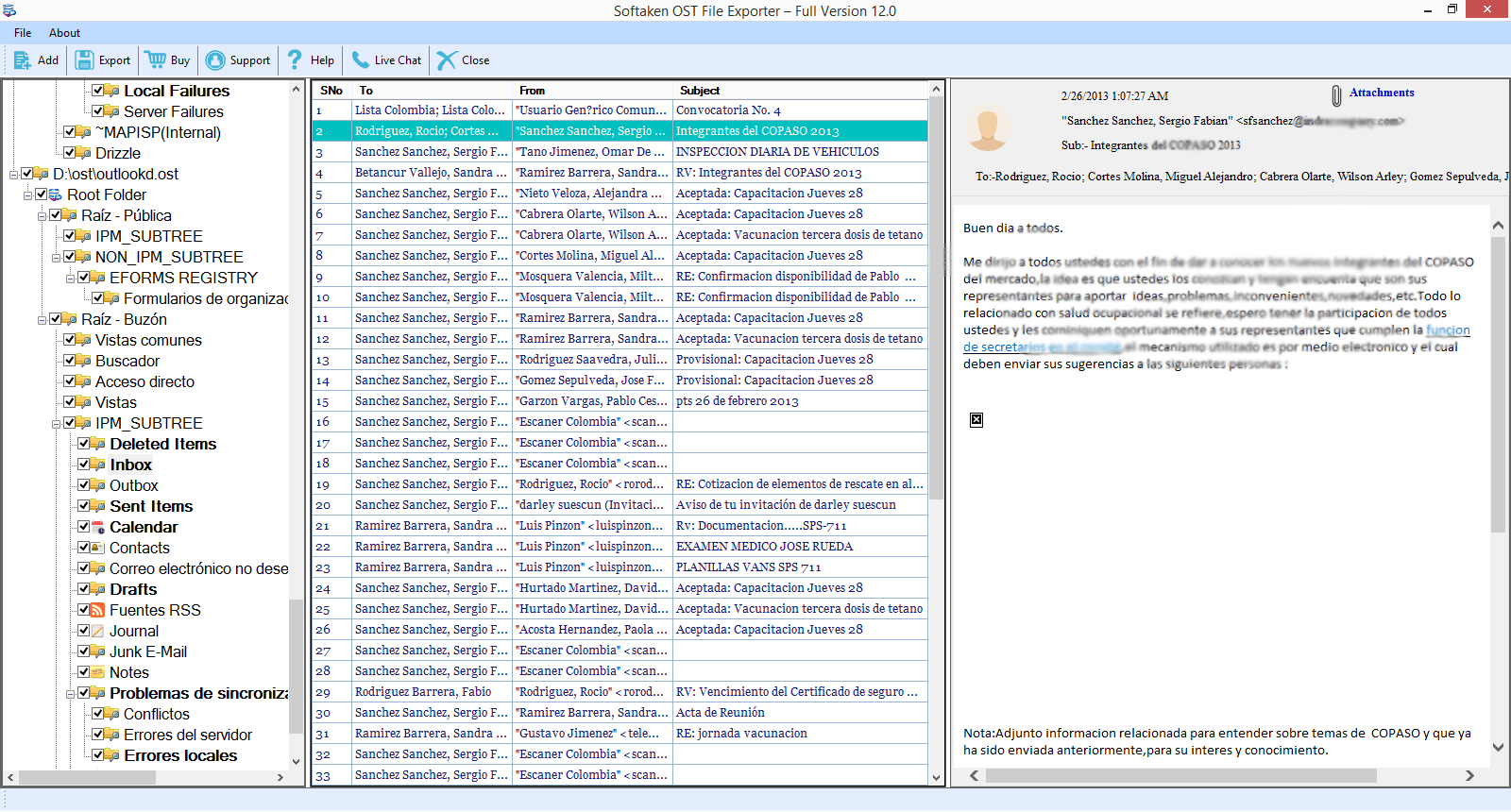 Step 3- Select "Convert to PST File format" option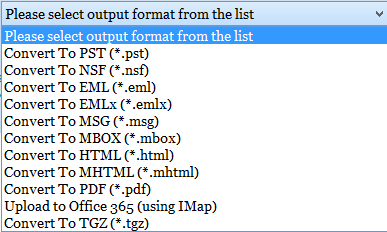 Step 4- Press the "Browse" button to select the output

Step 5- Press the final button
What is NST File in Outlook?
Don't confuse with the file format NST.  It is also known as GST or Group Storage Table. The file format is for Office 365 Group Storage file to store data of a group of Office 365 accounts in Outlook. The structure of an NST file is the same as an OST file. It can accommodate emails, contacts, notes, journals, calendars, events, to-do-lists, and tasks.
Benefits of NST File Format in Outlook
Locally, it stores all mailbox databases.
It allows offline access of your databases.
The file format is encrypted. Hence, your sensitive data is safe.
Because of offline data storage, it helps to expand the limit of storage in the cloud.
Steps to Export NST to PST
Export NST to Outlook OST format
Convert OST to PST format
1 – Export NST to OST format
Step 1- Locate the location of your NST file.
Step 2- Right-click on the file and select properties from the menu
Step 3- From the general tab, change the extension type NST to OST
Step 4- Press the OK tab to complete the process.
2- Convert OST to PST format
In the above section we explain the direct solution Softaken OST to PST Converter to convert OST to PST files.
Final Words
Overall, it is easy to export OST to PST if you choose a third-party reliable program. Softaken is one of the oldest platforms for conversion of OST data to PST effortlessly and with top accuracy.