Know How To Backup OST Data File – Informative Guide
Summary: Need to understand how you can backup Outlook OST data? To do this, here two manual methods are discussed. But manually taking backup of Outlook OST file can be complex for users. Due to this, we also provide you third-party professional way for backing up OST file.
Outlook is very popular email application for sending and receiving emails. All your mailbox data in Outlook is saved into OST and PST files. Outlook PST file is saved locally on the system and you can transfer this file between devices. So, in this way, one can easily backup a PST file. Hence it is considered the smart way to backup OST file is its conversion into PST file format.
Why there is need for backup of Outlook OST files?
Backup OST file database is required in many cases. Below are the reasons stating why backup OST file items in Outlook 2019, 2016, 2013, 2010, and others is required.
OST Synchronization issue: OST file helps users to work when Exchange connectivity is not available. But when during synchronization of Outlook data with Exchange Server, it is tough to access OST file data. Due to this, backup of Offline Storage Table (.ost) is needed.
Data Recovery: In case of damaged OST file or sudden data deletion, your OST file gets inaccessible. Therefore to get access the data, backup of Outlook OST file is highly suggested.
OST file corruption: Due to virus infection, sudden closing of Outlook, & other related issues, users can't access OST file data. Therefore, backup Offline OST file is suggested.
Authentication Issue: Users need proper credentials with validation to access OST file data on Exchange Server. To get out of this, backup of OST database is needed.
Manual approaches to backup Outlook Offline OST file
You have two free methods to create a copy of Outlook OST file data. First is using Archive feature of Outlook and second is using Import/Export wizard.
Method 1. Export data of Outlook for backing up OST file
Open Outlook application. Go to first tab, i.e. File tab
Click on Open & Export and then on Import/Export
In the opened window, Choose Export to file option and hit Next.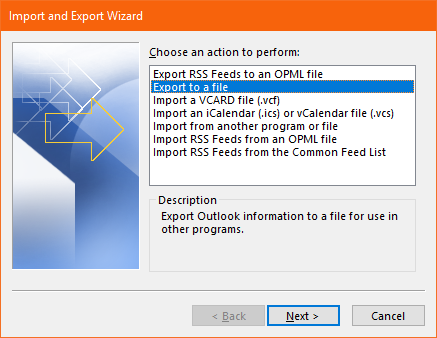 Select Outlook .pst file in next window. Click Next.
Mark the folders whom you need to backup or include subfolders as well to backup OST and hit Next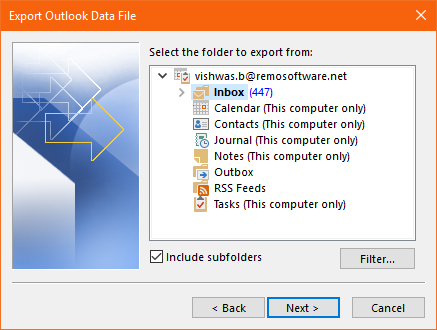 Choose path for PST file and name it. Select not to export duplicate items.
Click on the Finish button.
Note: This solution for backing up OST file will provide a PST file containing all data of OST file.
Method 2. Take OST file backup with Outlook Archive Feature
Archiving feature of Outlook is not the backup of OST file. But it moves your valuable data of POST file into a different folder in MS Outlook. Remember that you can't backup contacts of Outlook with archiving method. Given below are the steps for archiving data of Outlook file:
Launch Outlook application and go to File tab.
Go to Tools or Cleanup Tools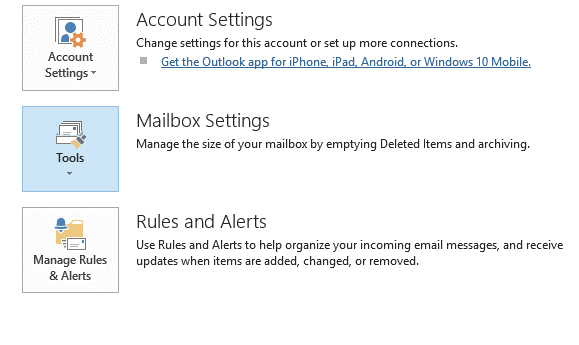 Select folder to archive.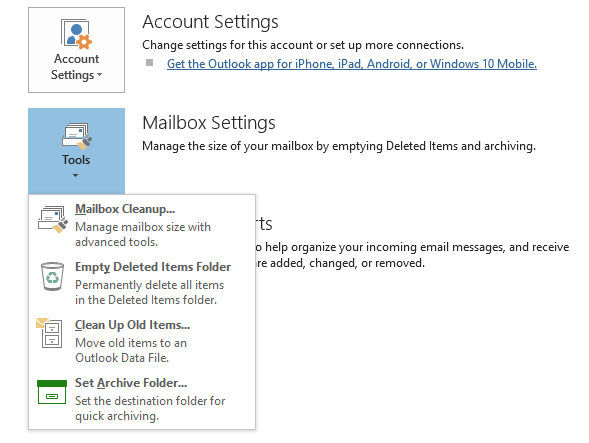 In archive window, hit new and provide name to the folder that you are archiving. Also, a location for saving this file.
Hit OK and this finishes the process of archiving Outlook OST file.
Limitations of manual solution to convert OST data to PST file
With the earlier discussed methods, users can backup data of OST file. But there are few demerits of using manual methods:
OST PST Conversion will not complete when use IMAP Settings for Outlook
If your Outlook profile is created by using IMAP settings, all your data is saved in OST, PST or in both formats. As this mailbox contains complete data items like contacts, calendars, emails, notes, etc. in IMAP account so while you backup an OST file, this will create difficulties for users.
The data that is saved on IMAP Server in IMAP account is synced with MS Outlook. By this, it will save all data items in local file on users' system. In case of latest versions of Outlook like 2013, 2016, 2019, and Office 365, it is saved in OST file format.
Therefore, it is concluded that you can try to backup your OST file but failed to do so if you have corrupt OST file.
Manual Repair and backup of Corrupt OST file is not possible
If you have an OST file which is corrupt whatever the reason is like virus attack or Outlook errors, you can't repair it using Outlook Inbox Repair Tool or Scanpst.exe utility. In this case, users are unable to open OST file.
But it will be a big surprise for you, if we say you can take backup of Outlook OST file in just few simple clicks. Is it really possible??
Yes, with a smart tool for backup and conversion of OST file, you can backup your OST file data and move it to new computer by converting it into PST file format.
Use OST file to PST Converter, a multi-functional program you can easily export Outlook OST file data including emails, contacts, notes, tasks, calendars, etc. into PST & other file formats. Download this software demo version and you can freely backup Outlook OST file without any issues.
Note: While backup your Outlook OST file, if you have misplaced contacts, then you can easily recover these contacts and other items from Outlook OST file using this software.
OST file backup with Softaken OST Converter Tool
To easily backup Outlook offline file i.e. OST install and launch this software on any Windows system. After this, follow the mentioned steps:
In the first screen after launching the software, choose File or Folder mode. After this, add ypur Outlook OST file from your system.
Next, you can get instant preview of data of OST file. Press the Export button available on the top left corner.
Select PST format under Please select output format from the list.
Finally, hit the Convert Now button.
This successfully save a copy of OST file data into PST file.
Concluding Lines
The manual ways discussed in this post are helpful for you to backup Outlook OST files. But they are associated with various drawbacks. Also, users find this process complex & when you deal with heavy size OST file, risk of data loss may occur. Hence, we strongly suggest using automated tools for safe backup of Outlook OST file. You can check out this software with free demo version.