Through this write-up, we are sharing few techniques to remove restrictions from PDF file. Before we move to the methods, let us gather some basic details about PDF files.
PDF files are universally in use by all users. Also, they can be protected and encrypted with a password. For accessing content inside PDF file, one must unlock the files.
Two types of password encrypted PDF files:
User locked: It means for opening or unlocking PDF file, you need password of the file.
Owner locked: It means you need password to change the content of PDF file. This type of PDF file can be opened with Google Chrome method, if you don't remember its password.
If PDF files are password-protected or some restrictions are applied on them like printing, editing, sharing, copying, etc. you need proper authorization for making changes in it.
Generally, PDF files are secured for data safety purpose so that others can't open it without permission or password. But many users faced trouble with this and hence asking for solution for removing restrictions and password from PDF file.
Before we proceed for the solutions, let us understand how to know the PDF file is restricted?
How to find if PDF file is restricted?
By using Adobe, one can clear that PDF file is restricted or not. For this, open your PDF file in Adobe. Then, check file name on top of the screen. If file is protected, you will find 'Secured' with the file name.

For more details about permission restrictions, check properties of PDF file.
Open secured PDF file in Adobe application
Go to File and then select Properties
Go to Security tab in appeared window.
Read 'Document Restriction Summary' to know the imposed restrictions on file.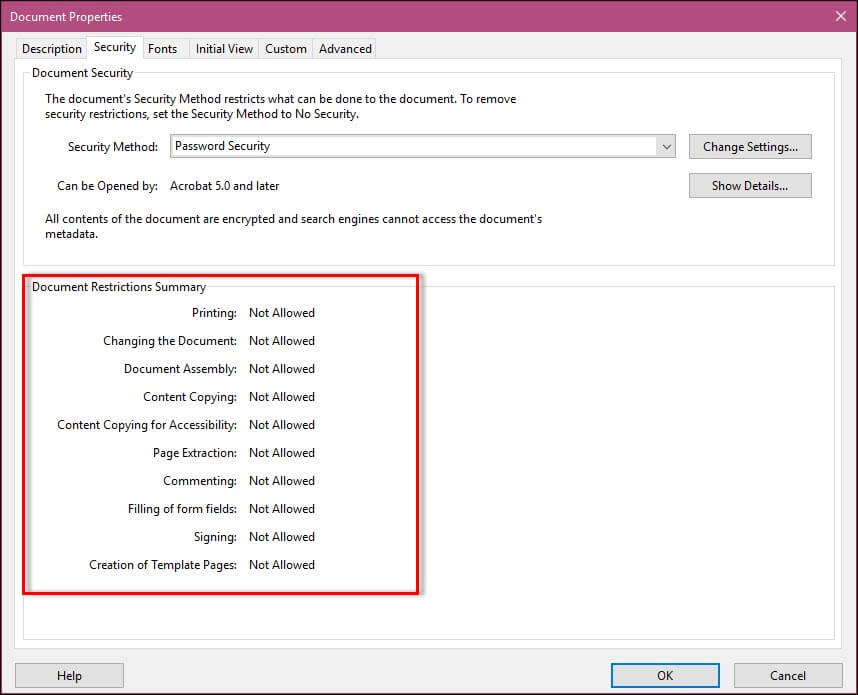 Techniques for removing restrictions from PDF documents
Now, we will know the solutions to deal with this tricky situation i.e. removal of restrictions from PDF files.
Method 1. By using Adobe Acrobat
Adobe Acrobat gives the facility of removing print restrictions from PDF file. But one must have pro version, which users need to purchase.
Open your PDF file in Adobe Acrobat.
Go to File menu and then go to Properties
Then, go to Security tab.
Under Security method, select option 'No security.' Enter the password and save this PDF file to make changes.
Note: Only Adobe Acrobat pro version users can use this method. Normal edition of Adobe Reader won't work here. Also you need to know the precondition i.e.  Know permission password of locked PDF file.
Method 2. Using Online Tool
One smart way is to use online tools. It needs stable internet connection for unlocking of PDF files. This method is also very simple.
Open the online tool.
Choose & add PDF file that you need to unlock.
Confirm the file and click on Remove Security.
Now, download the file which is restriction free.
Note: Only 2 free daily tasks are allowed for every user with this online tool. Stable internet connection is must. There is high possibility & fear of losing data as files are uploaded in the server. Users' information may be leaked. Also, there are unlocking limitations i.e. if file is fully encrypted, you need to provide the password.
Some users complain about online tools are the unlocking function is available in Adobe Acrobat Pro DC. So, they have to buy different version of Adobe for using online tools.
Method 3. By using Google Chrome
Open your PDF file in new tab and then right-click on it.
Choose Browse and right-click the PDF file. Then, hit Print button.
Choose option 'Microsoft Print to PDF' and click the Print button.
This will save PDF file restriction-free.
Method 4. Removing PDF restrictions using professional tool
If the above three manual techniques are not suitable for you, you can easily skip them and go for an effortless professional solution.
Use Softaken PDF Unlocker Software and quickly remove password & other applied restrictions from PDF files. This application is highly secure and fast way of removing password and restrictions from PDF files. This is known as the perfect solution by experts for hassle-free results.
Features you can get with this professional solution:
Completely Safe: This utility does not demand any internet connection and you don't need to concern about privacy of user data. There is no leakage of data at all with this verified third-party tool.
Speedy working: You can remove restrictions & password from your PDF files in few seconds by utilizing this automated tool.
Easy to use: It is very simpler to handle even by beginners. Its amiable interface and steps make it favorable among users.
Compatible: This program works well with PDF files created by all editions of Adobe Acrobat without any hassles.
Bulk process PDF files: Multiple PDF files addition is permissible at once for removing password and other restrictions.
Multi-performer: This software will help you to remove and reset PDF file security apart from removal of copy, print, edit and other restrictions.
Process to use the professional solution:
Open PDF Restriction Removal Software on any Windows system.
Now, drop single or multiple PDF files.
Enter password for the added files one by one.
Now, specify path to save PDF file after removing restrictions & password.
Click on Remove Security Now. Choose restrictions to remove.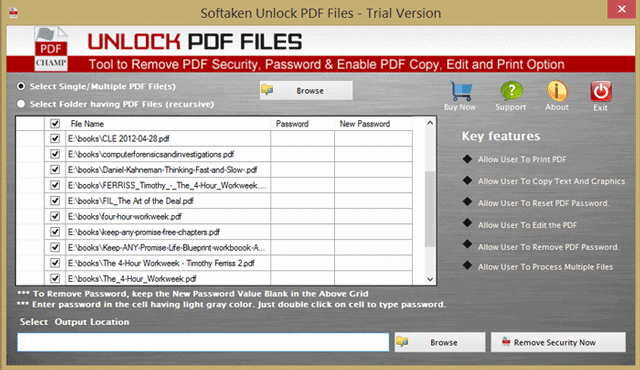 This is done! Now, you can access your resultant PDF file by using Adobe Reader all versions.
conclusion
With this descriptive guide, we have expressed various ways to deal with PDF files which are locked and restricted. Initially, it focuses on free solutions which are actually not free and they have some demerits too. Due to this, professional tool needs exist which completely covers all demerits of free solutions/ Also, its valuable features are attracting users. For large number of PDF files, this is the most helpful solution. But ultimately, the choice of method is fully depend on user and their needs.