Users Queries

"We are an educational institute. We like to keep store data in PDF file format because of its scalability and advanced protection. Recent, our school has made some changes in its syllabus. We require copying of PDF data to update them. We cannot do this because they are locked for copying and editing. Is there any solution that can unlock/open PDFs without losing quality? Any help will be appreciable."

"I love PDF file format. I am using this format for the last 10 years. For sensitive data, I always lock with owner password. I have over 5000 PDF files. Some of them are very old and not for my use. Some of them are important. I want to copy them to merge data of one category. Do you have any shortcut ways to unlock a PDF file?"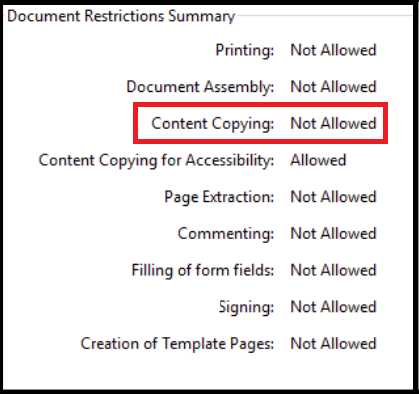 Several file formats have come and gone, but no one has beaten the performance of PDF file format. The universal file format can store text, images, graphics, tables, contacts, and other databases by pages. They are lightweight and scalable. You can share and access PDF files on Windows, Mac, and hand-held devices.
One of the most prominent qualities of the file format is that its data lock feature. By locking PDF files, you can restrict users from copying, editing, and printing PDF files. In other words, you can protect your sensitive data from any harm. Isn't it cool? Locking a PDF file may be easy, but unlocking it can be tricky.
Solutions To Unlock Adobe PDF for Copying
The article outlines some ways to remove restrictions from Adobe PDFs for copying.
Free Solutions To Remove Copy Restriction from PDFs
Do you know you have two different ways to remove copy restriction from PDFs? You can Open PDF restriction using any of these ways as per your comfort and choice.
Open PDF for Copying with Adobe Acrobat Pro
Adobe Acrobat Pro is a subscription-based monthly program to copy PDF files. If you have installed the application, you can use it. The solution counts under manual technique to remove restrictions from PDF files.
Open the PDF filewith copy restriction with Adobe Acrobat Pro.
On the left side, hit the Lock icon tab
Now, choose the "Permission Details" and in the "Security Methods" menu, select "No Security".
Provide the password to remove restrictions
Now save the file in a local folder.  .
One of the biggest advantages of this method is that Adobe Acrobat Pro is not an affordable choice to only remove restrictions from PDFs.
An Automated Solution to Unlock PDF for Copying
If you wish to remove copy restriction from unlimited PDF files for unlimited period by paying one-time license fee, you can choose Softaken PDF Unlocker Application. It is an advanced tool to remove restriction from PDFs to allow you to copy, print, and edit PDF files. Furthermore, the application is one stop to lock PDFs, split PDFs, merge PDFs, add watermark on PDFs, and convert PDFs into images. You can fulfil a variety of PDF-related purposes with the help of this application.
The application removes known passwords of any PDF files. It also allows you to reset the password. The application is safe to use. It is lightweight and self-reliant. You don't need to use Adobe tools to unlock document PDF file to copy its data. As you unlock document PDF file, you can print, edit, and add annotations to these PDFs. It comprises four steps to unlick a PDF file.
Working Steps Of This Software
Launch the application after downloading it on your system.
Select the "Remove Security" button to start the unlock process.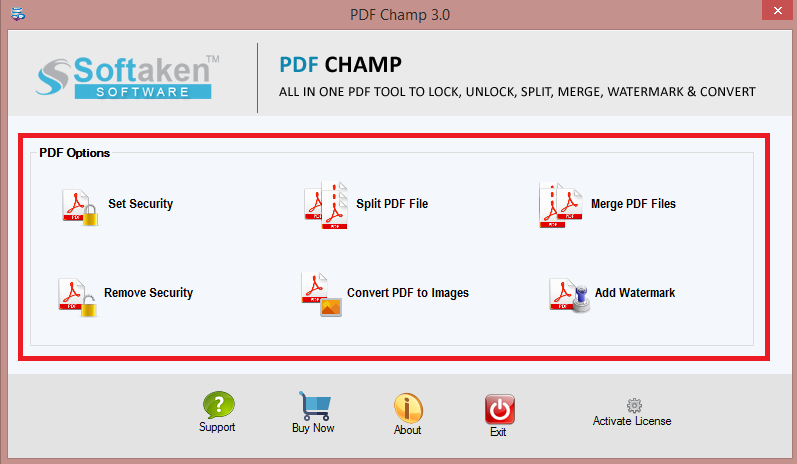 Click on the "Browse" button to select specific PDF files that you want to unlock.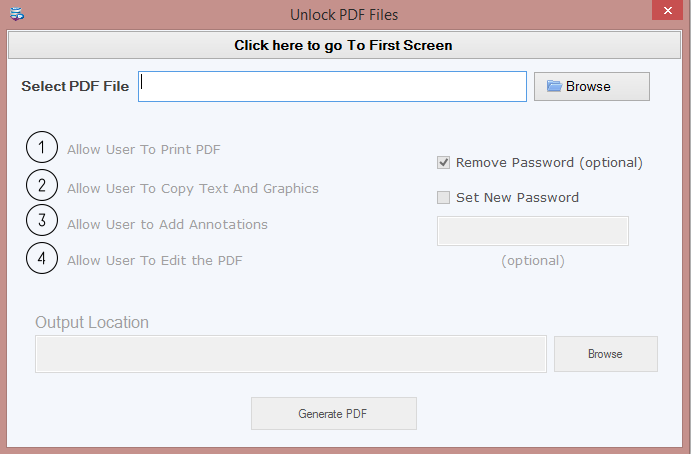 Check the "Remove Password" box to eliminate password.
Now, hit the "Browse" tab to decide the output location.
Finally, press the "Generate PDF" button to complete the entire process.
Top Features of the Tool
The application is useful because it eliminates all types of PDF file restrictions, including copy, print, edit, and adding signatures. You can also use this app to copy images, tables, graphs, text, or any specific content.
The application can remove password from those PDF files that you know their passwords.
It is a cost-effective solution to use on your system. After getting its license, you can use the app as long as you desire. The validity period is unlimited.
It is an incredible program because, it removes password from any PDF files regardless of the file size. In other words, it is compatible to scan and remove password from PDF files of your desire.
Apart from unlocking PDFs, you can use the app to set security, split PDF files, merge PDF files, etc.
The PDF unlock tool is reliable to use on your system. It is lightweight and professional utility to use by the commercial sector.
Also Read:- Unlock Password Protected Outlook PST file
Final Words
A PDF file is one of the best options to store data. It can hold text, images, graphs, bar, table, and several other properties. If you want to share a PDF and want no body can modify it, you can lock with owner password. If you want to unlock a PDF file, you can use a third-party tool to access PDF data for copying, printing, editing, commenting, signing, etc., without asking for the permission password. Carefully, select a third-party tool. We don't recommend you to use any online free tools because they may steal data.