Summary: Are you looking to unlock a PDF file locked for printing, editing, and copying? If so, you have clicked the right link. The article outlines the solutions to unlock secure PDF password with password or known password. You can reset PDF password also.
Before discussing the solutions we like to draw your attention to some significant qualities of PDF files.
PDF is a straight and simple file format. It is a file format of Adobe Acrobat. Now, every smartphone has the feature to convert word files into PDF. It is a portable document and lightweight for sharing.
Why Do We Lock a PDF File?
When we say a PDF file is locked. It means the Portable Document can be inaccessible, but you may be incorrect. A PDF file format has various types of locking systems. You first know the two primary types of PDF locking systems:
Open Password: If your PDF file has open password, it becomes inaccessible. In other words, no third-party can view a PDF file.
Permission Password: If you have locked a PDF file with a permission password, you restrict others with some actions like, printing, copying, and editing. Sharable PDF files have permission password. You cannot access these files to copy, edit, and print.
Reasons For Unlocking a PDF File
Various reasons can encourage users to remove password from PDF files. Some of the most common reasons are here to note down.
Some data are confidential. You don't' want them to edit, print, and copy by others. In this scenario, locking PDF files with permission passwords is one of the best alternatives.
Sometimes, there are copyright materials that you do not want others to modify and copy.  This could be the reason why users like to lock PDFs.
Data integrity is paramount in many companies. If your company gives priority to the hierarchy of data, you can protect your PDF files before sharing them.
Schools, colleges and several educational institutes create PDF files to share with students. They want students to only view the content instead of modifying them. This could be the reason of protecting PDFs with permission passwords.
Sometimes, we want to share information with multiple users, but want a few of them to access data to copy, edit, and print. In this situation, there is a high demand of locking PDFs with permission passwords.
It depends on your desire also. If you want others not to print, copy, or edit your data, you can lock PDFs with permission passwords.
Do you know watermark feature of PDF files? The feature makes your PDF files appearance professional and also prevents other to copy your data.
Another interesting feature of PDF files is adding digital signatures. It is also a type of locking system to maintain authenticity and integrity of data. If a PDF file with a signature has modified, it is easy to detect with the feature.
Remember, when you lock a PDF file, provide a high-quality password. Keep your password length at least 8 to 10 characters, including alphabets, symbols, and numbers. If your password is stronger, it is difficult to breach.
Also Read:- Unlock Password Protected PST file
Unlocking Password Protected PDFs Using Adobe Acrobat Pro DC
One of the smartest ways to unlock a PDF file is Adobe Acrobat Pro. The application performs multiple tasks. You can use this application to unlock a PDF file which password is known for you. The tool is reliable to use.
Below Are The Steps to Us This PDF Unlock Tool to Eliminate Passwords of Unlocked PDF – 
Download and activate the Acrobat Pro DC Tool on your system
Access the target PDF file by navigating the "File" menu and point the cursor on "Properties". The "Document Properties" window will open·
After this step, press on the "Security" button and then select the "No Security" option from the drop-down and save the settings.
Now, enter the "permission password" in the box.
Click on the OK tab and then Save tab.
It is how you can eliminate the password restriction from a target PDF file for printing, copying, and editing the file.
Unlock Secure PDF Files With Know Password Using Automated Solutions
Instead of looking for various other manual options, you can choose an affordable and reliable third-party utility. Softaken Unlock PDF Password Tool can be the best alternative to all manual solutions. The application unlocks unlimited PDF files because its license validity is unlimited. You can use the app as long as you desire. During the unlocking process, it requires four easy steps. Therefore, a novice can run the program confidently.  At the same time, the app retains file quality or maintains confidentiality of PDF files.
Here Are the Steps to Unlock a PDF files with the Application-
Download and launch the application on your system. Click on its icon to start it. From the multiple options, choose "Remove Security."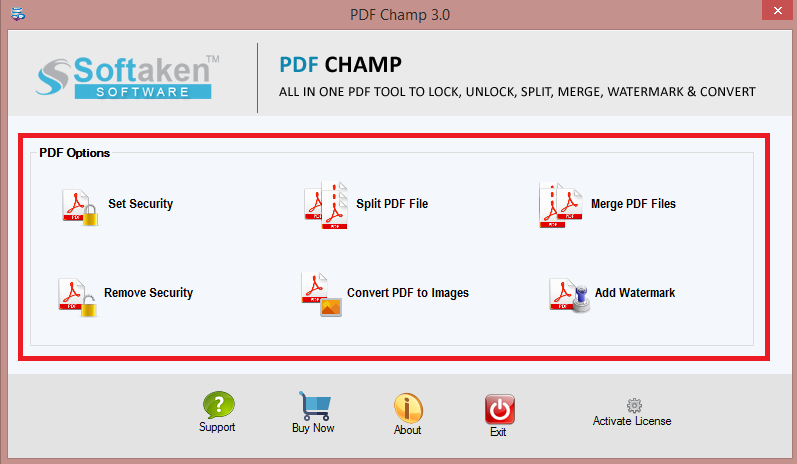 In the next process, Press the "Browse" tab to select a PDF file from local folders to unlock.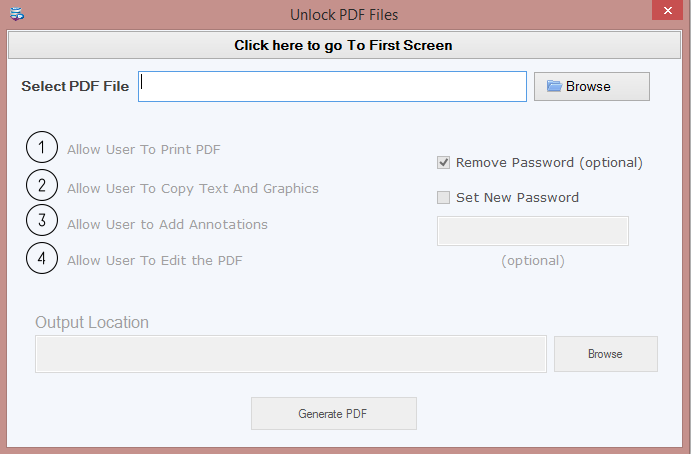 Now, check the option "Remove Password" and click on the "Browse" tab to select the destination to save data.
In the final step, press the "Generate PDF" tab to complete the process.
Conclusion
Unlocking PDF with known password can be easy if you consider a reliable third-party app. The above mentioned application is the best-selling PDF product. You can download the demo version to assess the proficiency of this application.