Who doesn't know about PDF file format? It is the most sharable and popular file format in the globe. Educational institutes, hospitals, retailers, and even companies like to store data in PDF file format. A PDF file is accessible on any device including your laptop, tablet, and smartphone. The file format is compatible with all operating systems, Android, and iOS. Many file formats have been launched so far but no one has bitten the popularity of PDF.
Taking about the security of PDF, you can secure in two different ways. You can save PDFs with user passwords or owner passwords. If you secure a PDF with an owner password, the following file becomes inaccessible for copying, editing, printing, and adding comments. The only way to unlock a PDF file is to know the password and use a tool like Adobe Acrobat Pro or a third-party application to unlock. The article outlines unlocking a PDF files to add comments.
Advantages of PDF Comment Feature
Have you ever used the comment feature in PDF file format? If you haven't tried yet, its time to give it a try.
With this feature you can direct your team to make some necessary changes in PDF files.
You can use this powerful feature to notice and mark errors in the file so that the modification party can rectify it.
For work collaboration, you can consider this feature. It is useful in exchange of ideas and various other activities.
You can use the feature in accountability and Traceability. It lets you edit content with track changes to meets with compliance.
You can use it for archiving and reference. The feature works great for annotations to create future reference.
What Are Challenges with Locked PDFs?
PDF files love by everyone. Whether you want to use it personally or commercially, you can trust the format to store text, images, tables, and graphs. They keep the original data intact. A sharable PDF file is usually owner password protected. It means you can view the PDF file but cannot modify, print, and edit it. In this context, you cannot add comments to the file. You can read the data only.
An Instant Solution to Enable Commenting Feature on PDFs
For any reason, if a PDF file doesn't allow you adding comments, you can use a third-party reliable application. A Softaken PDF File Unlock Tool can perform the task with ease. You can unlock as many PDF files as you desire because of unlimited license validity. Apart from unlocking PDF files, you can use this application to remove and reset passwords.
Steps to Use the Application – Open PDF file for Commenting
It is easy to use the application. Here are the Steps you can follow – 
Download and run the application on your Windows system. Click on the option "Remove Security".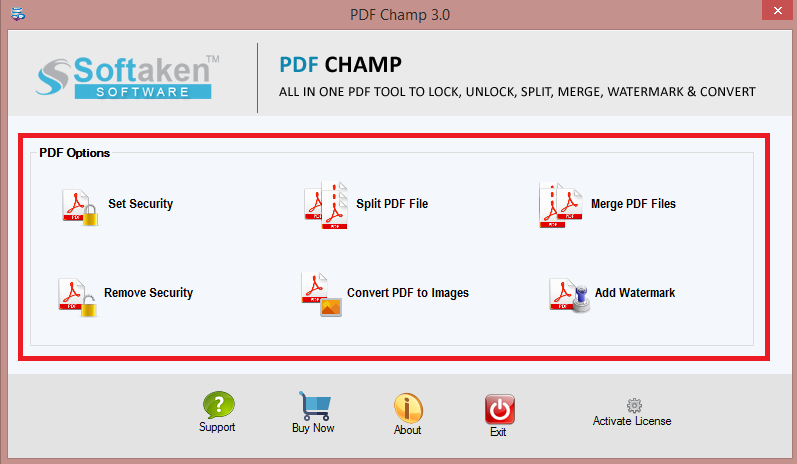 In the next window, click on the "Browse" button to choose the required PDF file to unlock.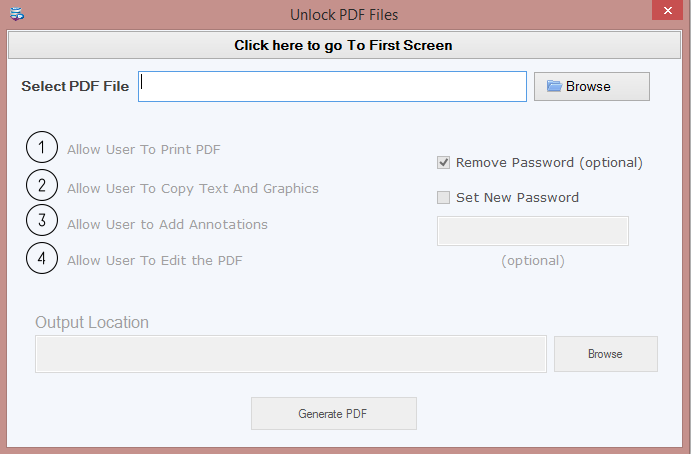 Now, check the "Remove Password" button to unlock data
After this, click on the "Browse" button to save the unlocked PDF file at the desired location.
Now, Press the Generate PDF button to complete the process.
Adding Comments to Unlocked PDF File
Once your PDF file is unlocked, you can edit the file to add comments, markups, and other annotations. To enable the commenting option, Here are the steps you can follow.
Access Adobe Acrobat Reader DC first and then the PDF file.
Navigate to the Tools menu. From there, select the Comment tab.
Now, you can add the desired comment.
To Insert Sticky Note
Go to the Comment Toolbar from the Tools menu, click on the Sticky Note tool.
Now, enter the text of your desire in the Sticky Note tool.
To copy and paste text from a PDF file into a note, choose the appropriate tool.
To Add A Text Comment
On the Comment toolbar, select the Add Text Comment option.
Now, hover the cursor on page to position it
After that, select the font color, size and other text parameters on the Add Text Comment tools.
Also Read:- Unlock Abode PDF Copy Restriction
FAQs

Q1: Why is it impossible to add comments in locked PDFs?

Ans: A locked PDF file which requires an owner password has layers of security to prevent the file from modification, copying, and editing. In this situation, you cannot add comments. It is a type of modification that locked PDF files don't allow you to practice.

Q2: Can I use Adobe Acrobat Pro to activate comment feature in PDF files?

Ans: Yes, you can but using Adobe Acrobat Pro to Open PDFs only can be expensive. It is a monthly subscription plan that can be a costly affair for you.

Q3: How long can I use the Softaken PDF file Unlock tool? 

Ans: The validity period of this application is unlimited. You can use this application as much time as you desire. The license validity doesn't expire. Hence, you can unlock infinite PDF files.
Conclusion
A PDF file is an excellent alternative to any other file formats for data sharing, archiving, and storage. Institutes, hospitals, retails, and businesses using PDF file format can opt for a PDF Unlocker Tool instead of any other manual solutions. Don't try to use a free PDF unlocking website. These websites may send virus to your system or corrupt the PDF data.
A third-party professional utility is always the best alternative. You can rely on the program to reset and remove security. It has various advantages.