Who doesn't know about PDF file format? It is more than a decade-old file format to store text, images, graphs, and tables. They are lightweight and scalable. You can access a PDF file on any device regardless of the operating system it supports.
In other words, a PDF file supports Mac, Linux, and Windows. You can share and open PDF files on your Android or Mac devices. Chatting apps like What's Up allow you to share PDF files. Schools, colleges, and even offices like to use PDF file format over other file formats.
In terms of security, a PDF file is protected with a password of your choice. There are two levels of password protection for PDFs.
User-Level Security: If your PDF file is locked with user-level security, others cannot access its content until they provide the password. The type of security is known as the document-open password.
Master-Level Security: When locking a PDF file to restrict certain activities such as copying, editing, and printing, it comes under master-level security. Most sharable PDF files have master-level security.
Unlock Adobe PDF for Editing – Using Adobe Acrobat Pro DC
There is an option to unlock adobe PDF file for editing. You can choose Adobe Acrobat Pro. This application can simplify the unlocking goal. Many users don't like this option because Adobe Acrobat Pro is a costly way to unlock a PDF file. Its subscription is expensive. If you already have this application, you can use it to unlock secure PDF files for a variety of purposes.
Here Are the Steps to Unlock This Advanced Tool –
In the initial step, open the application Acrobat Pro DC
After that, select the "File" option and hit the "Properties". It will open the dialogue box "Document Properties" on your screen.
After this, press the "Security" button and then choose the "No Security" option from the drop-down and save the settings.
In the next phase, provide the "permission password" in the text box.
Now, press the OK tab and then save the settings.
The following PDF file is now open to edit, copy, and print.
The Best Alternative Solution to Unlock Adobe PDF for Editing
If you don't want to use Acrobat Pro DC, you can use a professional Softaken PDF Unlocker Tool, it can be the best alternative. We don't recommend you consider any free online PDF file unlocking app because it can cause data loss. Our recommendation is to use a professional utility that is 100% reliable. The Softaken PDF file Unlock can be the best way.
Why Consider the Automated Solution to Unlock Secure PDF?
It has various reasons. Some of them you may find matching to your situation.
It is tiring to unlock secure PDF file every time by entering the password. Therefore, a shortcut solution is an automated tool.
It is easy to open lock PDF file because the process of unlocking is only a few clicks away from you.
You don't require Adobe tools to unlock adobe PDF file.
You can unlock secure PDF files of any size.
You have complete flexibility to open secure PDF to edit the entire text or whatever section you want.
You can use the app to change the password if you wish.
The unlocking process is safe. No chances of data stealing and file corruption.
The license validity is unlimited. You can use the app as long as you desire.
Read More:- Remove Password from Outlook PST files
Software Steps to Unlock Adobe PDF for Editing
Download this advanced application by clicking on the Download button and launch it on your system.
Choose the "Remove Security" file option among several other PDF-related options.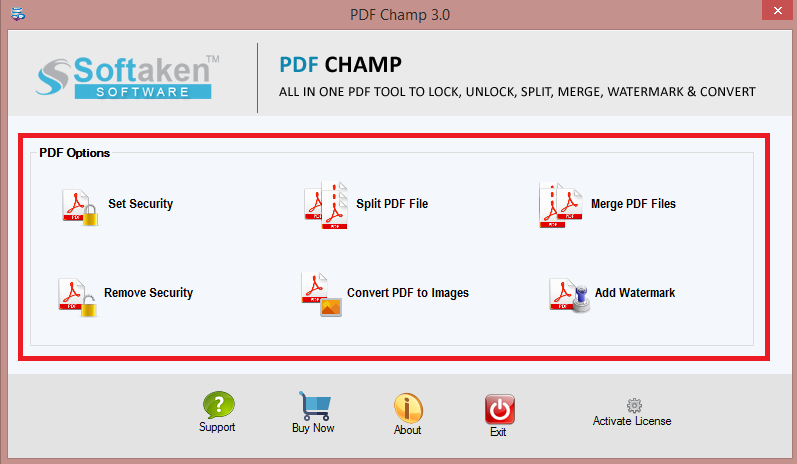 Click on the "Browse" tab to select the desired PDF file to unlock.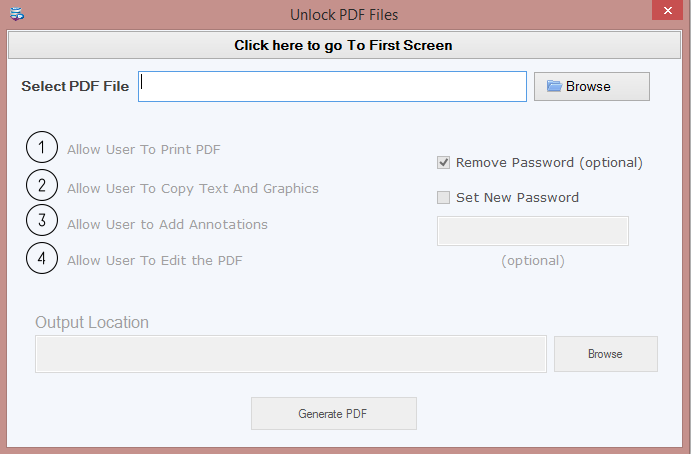 After that, check the "Remove PDF Password" button.
In the second last step, press the "Browse" tab to choose the output location
Finally, press the "Generate PDF" button to unlock the target PDF file.
Conclusion 
In this you learn how to Unlock Adobe PDF for Editing? Whatever your purpose is to unlock, you can use a professional application to access a PDF file to copy, print, and edit its data. A third-party utility is always the best alternative than any manual solutions. It protects data hierarchy and content quality.
FAQs

Q-1 What is the reason I cannot edit a PDF file?

A- One of the best qualities of PDF file format is that you can protect them in two ways. If the file has protection for copying, printing, and editing, you cannot do these activities without entering the password.

Q-2 Does the app create a new password for a PDF file?

A- Yes, the abovementioned application is helpful to create a new password for a PDF file. You can use it for dual purposes. In other words, you can remove passwords and create new passwords for PDFs.

Q-3 How long can I use this application?

A- The licensed validity is unlimited. You can consider this application to remove passwords of uncountable PDF files. It will never expire.